USS Colorado (BB-1921)

The Colorado class is my first chance to get away from the 12x14" gun stereotype of the last three classes. With twelve 14" battleships built or completing the US Navy had to change up its main armament to the 16" gun to keep up or surpass its rivals. The Royal Navy went to 15" guns for their new battleships and built 15 of them. Then went to 16" to match the US and Japanese ships (maybe - depends on which classes I build for them). The Japanese had laid down four 16" armed ships with their 8x8 plan to follow. The US Navy had to respond. The four ship Colorado class was laid down with the six ship South Dakota class to follow, also the six ships of the Lexington class. Hundreds upon hundreds of thousands of tons of shipping.

The price tag was also exorbitant.

The US Navy was quite happy to get some new 'big' toys. Unfortunately the people that counted, who held the purse strings, did not agree. What happened was the arms limitation talks (Washington or Geneva depending on which scenario I am in) with the next generation of warships to be consigned to the scrapheap. Only two survived. Those two became aircraft carriers.

So I have the four ship Colorado class to try things out on. The US Navy went with the four twin turret configuration, swapping out the triple 14" for twin 16". Virtual twins of the Tennessee class with the upgraded armament. Boring. If practical. The following class was to be the South Dakota with triple 16". So why do an intermediate twin turret when all of the designs could feature the triple turret. Three on the Colorado Class and four on the South Dakota Class. Works for me. Now to do all the necessary changes to the drawings. I am going to love this, wish me luck! (This was written at midnight, 25/082022)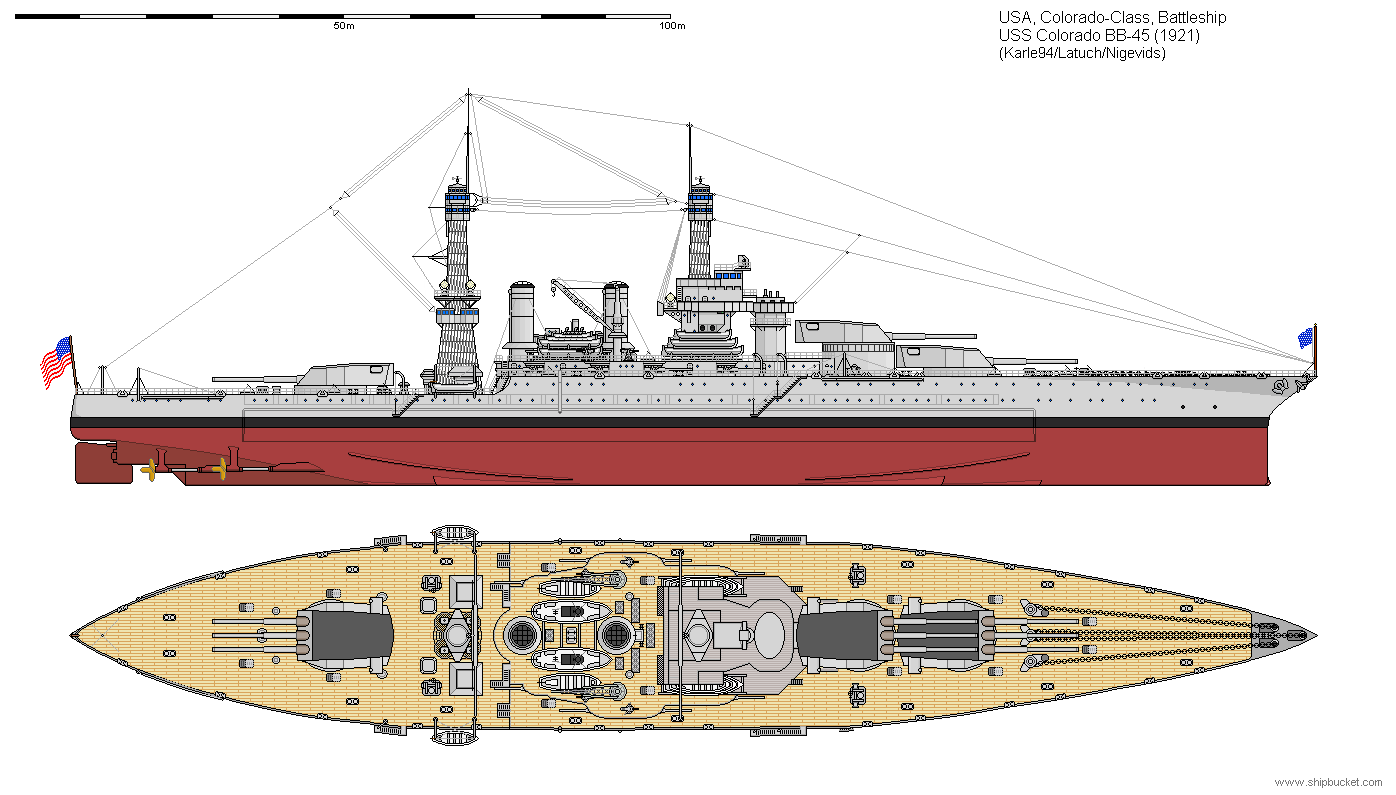 Too late to take any part in WW1, the ship made a great sight when the Colorado was sent to witness the surrender of the High Seas Fleet. The Colorado Class was a direct contemporary of the British Barfleur Class. The two major differences between the classes was the 16" versus 15" main armaments and the four knot advantage of the Barfleur class to give that extra bit of flexibility of the 'fast' battleship over the fleet speed battleships.
The biggest visual difference between the Colorado and Tennessee classes was the much longer forecastle deck required by the weight of the two triple 16" turrets. This required everything within the ship to be pushed backwards and which used up the space saved by having the three triple turrets versus the length required by having four twins.

The period between the wars had the four ships as Battleship Division One of the Pacific Fleet. All four were at Pearl Harbour on December 7th 1941, sitting in Battleship Row. Maryland and West Virginia were badly damaged and required a large amount of work to bring them back to the fleet. The extra time was taken to do a full rebuild on similar lines to the Tennessee class. The two lesser damaged ships were not taken in hand till late in 1943 for their turn at the shipyards at Puget Sound.





Sorry, but I gave up on the overhead for the 1944 rebuild drawing. I figured I could do something better with the 6-8 hours it would take to produce that part of the drawing.

Despite the amount of work put in to these ships from 1942 to 1944, the four ships only made it past the end of WW2 to 1947 when the ships were placed in reserve and eventually removed from the Navy List and sold for scrap. None were retained as memorial ships at their home states.


As built
Displacement
32,600 long tons (33,100 t)
Length
624 ft 3 in (190.27 m)
Beam
97 ft 4 in (29.67 m)
Draft
30 ft 6 in (9.30 m)
Installed power

8 × Babcock & Wilcox water-tube boilers
28,900 shp (21,600 kW)

Propulsion

4 screws
turbo-electric transmission

Speed
21 kn (39 km/h; 24 mph)
Range
8,000 nmi (15,000 km; 9,200 mi) at 10 kn (19 km/h; 12 mph) (design)
Complement
1,080
Armament

9 × 16 in (406 mm)/45 caliber Mark 1 guns (3x3)
8 × 5 in (127 mm)/51 caliber guns

Armor

Belt: 8–16 in (203–406 mm)
Barbettes: 13 in (330 mm)
Turret face: 18 in (457 mm)
Conning tower: 11.5 in (292 mm)
Decks: 3.5 in (89 mm)

From Wiki