SMS Helgoland Class (BB-1911)
Back to Germanic States Navy page:
The Helgoland class followed the Nassau class layout, but the gun size increased from 11" to 12", to match the RN increase from 12" to 13.5". Four ships were laid down and completed in 1911-12. All four ships fought at Jutland, taking various levels of damage but were relatively unharmed and could have returned to sea if required. 1917 saw several Fleet movements in both the North Sea and Baltic. The four ships being surrendered at the 1918 Armistice and awaited their fate. Under the Allied War Reparations Commission all four ships were put up for sale. Two being sold to Iberia (see IRN Zaragoza) the other two being sold to Argentina (see ARA Corrientes). (I have to redraw the Iberian and Argentinian ships to match the new drawing yet.)



Displacement: 23,500 tons normal, 27,750 full load displacement.
Dimensions: 572 x 94 x 29 feet
Machinery: 3 shaft, steam turbine, 45,000shp
Speed: 23 knots
Endurance: 8,500 nmi at 12 knots
Armour: 330mm belt, 60mm deck, 300mm/210mm/105mm turrets
Armament:
8 x 12" (4x2)
10 x 5.9" (12x1)
10 x 3.4" (8x1)
Torpedoes: 6 x 500mm (6x1 underwater)
Crew: 1,110 (1195 as flagship)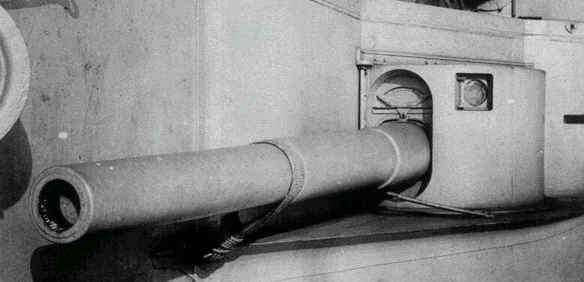 5.9" casemate gun as fitted to Ostfriesland.