RZS Bywater (DDE-1935)

The Bywater class were the Zealandian Navies attempt to design and build a class of ship that could be mass produced. When the time came the Durthang class was chosen instead. Too many parts of the Bywater class would have been needed to be made in Naval Yards. This would have slowed production down considerably as the Navy Yards were under considerable pressure with both new construction and repair work.

Other than that they were handy vessels with a good enough armament for their role as convoy escorts. What seemed like too much speed for escorting convoys that traveled only 8-15 knots, it turned out when ships had to catch up a convoy after hunting a U-boat, the ships with only 15-20 knot maximum could take days to return, leaving the convoy open to attack for that much longer. The Bywater and Durthang classess were both fast enough to catch up in a reasonable period of time. The AA armament on board meant they could be used as both open ocean escorts or as coastal escorts.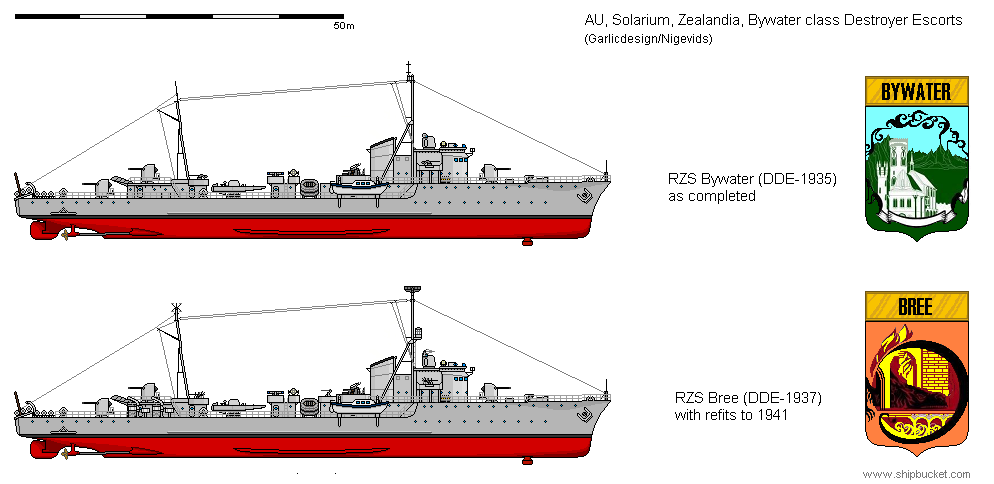 Because of their smaller size the Bywater class was unable to have as much of the new armaments and electronics fitted as were available. The surviving ships after the start of 1942, were virtually unchanged from the last of the refits in 1941. The two remaining ships of the class were placed in reserve in late 1945 and both had been sold or scrapped by 1950.

Displacement
1,200 tons standard, 1,600 tons full load
Length
298 ft
Breadth
32 ft
Draught
10 ft
Machinery
2 shaft steam turbines, 16,000shp
Speed
25 knots
Range
6000 miles at 14 knots
Armour
nil
Armament
3 x 4" (3x1)
4 x 2pd (1x4)
4 x 20mm (4x1)
Refits to 1941
3 x 4" (3x1)
8 x 20mm (2x2 4x1)
Aircraft
nil
Torpedoes
3x 21" (1x3)
Complement
115
Notes
RZS Bywater(05/1935) Lost, sunk by gunfire KM Seydlitz March 1940.

RZS Buckland (09/1935) Sold to Myanmar 1947.

RZS Barazinbar (07/1936) Lost, torpedoed by U-Boat August 1943.

RZS Bree (02/1937) Scrapped 1949.
Setting up for another run over a U-Boat, 1941 in the North Atlantic.