RZS Imrahil (DD-1916)
Oldest Zealandian destroyers to make it to World War Two, the previous L class destroyers being discarded or sold in the early 1930's. The Imrahil class (RN Parker class) were important as the ships lead on to the VW class which every nation followed with the superfiring guns fore and aft. The Zealandian Navy did not switch to the VW type but continued to produce the Imrahil class out past the end of World War One. Big destroyers for their time, they were supposed to have been built as flotilla leaders for the destroyer squadrons. Well armed, their size meant they were able to carry more fuel. These were the first destroyers built for Zealandia which were oil fired, which helped with their extended range.

Used as general purpose destroyers, the Imrahil class spent their war acting as convoy Commander Leaders, escorting convoys from Zealandia to the UK through the Panama Canal, to the Mediterranean Theater through the Red Sea and Suez canal. Their long range was needed for this work.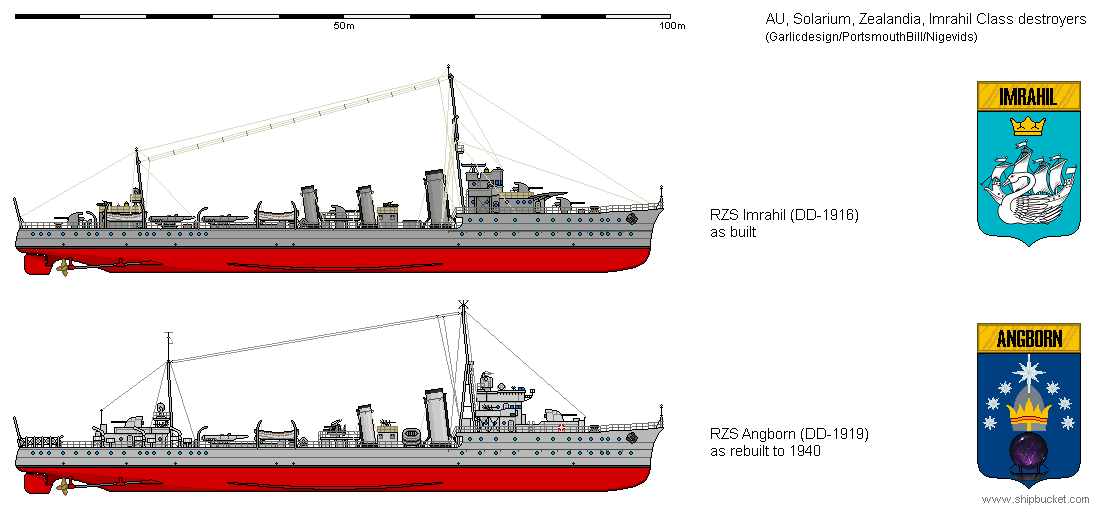 The Imrahil class went through the 1920's in first class operations, the 1930's however saw them reduced more and more to second class duties. 1937 and the ten remaining ships of the class went through the WAIR conversion to long range escorts (DDE's). The rear boiler room (smallest one) was removed and the area converted to contain more bunker fuel to increase the range. The armament was completely refitted with two twin dual purpose 4" mountings one each fore and aft. A quad 2 pounder pom-pom mounting was fitted in place of where the central 4" had been, while single 20mm finished the AA armament. One set of twin 18" torpedoes was retained.

Displacement
1,650 tons standard, 2,100 tons full load
Length
324 ft
Breadth
32 ft
Draught
12 ft
Machinery
2 shaft steam turbines, 25,000shp
2 shaft steam turbines, 18,000shp
Speed
32 knots
24 knots
Range
5000 miles at 14 knots
7,000 miles at 14 knots
Armour
nil
Armament
4 x 4" (4x1)
2 x 2pd (2x1)

4 x 4" (2x2)
4 x 2pd (1x4)
6 x 20mm (1x2 4x1)
Aircraft
nil
Torpedoes
4 x 18" (2x2)
2 x 18" (1x2)
Complement
110 (125 as Captain 'D')
120 (135 as Captain 'D')
Notes
RZS Imrahil (06/1916)

RZS Girion (07/1916) Lost, mined in operations in Mediterranean 1916.

RZS Brand (09/1916)

RZS Dervorin (01/1917) Lost, torpedoed on convoy duty in Nth Atlantic 1917

RZS Duinhir (04/1917)

RZS Angelimar (09/1917)

RZS Forlong (11/1917)

RZS Angborn (02/1918)

RZS Hurin (09/1918)

RZS Golasgil (04/1919)

RZS Adrahil (12/1920)

RZS Galador (02/1920)
Quarterdeck depth charge thrower. It was not till 1943 that the Hedgehog ahead throwing mortar gave the escorts a much better chance of sinking subs.