Uruguay (GB-1914 (1930-mod))
The Uruguayan Navy always tried to have some ship of size to undertake patrol duties around its home waters. The Uruguay was built to order in Germany as a colonial cruiser cum training ship and turned up in Uruguayan waters in 1914 and only just avoided being taken over by the Germans for use in WW1. From 1920 the ship was rerated as a Gun Boat and after the 1930's refit it was again reclassified this time as an Anti-aircraft ship.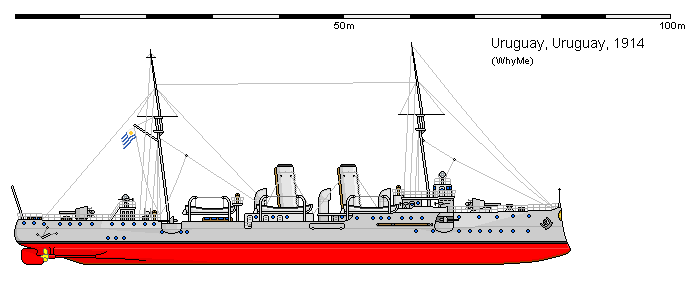 The original armament of 2x4.7" and 4x3" was adequate for its main duties as a training and patrol ship. When these duties were taken over by the Montevideo the ship was rearmed and fitted with a new bridge. The old engines had never been under any stress and worked as if they were brand new and did not require replacement.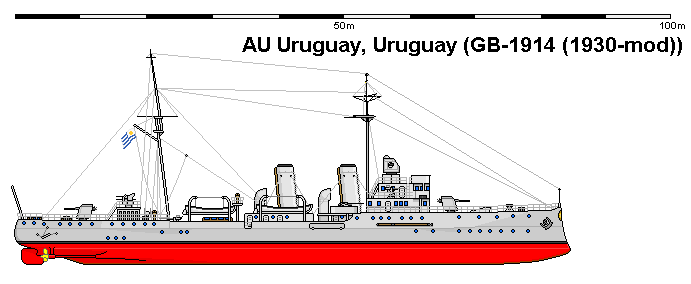 A new dual purpose director was fitted at the back of the new bridge superstructure which greatly enhanced the accuracy of the new 4.1" dual purpose guns. For its duties as an AA ship, 37mm and 20mm were fitted as they became available.
Displacement
1,100 tons std, 1,350 tons full load
Length
278 ft
Breadth
30 ft
Draught
12 ft
Machinery
2 shaft Triple Expansion 8,000ihp
Speed
23 knots
Range
3400 miles at 10 knots
Armour
nil
Armament
2 x 4.1" (2x1)

2 x 37mm (2x1)

8x 20mm (1x4 4x1)

Mines
nil
Torpedoes
nil
Complement
125
Notes
ANU Uruguay