USS Pensacola (CA-1928)

The US Navy had the Omaha class under construction when the Washington Treaty created the 8" (heavy) cruiser. This allowed the US Navy to increase the size of its fleet cruisers to the new 10,000 ton limit. This allowed the designers to work in another 1,000 tons of armour into the Omaha design. Speed dropped to 32 knots, but this was an acceptable speed to work with the fleet.





While credited with a four inch armoured belt. This was not a full belt and only covered the machinery spaces. The magazines were covered with a 2" box of armour.

These were not what the US Navy really wanted to build. The US Navy wanted a 15,000 ton ship where they could have good armament, armour, speed and range. The Holy Trinity of warship building. But like the 35,000 ton battleship limit, the 10,000 ton cruiser limit also hobbled the designers, a balanced design was difficult and led to some innovative designs.

Displacement: 10,400 tons standard, 12,250 tons full load.
Dimensions: 573 x 59 x 24 feet
Machinery: 4 shaft, geared turbines, 80,000shp
Speed: 32 knots.
Endurance: 9,000 miles at 14 knots.
Armour: 4" belt, 2" deck, 4/2/2" turrets.
Armament:
8 x 8"/55cal (4x2)
4 x 5"/25cal (4x1)
6 x 0.5"mg (6x1)
6 x 21" Torpedoes (2x3)
Aircraft: 3
Crew: 540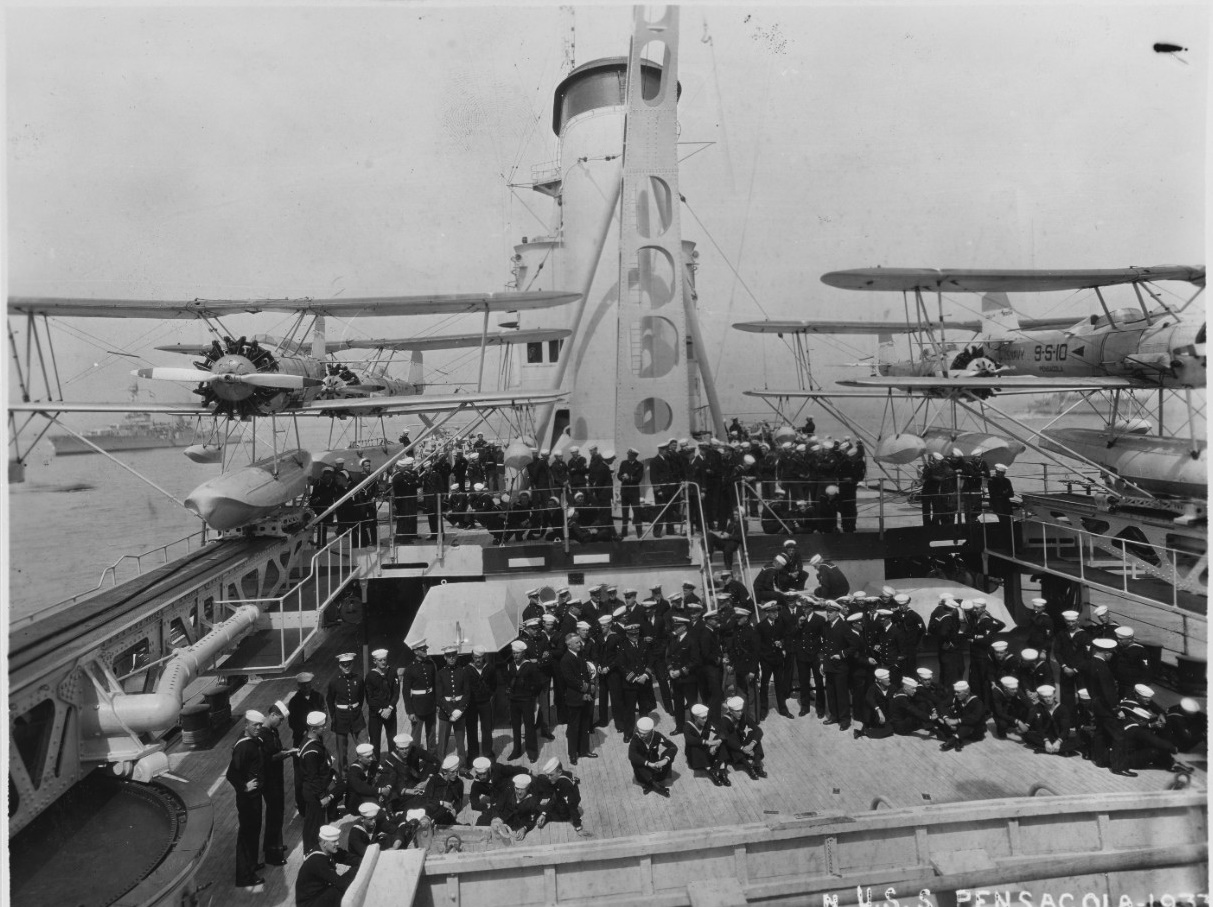 The US Navy was not happy with the class, so only two were completed. The compromises being made to get a viable ship type was too much for the navies liking.





Despite the ships diminutive size, compared to the later classes, they were put through the usual refit periods, which improved their AA capabilities and Radar suites.


Displacement: 10,400 tons standard, 12,250 tons full load.
Dimensions: 573 x 59 x 24 feet
Machinery: 4 shaft, geared turbines, 80,000shp
Speed: 32 knots.
Endurance: 9,000 miles at 14 knots.
Armour: 4" belt, 2" deck, 4/2/2" turrets.
Armament:
8 x 8"/55cal (4x2)
4 x 5"/25cal (4x1)
10 x 40mm (5x2)
various amounts of 20mm
Aircraft: up to 3, usually 2.
Crew: 570