USS Omaha (CAS-1919-24)

Once World War One had ended, the US Navy took stock of its cruiser resources. These were negligible. Three old scout cruisers and ten armoured cruisers all over 10-15 years old, that was it. The US Navy had seen the proliferation of light/scout cruisers in the Royal Navy of the C and D classes and decided that a 'Pacific' version could be designed with longer range and higher speed. A crash building program of 20 odd scout cruisers was instituted to remedy this. To get these ships to sea as soon as possible it was decided to recycle 24 twin eight inch turrets sourced from the old pre-dreadnought battleships that were now excess to requirements and would provide the basis for the first eight ships armament. This would give the time for a new twin eight inch turret to be produced for the armament for the remainder of the class.

The basic design had the high forecastle deck for high speed steaming. A strip of 2" side armour over the machinery spaces, and a 2" box around the ammunition stowage areas. A 1 1/2 inch deck finished the little bit of armour given to these ships.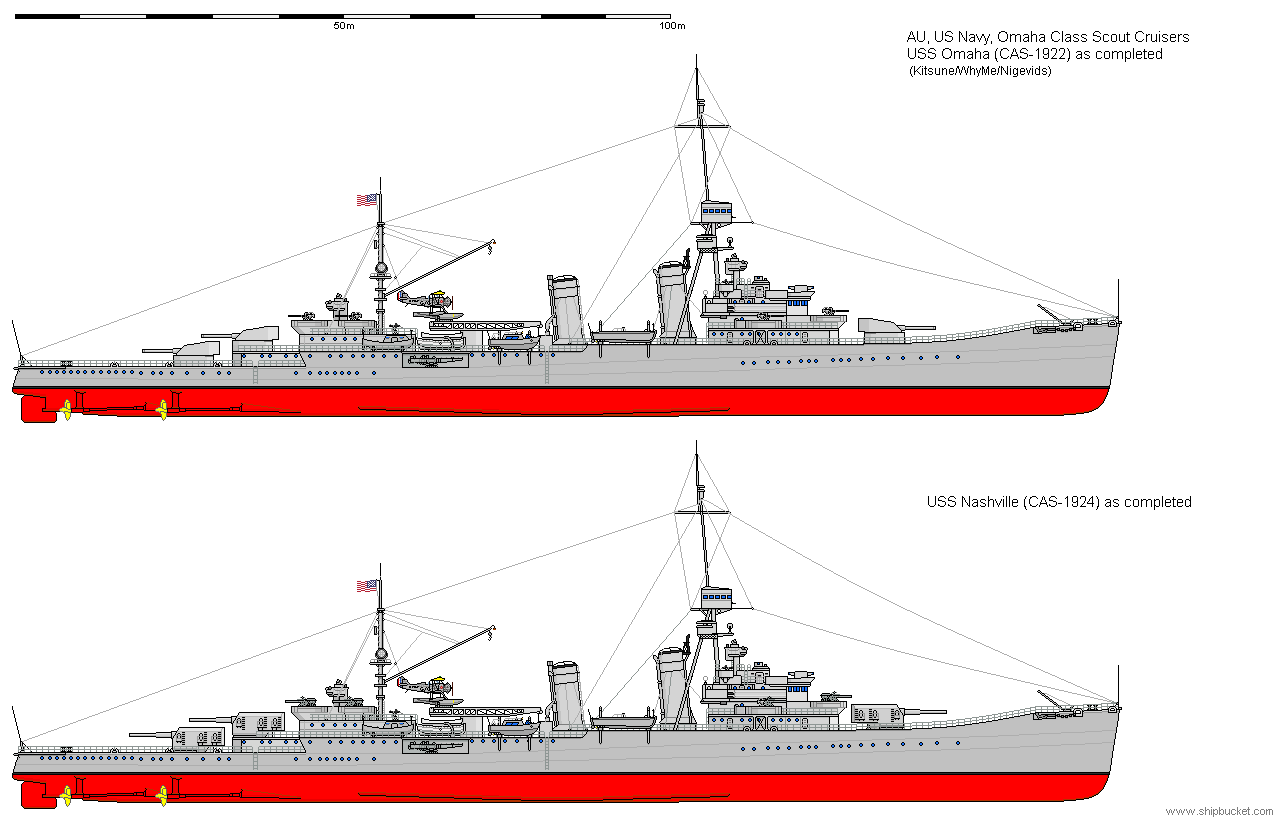 The barbette rings were made the same size so that the new gun houses could be fitted in place. The old 'Connecticut' mountings were twin 8"/45cal guns and had a maximum elevation of 20 degrees for a range 22,500 yards. The new twin turrets had 8"/55cal guns with an elevation of 40 degrees and a range of nearly 32,000 yards. Other major difference was the substitution of the 5"/25cal AA guns for the older 3"/50cal AA guns. The lozenge arrangement of the AA guns allowed four a four gun broadside while only having six guns in total.

Being tasked as Scout and Patrol cruisers, the ships had more ships boats than normal. Four being loaded into quick release davits for use as chase boats to carry boarding parties to stop and search suspect shipping and chase pirates. One of he major postings for these ships was the Philippines where anti-piracy patrols were highly necessary. When appointed to Fleet Scout duties, three Omaha and one of the Large Scout cruisers (Hawaii class) would form the 'eyes' of the fleet.

Their high speed also made them brilliant as flotilla cruisers / destroyer leaders. With the better and better aircraft coming into naval service these ships main role as scouts slowly was reduced as the aircraft took this role over. By WW2 their main roles were as destroyer leaders and patrol cruisers.

Being 'scouts' these ships were built to be fast. 90,000shp through four shafts to give a possible 35 knots during trials. Age and extra equipment dropped this high speed down to 33 knots on the ships entry to WW2, but this was still rapid. The addition of extra AA guns and electronic equipment, meant the torpedoes and aircraft handling equipment being removed during 1942-43.




Above is the final refit level given to the class. The old 3" and 5" guns are replaced with twin 40mm Bofors mounts with radar predictors. To retain a heavy AA presence, the big chase boat was removed and an area plated in for a pair of open 5"/38cal AA to be added on each beam. The big spotting top and high masts were removed and cut down, removing a lot of excess topweight. Single 20mm started sprouting. Torpedoes are removed and plated in.
Displacement
6,950 tons standard, 8,500 tons full load
Length
554 ft
Breadth
55 ft
Draught
18 ft
Machinery
4 shaft, steam turbines, 90,000 shp
Speed
35 knots
Range
8000 miles at 14 knots
Armour
2" side, 1.5" deck, 7"/4"/3" turrets old, 2.5"/1" turrets new.
Armament
As completed

6 x 8" (3x2) 45cal or 55cal guns
6 x 3"/50 or 5"/25 (6x1)
4 x .5" mg (4x1)
WW2 refits
6 x 8" (3x2) 45cal or 55cal guns
4 x 5"/38cal (4x1)
12 x 40mm (6x2)
6 x 20mm (6x1)
AA Conversions
10 x 5"/38 (5x2)
16 x 40mm (8x2)
8 x 20mm (8x1)

Torpedoes
6 x 21" (2x3)
nil
nil
Aircraft
2 max, 1 normal complement.
nil
nil
Complement
470 (490 WW2)

(A few weeks later - 14/09/2022)

The first eight ships with the old 8"/45cal guns were what was needed during the 1920's. Fast enough to act with the destroyers, the problem was their guns didn't fire much further than the destroyers guns. The mid-1930's came along and the advent of the dual purpose weapons. In particular the 5"/38cal gun system. A decent refit of the eight ships with twin 5" replacing the twin 8" and some of the single 3"/5" AA guns was proposed and passed for action.





Eight of these conversions arriving in the various fleets during the period 1938-40 would provide very useful service. Two were part of the Ranger Task Force and provided great service in the European Theater of action. The highlight being in the Mediterranean, when operating with four destroyers, they intercepted a small Italian convoy trying to evacuate troops from North Africa and literally shot the two merchantmen and two escort destroyers to bits.
(* 8"/45cal armed ships - rebuilt to AA cruisers 1938-40)


I still have to work out how to sink half the class, and put their fates in the table above.





This class replaces the real life Omaha Class light cruisers with cruisers with teeth.