USS Commencement Bay (CVE-1944)
Back to US Navy ship list:


The US Navy replaced production of the Bogue Class with the Commencement Bay class. This included the Sangamon sub-class of ships. The Commencement Bay class had an all round increase in size. The hull of choice for these ships were the US T3 tanker design. One of the major advantages of this was the change to twin screws.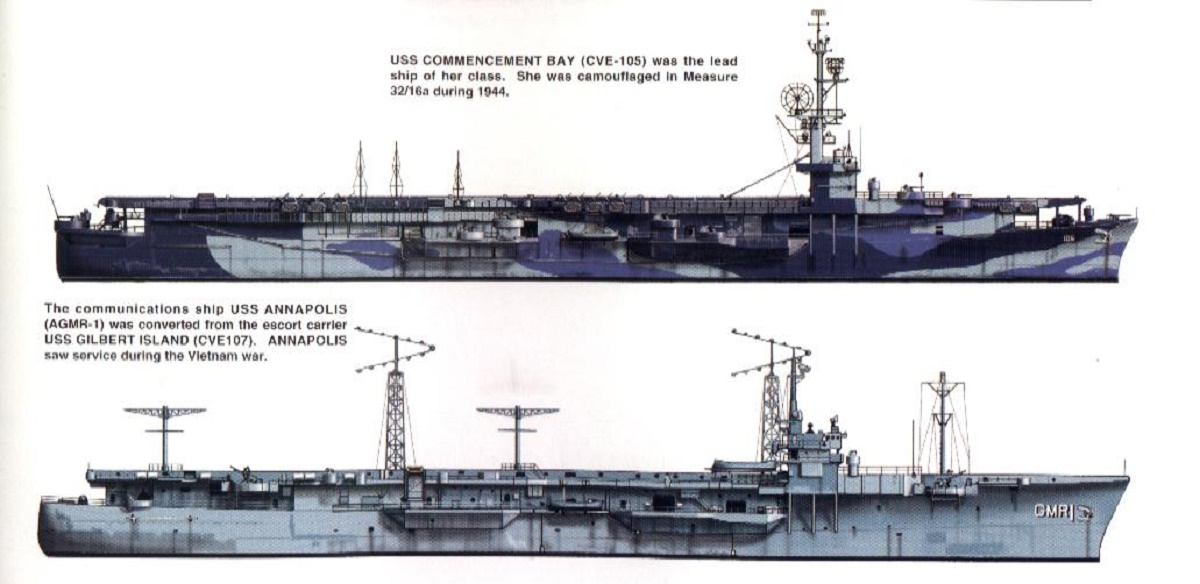 While thirteen of the class were completed in time to see service, none saw enemy action. Some of the class were even accepted from the builders and placed straight into the Reserve Fleet. Others, like the Annapolis above, were converted to miscellaneous duties after the war. The US production of escort carriers, like all of the most important ships, was just enormous.

But the conversions were not without their problems. The US Navy complained about the Royal Navy receiving escort carriers under Lend Lease then instead of putting them straight into service, the ships were put through a three month refit to make them suitable for RN service. This included an upgrade of the aviation fuel handling systems which the Royal Navy had said was below standard.

Displacement

10,900 long tons (11,100 t) standard
24,100 long tons (24,500 t) full load

Length
Beam

75 ft (23 m)
105 ft 2 in (32.05 m) flight deck

Draft
30 ft 8 in (9.35 m)
Propulsion
2-shaft geared turbines, 16,000 shp
Speed
19 knots (22 mph; 35 km/h)
Complement
1,066 officers and men
Armament
Aircraft carried
34