Lillicrap 1930-32 Battlecruiser designs. HMS Warrior and HMS Minotaur.
I was given the following information by Smurf in Shipbucket to create some drawings from. The designs were 'living' things where I did different versions to match the different ideas proposed by the various other pixel artists at Shipbucket where the proposed changes made sense. HMS Warrior had three versions with the last one with the Nelsonian bridge was the definitive version. Minotaur had two versions.
"But I do know of one pair, a bit smaller than 25,000tons, for which there are no drawings so far as I know, so you could use your imagination on them in personal designs. In 1930-32, Charles Lillicrap, the chief cruiser designer, was seconded to the battleship section of the RCNC to design two small battlecruisers as examples for the 1932 Geneva talks on arms limitation.

1930. 20,000tons 680' waterline, beam 84', 90' over bulges; draught 22'; (3x2)12" or 10" (6x2)6" 6x4.7". Armour 9" side, 5" deck. 80,000shp for 30knots.

1932. 18,500tons 660', beam 83ft draught 21' (3x2)10" (4x2)6" (4x2)HA (2x8)2pdr. Armour 8" side, 3"+1" deck 80,000shp, 30 knots

Figures from his Workbook, with a weight breakdown and notes about armour to defeat 12" shells and poor underwater protection of second design (assume no bulges?)
So a bigger ship than Lillicrap usually designed, but his style in the days of Leanders, Amphion and Arethusa?"
1930 Designs: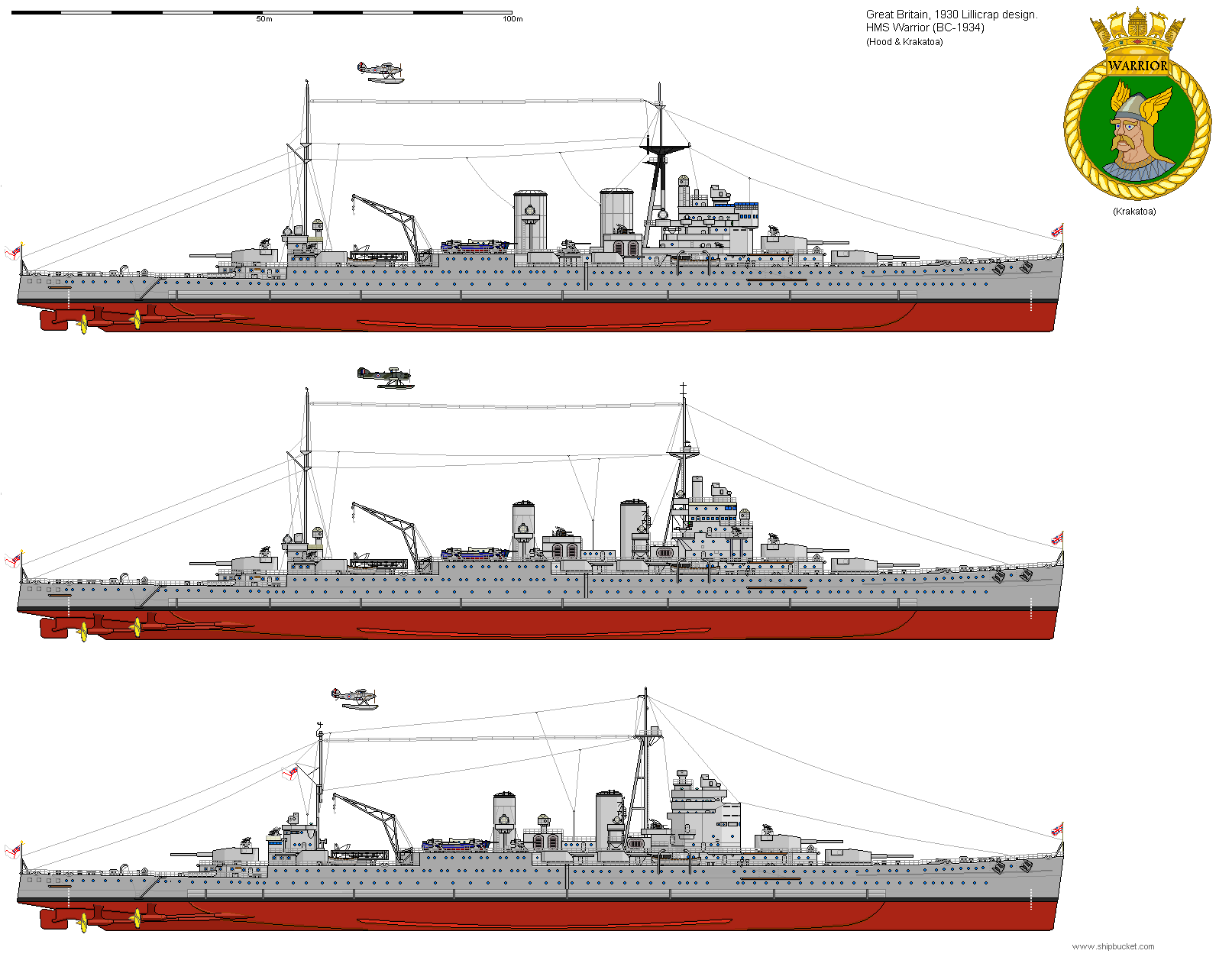 1932 Designs: