INS Rurik II (1908-ACR)

With the complete loss of the Pacific Fleet to the Japanese at the Battle of Tsushima. A complete new set of ships was needed to be built to replace them. This included two armoured cruisers of the largest size possible. The first ship, Rurik II, was laid down in August 1905, launched November 1906, and commissioned July 1909. During this timespan the Dreadnought and Invincible revolutionised shipbuilding for Battleships and Armoured Cruisers (which became the Battlecruiser).





The Rurik was too far advanced to do anything about and it was completed with the mixed 4x10" and 8x8" armament (as above). However, Rurik's sistership Nikolayev, was able to be redesigned to replace the mixed armament with a single armament of 8x10". The Rurik was completed with triple expansion engines, while the Nikolayev was the first Russian ship with turbine machinery.





Neither ship made it to the Second World War in a serviceable state. The Rurik had been scrapped in 1938. The Nikolayev was still in existence in 1941 as an accommodation ship at Leningrad. Its guns were still serviceable and there was still a fair number of shells in the armoury. These were used with some success against the invading Germans until an attack on the ship by Stuka divebombers sunk the ship at its moorings.

Rurik As Completed:
Displacement:
15,170 tons
Length:
529 ft (161 m)
Beam:
75 ft (22.9 m)
Draught:
26 ft (7.9 m)
Installed power:
20,675 hp (15,417 kW)
Propulsion:

2 shaft Vertical triple expansion steam engines
28 Bellville coal-fired boilers

Speed:
21 knots (39 km/h)
Endurance:
1,920 tons coal
Complement:
899 officers and crewmen
Armament:

4 × 10 in (250 mm) guns (2 × 2)
8 × 8 in (200 mm) guns (4 × 2)
20 × 4.7 in (120 mm) (20 × 1)
4 × 1.9 in (47 mm) guns,
2 × 18 in (457 mm) torpedo tubes

Armour:

Krupp armour
Belt: 6 in (150 mm) max
Turrets: 8–7 in (200–180 mm)
Barbettes: 8–6 in (200–150 mm)
Deck: 1.5 in (38 mm)
Casemates: 3 in (76 mm)
Conning tower: 8 in (200 mm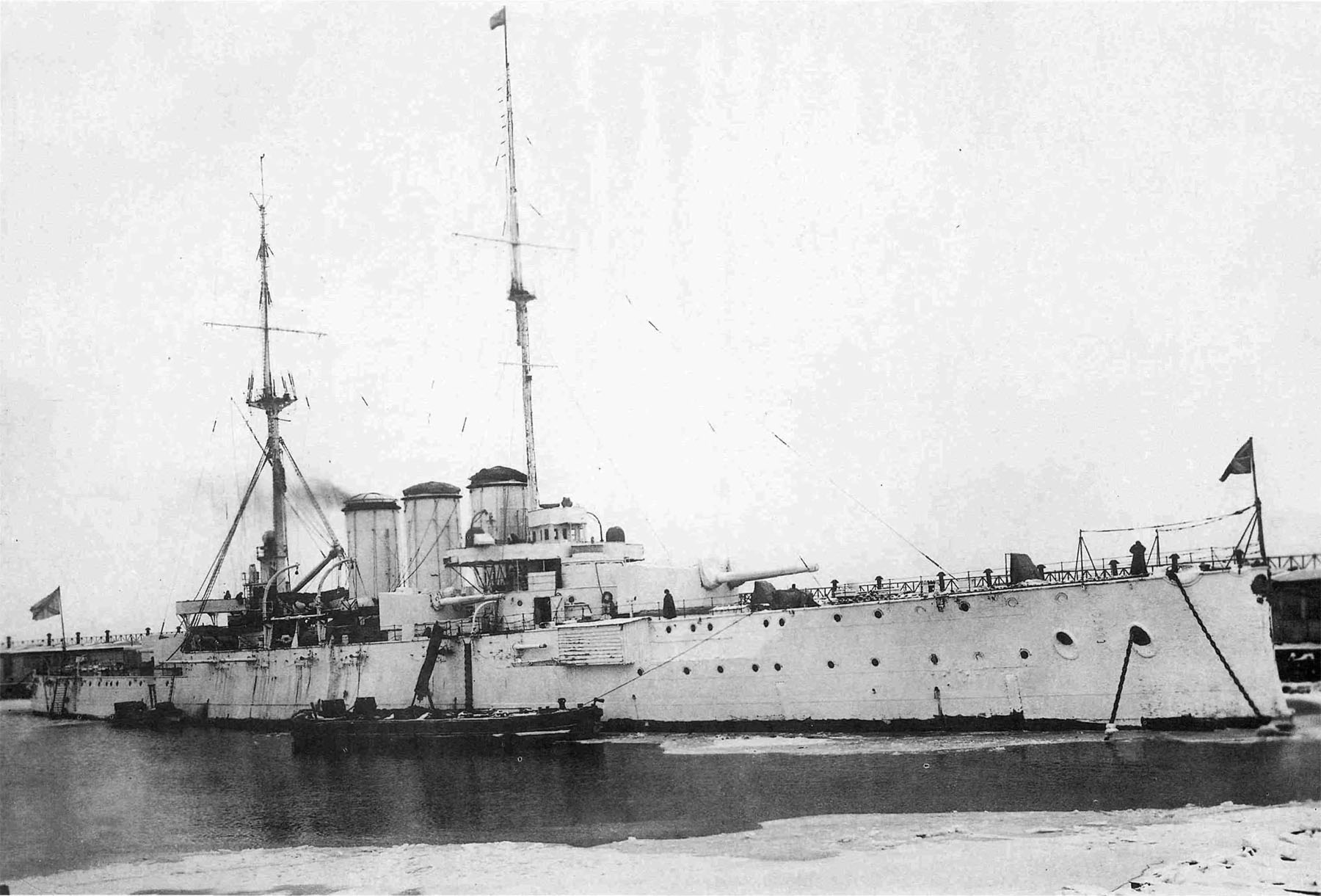 Nikolayev As Completed:

Displacement: 15,500 tons standard, 18,400 tons full load.
Dimensions: 557 x 75 x 27 feet
Machinery: 4 shaft, steam turbines, 30,000shp
Speed: 24 knots
Endurance: 6,000 miles at 10 knots.
Armour: 8" belt, 2" deck, 8"-7" turrets
Armament:
8 x 10" (4x2)
20 x 4.7" (20x1)
Torpedoes: 2 x 18" submerged
Crew: 900