HMS Arethusa (CL-1914)
Back to Royal Commonwealth Ships List
The Arethusa class cruisers were the new breed of light cruisers that would produce over 50 ships of the Arethusa, C and D classes. The Arethusa class were of a size with Birmingham class completed only months earlier. What the Arethusa class were, was fast in comparison, this was achieved by being oil fired throughout. Compared to the Scouts and Towns the Arethusa class were 3 to 5 knots faster. This allowed the ships to be used as both scouts for the Fleet and as flotilla cruisers to the destroyer squadrons. The eight ships had a hard war. Having to push the engines to the maximum to keep in front of the destroyer squadrons or scouting in front of the Fleet wore these ships down until they were relieved by the later C class ships. Only the Arethusa was lost during World War One, being mined off Felixstowe in February 1916. The Aurora was hulked in 1922 and sold for scrap after being stranded and recovered, then scrapped in 1923. A further two of the class were stricken and scrapped by 1932. It was only the rumblings of war from 1935 onwards that kept the remaining four in service.





The differences between the as completed 1914-15 ships with their pole mast and two 6" and six 4" and the remaining seven ships in 1919 with a tripod to support the upper forebridge and the aftmost pair of 4" being replaced by a third 6".




From 1928 the single low angle 4" were swapped out for single 4" AA guns. The first 2pd single AA guns were also added in the late 1920's, but it was the mid 1930's before lowly cruisers received their quad mounting of 2 pounder AA guns. The ships biggest change during the 1930's was the enlarging of the bridge superstructure to enable it to have a director fitted to control the 6". A HACS unit was fitted aft to control the 4" and a radar predictor was fitted for the quad 2pd mounting in 1940. 1940 also saw the removal of the twin torpedo tube mountings as some compensation for the extra topweight that had been added. The single 2pd guns were removed and replaced by 20mm Oerlikons in twin and single mountings.





The last four units that made it to WW2 had little done to them other than what is described above. Their war service was the coasts of Africa and the Indian Ocean. Convoys across to Perth, from there to the Red Sea and up to Suez. Down from Suez back to Durban, Capetown, and Simonstown, from those ports around to Sierra Leone, and up to Gibraltar. On the Pedestal convoy in 1942, the Kruger and Nyasa went through to the Narrows with the big ships as extra AA escorts, before turning and returning to Gibraltar. The Kruger was lost to a U-boats torpedo on the Sierra Leone to Gibraltar route.



Displacement
3,550 tons std 4,500 tons full load
Length
436 ft
Breadth
40 ft
Draught
13.5 ft
Machinery
4 shaft steam turbines, 40,000shp
Speed
29-30 knots
Range
4000 miles at 18 knots
Armour
3" side, 1" deck
Armament
As Completed
2 x 6" (2x1)
6 x 4" (6x1)
2 x 3" AA (2x1)

Refitted to 1919
3 x 6" (3x1)
4 x 4" (4x1)
2 x 3" AA (2x1)

Refits to 1929
3 x 6" (3x1)
4 x 4" AA (4x1)
4 x 2pd (4x1)

Refits to 1941
3 x 6" (3x1)
4 x 4" AA (4x1)
4 x 2pd (1x4)
8 x 20mm (1x2 6x1)
Torpedoes
8 x 21" (4x2)
4 x 21" (2x2)
4 x 21" (2x2)
Complement
270
285
290
304
Notes
HMS Arethusa (1914) mined 1916

HMS Aurora (1914) hulked 1922, scrapped 1923.

HMSAS Lusaka (1914) ex Undaunted, Scrapped 1929

HMSAS Salisbury (1915) ex Phaeton, Scrapped 1932

HMSAS Nyasa (1915) ex Inconstant, Scrapped 1945

HMSAS Mombassa (1915) ex Royalist, Scrapped 1945

HMSAS Oranskie (1914) ex Galatea, Discarded as part of Mulberry 1944.

HMSAS Kruger (1914) ex Penelope, Sunk by U-Boat 1943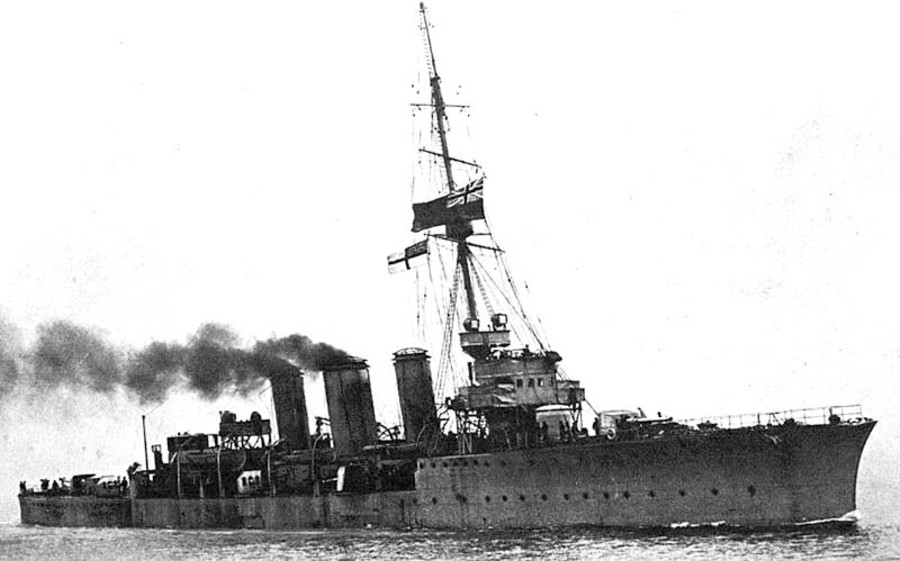 Original drawings with far too much topweight added. I think I was trying to draw turtles.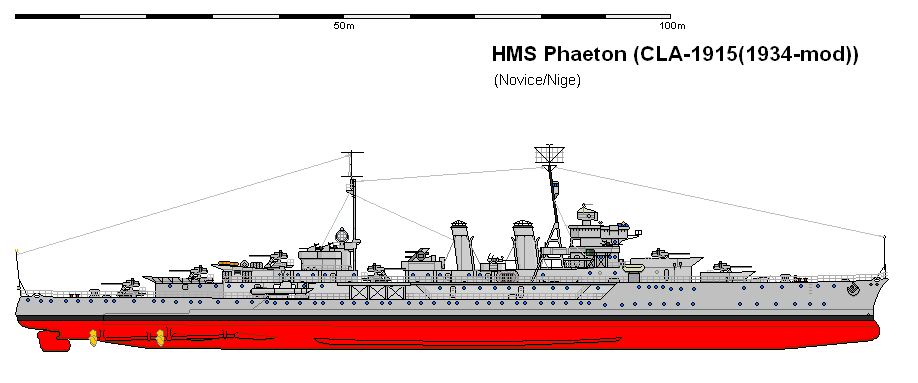 Back to Commonwealth Ships List