PCS Blyskawica (DDL-1938)
Return to Polithstovian Navy Page:
In creating the fast response group of the battlecruiser and two heavy cruisers, the Polithstovian Navy also required a flotilla of destroyers to screen the big ships. The Polithstovian Navys answer to the problem was a group of large fast destroyers, the Blyskawica class of four ships. Like most Polithstovian Navy ships, these destroyers were based on a Royal Navy design, in this case the design used was the Tribal class destroyer. The main difference was the utilisation of the 4.5" BD mounting in place of the 4.5" twin turret mounted on the Commonwealth destroyers of the same time period. The Polithstovian Navy already had the 4.5" BD mounting slated to fit on the battlecruiser and heavy cruisers so an extra sixteen mountings were ordered to arm the Blyskawica class. The 4.5" BD mounting was quite heavy at 49.4 tons to the twin turrets 42.1 tons. The extra 7 tons was easily explained as the BD mounting featured 3" armour as part of its manufacture. The topweight between the two mountings was offset by the BD mounting being mounted into the deck rather than the turret which was mounted at deck level. An easy recognition feature between the Royal Navy destroyers and the Blyskawicas was the aft mountings had to be moved forward in comparison to the RN destroyers to clear the shafts because of the extra depth of the mounting into the deck. The idea of the main guns being armoured was appealing to the Polithstovians as air attack was a major problem in the Baltic Sea which was the most likely area of operations for these ships.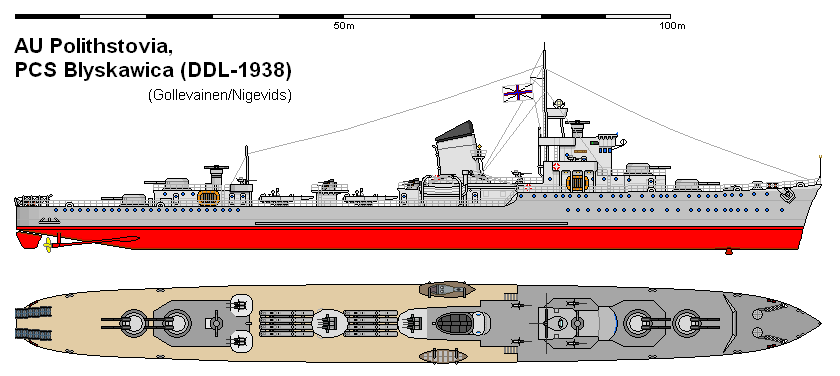 With propulsion for 37 knots they had a large enough margin of speed over the cruiser squadron to enable the ships to properly screen them through changes of heading where the screen would need to alter their position in relation to the cruisers. Gun control was by two HA/LA directors. The AA suite was quite heavy for their time of completion and was added to and upgraded throughout the war. The torpedo armament of two quad mountings gave them something to give the Soviet capital ships and cruisers large headaches. A further two ships of the class were ordered in 1939, but work had barely commenced when the outbreak of war cancelled them.
Displacement
2,500 tons std, 3,150 tons full load
Length
402.5 ft
Breadth
39 ft
Draught
12 ft
Machinery
2 shaft geared turbines, 72,000shp
Speed
37 knots
Range
4000 miles at 15 knots
Armour
3" turrets
Armament
8 x 4.5" (4x2)

8 x 2pd (2x4)

8 x 20mm (2x2 4x1)

Torpedoes
8 x 21" (2x4)
Complement
240
Notes
PCS Blyskawica

PCS Grom

PCS Huragan

PCS Nawalnica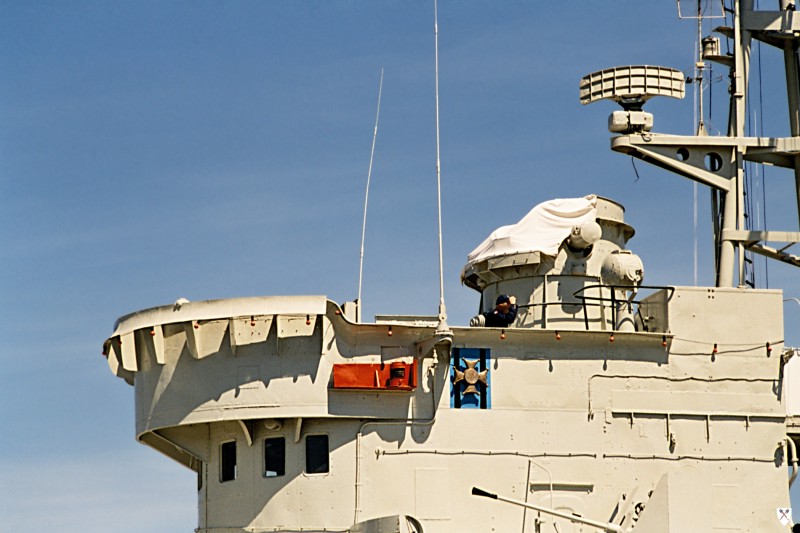 Bridge of the Blyskawics showing unit citations, upgraded gun director and late model Radar which date it to 1945-to-post war. 20mm in bridge wing is visible.