KM Schnellboot (SB 1933-45)
Back to Germanic States Navy page:



Some of the most remembered small boats are the classes of S-boat (Schnellboot) or E-boat to the Commonwealth who fought them along the coasts of Europe, built by the Germanic States Navy from 1933 through to the end of the war. What made them so good was the high speed diesel engines they were powered with. The diesel oil fuel that powered them was less volatile than the petrol for the petrol motors that powered the Commonwealth and US equivalents.

From Wiki:
E-boat (German: Schnellboot, or S-Boot, meaning "fast boat") was the Western Allies' designation for fast attack craft of the Kriegsmarine during World War II. The most popular, the S-100 class, were very seaworthy, heavily armed, and fast – capable of sustaining 43.5 knots (80.6 km/h; 50.1 mph) and briefly accelerating to 48 knots (89 km/h; 55 mph.

These craft were 35 metres (114' 10") long and 5.1 metres (16' 9"') in beam, half again longer and much sleeker than any of the Allied PT boats. Their diesel engine propulsion had substantially longer range (approximately 700 nautical miles) than the gasoline-fueled American PT boat and the generally similar British Motor Torpedo Boat (MTB).

As a result, the Royal Navy later developed better matched versions of MTBs using the Fairmile 'D' hull design

During the war the Kriegsmarine had in total 356 (AU) S-boats be built at der Fr. Lürssen-Werft, Bremen-Vegesack, at Joh. Schlichting-Werft, Travemünde, at Gusto-Werft, Schiedam/Holland, and at Danziger Waggonfabrik.

The losses of the S-Boat-Force were:

Killed in action 767 persons
Wounded 620 persons
Prisoner of War 322 persons
Lost 140 boats

Various countries purchased licenses to build the Schnellboots including: Galicia, and Iberia.

S1 1930 -
(as first completed 1930) discarded prior to WW2.






Shipyards Lürssen
Length 26,50 m
Bream 4,20 m
Draught 1,10 m
Displacement 39,8/51,6 ts
Propulsion
3 x Daimler-Benz 12 cylinder fourstroke gasoline engines 2400/2700 PS
1 x MaybachS 5 100 PS on middle shaft
Speed 34,2 kts
Complement 12
Armament
2 x Torpedo Tubes 50 cm, from 1933 - 53,3 cm
1 x 20 mm Machinegun


S2-S6 1932
(sold to Spain 1936)






Shipyards Lürssen
Length 27,90 m
Bream 4,20 m
Draught 1,10 m
Displacement 46,5/58 ts
Propulsion "S 2" to "S 5" 3 x Daimler-Benz 12 cylinder fourstroke gasoline engines 2400/2700 PS
Propulsion "S 6"
3 x MAN L 7 fourstroke Diesel engines 900/1320 HP
3 x Maybach S.5 engine 100 HP on middle shaft
Speed 33,8 resp. 32 kts
Complement 12 - 13
Armament
2 x Torpedo Tubes 50 cm, from 1933 - 53,3 cm
1 x 20 mm Machinegun


S7-S13





Shipyards Lürssen
Length 32,36 m
Bream 4,90 m
Draught 1,40 m
Displacement 80/95 ts
Propulsion "S7" - "S9" 3 x MAN L7 Diesel engines 960/1320 HP
Propulsion "S10" - "S13" 3 x Daimler-Benz MB 502 Diesel engines 1200/1300 HP
Speed 36,5 kts
Complement 17 - 21
Armament
2 x Torpedo Tubes 53,3 cm
1 x 20 mm Machinegun


S38 - S38b









S 100 1943


Shipyards
Lürssen "S 100, "S 134" - "S 150", S 167" - "S 186", "S 195" - "S 218"
Schlichting "S 187" - "S 194"
Length 34,94 m
Beam 5,10 m
Draught 1,67 m
Displacement 100/117 t
Propulsion "S 100" og "S 136" 3 x Daimler-Benz MB 501 Diesel-Engines 1500/2000 PS
Propulsion "S 139" til "S 150" 3 x Daimler- Benz MB 501 A
Propulsioni "S 167" til "S 218" 2 x Daimler- Benz MB 511
Propulsion "S 208" Testbåd for 3 x Daimler-Benz MB 518
Speed 38,5 kn
Complement 21 - 30
Armament
2 x Torpedotubes 53,3 cm
2 x 20 mm Machinegun, 1 x MG
"S81"- "S 83", "S98"-"S99, "S 117: 1 x 37/40 mm Flak, 3 x 20 mm Machinegun (1x2 1x1)








LS Boats 1938-1944





Shipyard Dornier-Werft, Friedrichshafen
Length 12,5 m
Beam 3,46 m
Draught 0,9 m
Displacement 11,5 ts
Propulsion 2 x Daimler-Benz MB 507 Diesel engines 1100 HP, 2 x threebladet propellers of 0,48 to 0,55 cm diameter
Speed 38 kts
Complement 7
Armament
2 x Stern Torpedotubes 53,3 cm or 3/4 mines
1 x 15 mm Machine Gun



Other Pics and Drawings from the internet: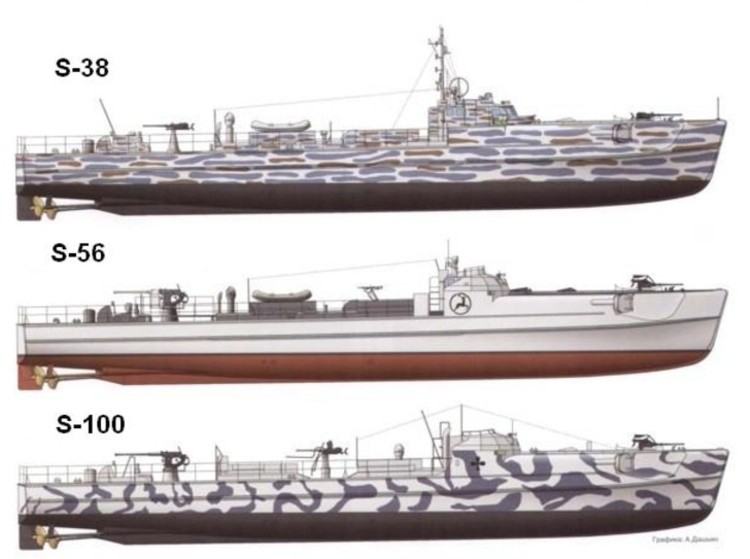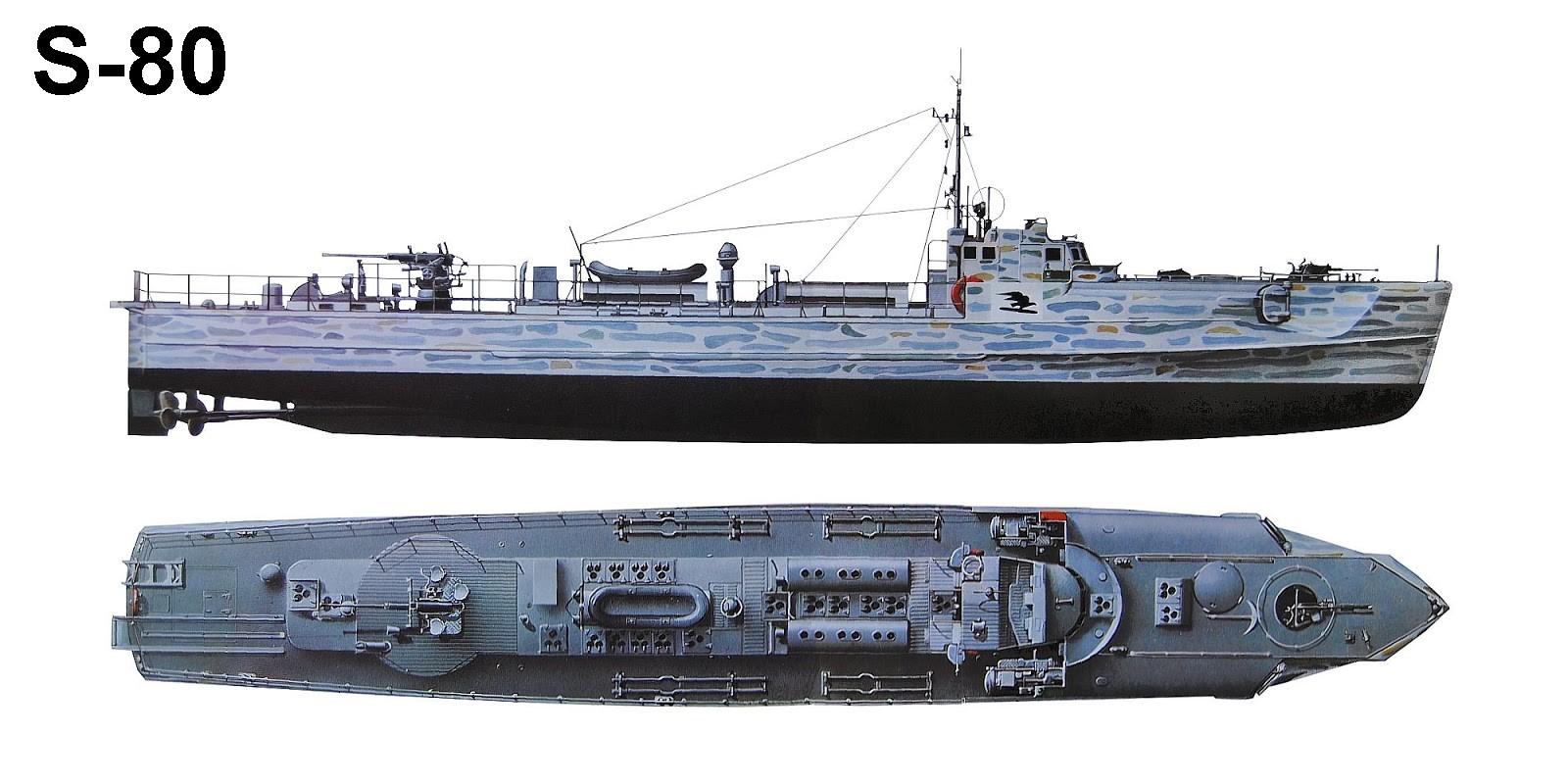 Back to Germanic States Navy page: