KM Drache (DDL-1918)
Back to Germanic States Navy page:


The V116 class were the largest destroyers completed during WW1. The German Navy kept one as the leader of the rag-tag band of destroyers they were allowed to keep after the Versailles Treaty. For all its life the Drache was used as a Destroyer Leader. Big and fast they had the distinction of having the heaviest armament on a destroyer. But that was not really an advantage. The 5.9" gun was not a gun that did well on a destroyer. Lots of hull movement in any sort of seaway made handling the big 50kg shells difficult. Loading was slow and cumbersome, which impacted rate-of-fire which was much slower than even the light cruisers. With the introduction of the dual purpose weapons from 1935 onwards, hope was at hand for the Drache. 1937 and the ship is taken in hand for refit. The 5.9" are removed and replaced with the single open 5" which were lighter and allowed a bit of extra topweight to fit a few extra AA guns. Two single 37mm were mounted aft of the aft funnel while two single 20mm were added around the bridge.




The V116 was retained and renamed Drache in 1925 and was made destroyer leader of the Baltic flotillas. Its two sisterships and the three S113 class of similar size were ceded off to the Allies, the two other V116 going to France.




The Drache above showing the armament it fought WW2 with.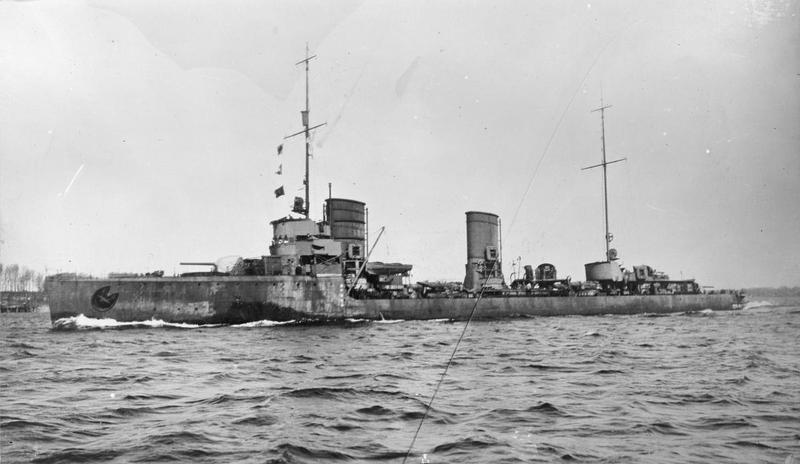 As completed
After modernisation

Displacement

2060 tons standard, 2360 tons full load

2150 standard, 2,500 full load

Length, m

353 feet

Breadth, m

34 feet

Draught, m

15

Machinery

2 shaft, AEG-Vulcan steam turbines, 4 Marine boilers, 45000shp

Max speed, kts

34.5 knots

34 knots

Fuel, t

oil 660

Endurance, nm(kts)

2500 nmi (20 knots)

Armament

4 x 5.9" L/45 C/16 (4x1)

4 x 5"/L50 DP (4x1)
2 x 37mm Bofors (2x1)
2 x 20mm (2x1)
Torpedoes
4

x 23.6" (600mm) (2x2)

6 x 21" (2x3)
Mines

40

mines when carried

rails removed

Complement

176 - 188

185-200
Drache's near sisters of the S113 type were all ceded to the Allies as well as the remaining V116 class. France, Italy, got two each, the remaining ship was analysed by both Britain and the US and then sunk by Colonel Mitchell.