GRN Bucovina (CL-1915 (1935-mod))
The ex-Helgoland class cruiser was received with the Armoured cruiser Ploesti as the first major ships in the Galician Fleet. Both ships spent the first part of their lives as training ships. The need for new personnel at all levels was tremendous and while the Galician navy had been able to source personnel from the ex-Austro-Hungarian Fleet that gave them a core for each ship, hundreds more were needed. It was provident (Nigevids magic wand again) that the capital ships arrived at staggered intervals that allowed the last one to be manned before the next one arrived. This expansion during a time when unemployment was rampant helped to bring Galicias ecconomy into a stable condition.

These were good looking four funnel cruisers in the same mode as the other scout cruisers being built by the major navies. The armament of 3.9" was considered good enough not to require upgrading to 5.9" as happened with some of the Germanic States and British ships of similar vintage. Also the 5.9" that may have been used for upgrading the class went to the army for use as long range field guns. One of the first things done to the ship when it arrived in Galician hands was to convert it to oil-firing. Galicia never had any problem with providing the fleet with fuel oil.

By 1935 the Bucovina was showing its age but like other cruisers a new life was found for the ship as part of the escort for the Harghita aircraft carrier. To do this job the ships armament was finaly upgraded from the original 3.9" guns to the licensed 5.3" guns in twin and single mounts. This turned the old light cruiser into a much more capable anti-aircraft cruiser. (For the ships three sisterships see ARA Rawson)
Displacement
3,400 tons std 4,220 tons full load
Length
428.5 ft
Breadth
42 ft
Draught
16 ft
Machinery
2 shaft steam turbines, 26,000shp
Speed
27 knots
Range
4000 miles at 12 knots (1800 at 25 knots)
Armour
2.4" side, 1" deck, 1.5" turrets (5.3")
Armament
8 x 5.3" (2x2 4x1)

6 x 37mm (3x2)

16 x 20mm (16x1)

Torpedoes
4 x 21" (2x2)
Complement
370
Notes
GRN Bucovina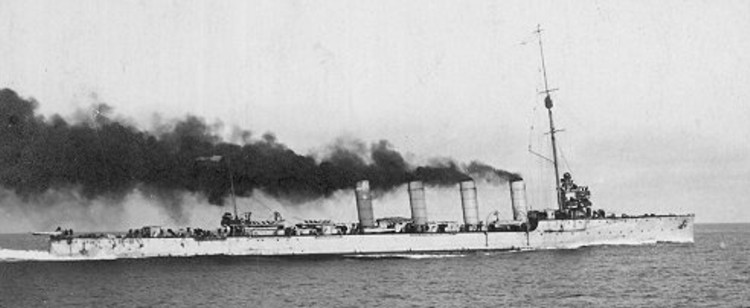 GRN Bucovina in Austro-Hungarian service with original 3.9" guns and coal fired boilers.