ARA Rawson (CLA-1914 (1936-mod))
Italy as part of its WW1 reparations settlement received 3 ex-Austro-Hungarian cruisers of the Admiral Spaun/Helgoland classes. The marks of guns and other fittings meant that the ships were not easy to integrate into the Italian Navy, they would require special arms being manufactured for them. As such the Italians heard of the Argentinian interest in purchasing late model cruisers and offered the class at a much reduced rate. The Argentinians accepted and the ships were transferred to the South Atlantic where they integrated well with the Germanic States ships that Argentina had also purchased.

The ships served for 10 years from 1924-34 as they were received with virtually no new fittings. A few light AA guns had been fitted to the ships in the early 30's. The Argentinian navy then looked at the condition of the ships and whether it was worth spending money on them to upgrade the ships to modern standards with new engines weapons and fire control systems. The Germanic States shipyards were questioned as to what sort of cost and what could be done to the ships to modernise them. The various shipyards returned drawings and costings for various upgrades, some keeping the ships as light cruisers and fitting new 5.9" guns in various arrangements, some sent back drawings for conversion to anti-aircraft cruisers.


Argentina was always short of 'gun' cruisers for patrolling the sea lanes from the Horn to the Rio de Plata. Thousands of kilometers. Removing the nine 3.9" made plenty of space for a new armament. Four centreline mounted 5.9" gave a decent broadside, while the AA armament had first the four 3.4" AA, then a twin 37mm mounting was fitted between the fore funnels, and finally four single 20mm were mounted around the masts. Four 21" torpedo tubes were mounted amidships.
After refits to 1938:
Displacement
3,800 tons std, 5,100 tons full load
Length
428.6 ft
Breadth
42 ft
Draught
16.5 ft
Machinery
4 shaft Steam Turbines 32,000shp
Speed
27 knots
Range
4400 miles at 15 knots
Armour
2.6" side, 1" deck, 1" shields
Armament
4 x 5.9" (4x1)

4 x 3.4" AA (4x1)

2 x 37mm (1x2)

4 x 20mm (4x1)

Aircraft
nil
Torpedoes
4 x 21" (2x2)
Complement
370
Notes
ARA Rawson

ARA Gallegos

ARA Posadas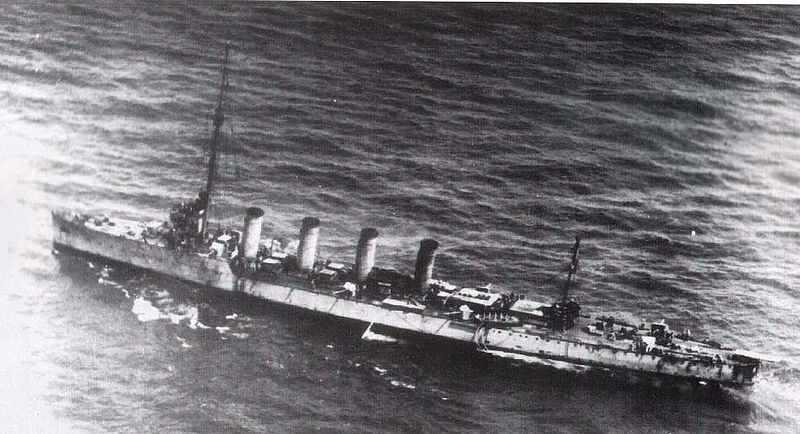 Above: as received 1925. Below: interesting design, too much topweight, but close. The twin 4.1" are big and heavy, too much for a small cruiser.