HMS Leander (CL-1935)
HMSAS Namaqualand (CL-1936+)
Back to Commonwealth Ships List
Back to Southern African Navy list:
The Leander class were important that they marked the return of the 6" cruiser after ten years of the Treaty heavy cruisers. The British Empire requires large numbers of cruisers, quantity rather than size. A 7500 ton cruiser meant they could build 3 6" cruisers for the price of 2 of the County types. A basic armament of 8 x 6" in twin turrets was deemed sufficient for this class with first single 4" as the heavy AA, these being replaced by twin 4" as they became available and as the ships went for refits.

The four ships built for the Southern African Navy were the last overseas built cruisers for the SAN. From this class onwards the SAN built its own designs (with mixed results). With raked funnels and compact bridges these ships looked magnificent and served in theaters throughout the world. Several being lost (I am just not sure which ones yet and how).
Displacement
7,300 tons std, 9,750 tons full load
Length
561 ft
Breadth
56 ft
Draught
20 ft
Machinery
4 shaft steam turbines, 72,000shp
Speed
32 knots
Range
4,500 at 18 knots
Armour
4" side, 2" deck 2.5" turrets
Armament
8 x 6" (4x2)

8 x 4" (4x2)

8 x 2pd (2x4)

2 x 40mm (2x1)

14 x 20mm (6x2, 2x1)

Aircraft
1
Torpedoes
8 x 21" (2x4)
Complement
580
Notes
HMS Leander

HMS Amphion

HMS Ajax

HMS Achilles

HMS Aboukir

HMS Cressy

HMS Hogue

HMS Drake

HMSAS Namaqualand

HMSAS Zululand

HMSAS Basutoland

HMSAS Griqualand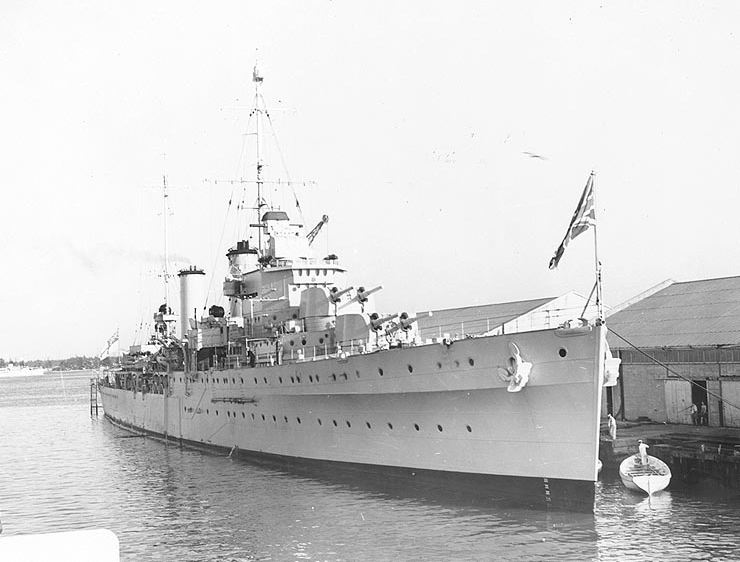 Back to Commonwealth Ships List