HMS Caroline (CL-1914-15)
HMSAS Nairobi (CL-1916)
Back to Commonwealth Ships List
Back to Southern African Navy list:
The Caroline class numbered 14 ships in 3 batches. Caroline Type (6), Cambrian Type (6) and Centaur Type (2). They shared the same dimensions and hull type but differed in machinery (in different ships in the same class even) armament layout and size, number of funnels and other superstructure details. They provided the backbone of the light cruiser scouting forces for the Grand Fleet at Jutland and as they were replaced in that position by the later C class, these ships went on as leaders to the Grand Fleet destroyer squadrons. Between the wars the classes went on to overseas duties rotating through the main cruiser stations (Hong Kong, West Indies, Trincomalee, Singapore) till they were replaced with the new built ships and the Carolines were reduced down the pecking order of assignments.

While the next sets of cruisers (Caledon forward) were converted to anti-aircraft cruisers the Carolines were kept as 6" armed cruisers for patrol duties. The worlds shipping lanes carried the lifeblood of Empire and required vessels to patrol and safeguard the merchant fleet. The ships could and were used as training cruisers on which not only new entrants could be taught but also the weekend warriors could learn the ropes. Eventually Asdic and depth charges were also fitted as the ships came to be used for convoy escort duties. The two Southern African ships had a fuller rebuilding process with a twin 6" turret being fitted forward and a much smaller bridge area being fitted.

Displacement
3,750 tons std 5,100 tons full load
Length
446 ft
Breadth
42 ft
Draught
14.5 ft
Machinery
4 shaft steam turbines, 40,000shp
Speed
28 knots
Range
4000 miles at 18 knots
Armour
3" side, 1" deck
Armament
3 x 6" (3x1) - SAN 4 x 6" (1x2 2x1)

4 x 4" (4x1)

2 x 40mm (1x2) - SAN nil

4 x 2pd (1x4)

8 x 20mm (1x2 6x1) - SAN 10 x 20mm

Mines
nil
Torpedoes
4 x 21" (2x2)
Complement
340
Notes
HMS Caroline (1914)

HMS Carysfort (1915)

HMS Cleopatra (1915)

HMS Comus (1915)

HMS Conquest (1915)

HMS Cordelia (1915)

HMS Calliope (1915)

HMS Cambrian (1916)

HMS Canterbury (1916)

HMS Castor (1915)

HMS Champion (1915)

HMS Constance (1916)

HMSAS Nairobi (1916) ex Centaur

HMSAS Rorkes Drift (1916) ex Concord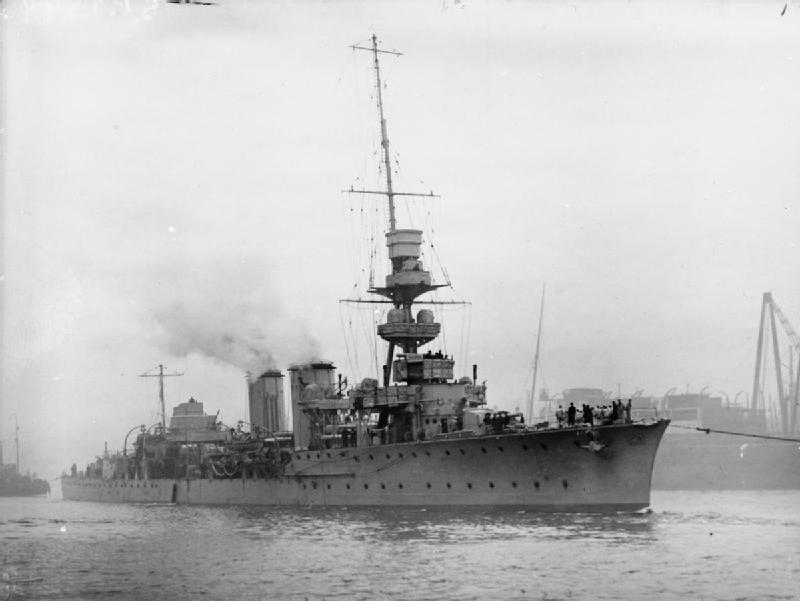 The two Centaur class ships were transferred to Southern Africa in the mid 1920's and continued to serve the SAN doing patrols from The Cape to Suez , The Cape to Perth and The Cape to Gibraltar. These patrols were excellent training grounds for new recruits, and backed up the saying "Join the Navy and see the world".
Back to Commonwealth Ships List