HMS Caradoc (CLA-1918 (1939-mod))
HMSAS Capetown (CL-1922)
Back to Commonwealth Ships List
Back to Southern African Navy list:
The British had 50+ Town, Arethusa and C class cruisers all completed 1914-22. They formed the backbone of the light cruiser force during the Inter-War years 1919-34. From 1930 onwards all of the ships were marked for conversion to anciliary duties as their replacements from the Leander Class onwards were completed. The bulk of the ships were converted to Anti-Aircraft cruisers utilising either twin/single 4" (see Bendigo) or twin 4.5". The conversions proved great for providing support to the older Battleships and the new Escort Carriers. Some saw out the war with their original single 6" armament as no time or place was found to convert the ships till 1943 onwards when it was decided that those ships were no longer worth the time and money to update or convert them.
The ships armaments differed drastically as the war progressed and where the ships had had their last major refit. Caradoc below shows the benefit of being rebuilt with the 4.5" in the UK.

HMSAS Capetown was converted at Simonstown in 1938 to the same standard as Caradoc above. The main difference being the number and placement of 20mm guns and the fitting of Asdic and depth charges.
Displacement

5,200 tons full load

Length

451.4 ft

Breadth

43.9 ft

Draught

14 ft

Machinery

geared turbines, 2 shaft, 40,000shp

Speed

28-29 knots

Armour

3" side 1" deck

Armament

8 x 4.5" (4x2)

8 x 2pd (2x4)

10 x 20mm (2x2 6x1)

Aircraft

nil

Torpedoes

6x21 (2x3) if fitted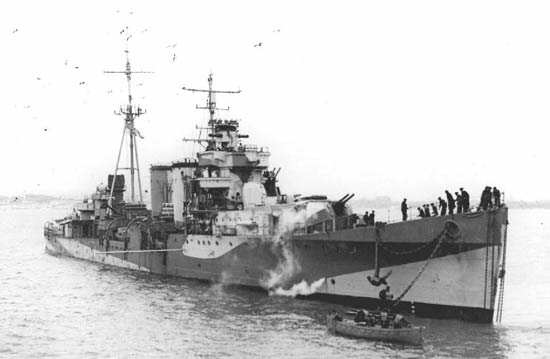 Back to Commonwealth Ships List