HMAS Warramunga (FRS-1940)
It was recognised that with only a few bases available to them in the Pacific region the Australis Navies carriers and other ships would need support ships that would replennish the fleet. General supply ships carrying everything, oilers carrying fuel oil and aircraft fuels with repair ships to provide forward repair facilities.

The Warramunga type were the oilers of the fleet replenishment system. The ships were an American design which the Australis Navy purchased with the Americans blessing as having ships of the same class meant that both Australis and USN ships would be able to use them as support vessels.
The ships were very well armed as they were expected to draw enemy attention as oilers were prime targets. The design was so good that the ships were still being built well into the 1950's. Being so valuable these ships never went anywhere without their own escort group.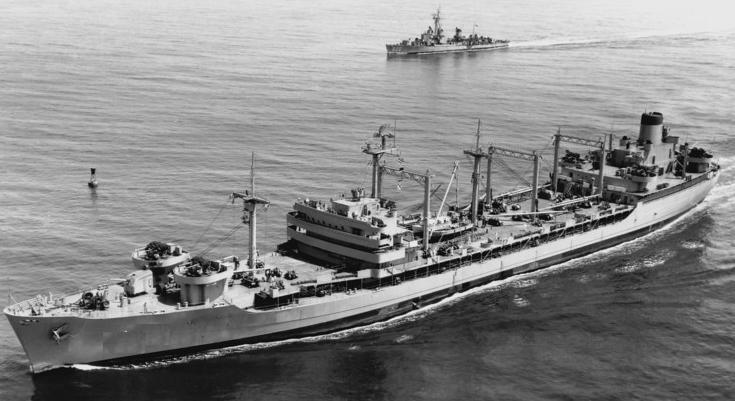 Displacement
12,000 tons std, 38,000 tons full load
Length
655 ft
Breadth
86 ft
Draught
35 ft
Machinery
2 shaft geared turbines, 28,000shp
Speed
20 knots
Range
8,000 miles at 15 knots
Armour
nil
Armament
4 x 4" (2x2)

24 x 40mm (6x4)

4 x 20mm (4x1)

Aircraft
nil
Torpedoes
nil
Complement
324
Notes
HMAS Warramunga

HMAS Katoomba

HMAS Ahiparra

HMAS Parkes

HMAS Ashburton

HMAS Cowperton

HMAS Dargaville

HMAS Featherston

HMAS Levin

HMAS Tamworth
American forces with FRS type oiler during a replenishment phase.