HMAS Latrobe (MSE-1934+)
Built to replace all of the old WW1 ecorts and minesweepers. Designed as multi-role vessels, they could undertake various duties, minesweeper was the primary role, but also as an escort, and a local minelayer.
The ships were a very basic design and like the Frigates of the Cape/River class were designed with ease of building in mind. The ships could be built at yards of commercial nature. The steam turbine design was of a commercial nature as well and didnt utilise the high pressure equipment made for the naval vessels. Classed as minesweepers the equivalent ships in the Royal Navy were the Flower class Corvettes.
The ships fell into two groups with the pre-war group being built at leisure to stricter tolerances were of better construction. The second group of War Emergency were built "fast' not 'fast-idious'. The pre-war group of 24 had a twin 4" AA mounting forward. The 40 War built ships had anything from a single 3" to a 4.7" depending on what was available. The M/S equipment was made with ease of conversion to escorts with depth charge racks and throwers replacing the sweeps and anciliary gear.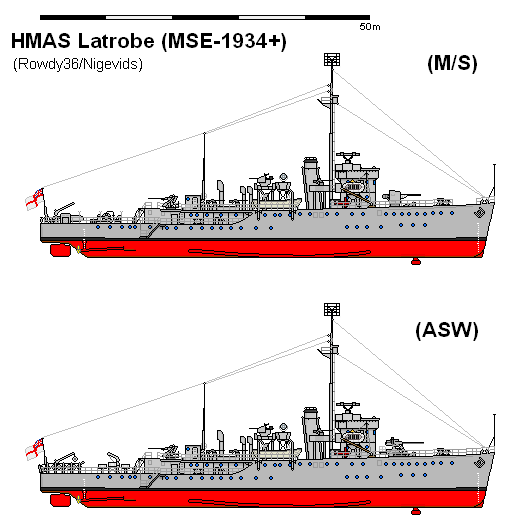 Built as inshore/coastal escorts and minesweepers, the lack of escorts at times found these ships sheperding convoys from Perth to Durban, then to the UK and often accross to the United States. Some even made round the world cruises with ships in the US escorting tankers down to the Carribean and onto Hawaii, and then escorting troop ships from Hawaii down to Brisbane for the build up for the Philipine landings. In service the ships proved durable and proved themselves capable hunters. The class sharing in submarine sinkings and downing aircraft. Two even had the dubious honour of being blown apart by a single shell from the Musashi during the Philipine landings while they were part of the escort force..
Displacement
900 std, 1250 full load
Length
213 ft
Breadth
32 ft
Draught
13 ft
Machinery
2 shaft, steam turbines, 3000shp
Speed
20 knots
Range
4000 miles at 10 knots
Armour
nil
Armament
2 x 4" (1x2)

2 x 40mm (1x2)

6 x 20mm (1x2 4x1)

Aircraft
nil
Torpedoes
nil
Complement
80
Notes
USS Intensity - Flower class corvette manned by US Navy 1943+. Many countries built and crewed the escorts.