HMAS Koala (Mon-1935+)
The Australis Navy in converting the Tasmania, Coromandel, Auckland and Agincourt battleships to ADV's and Aircraft Carriers left themselves with over a dozen 12" turrets. Thought was given to building small coast defence ships with 4-6 12" - the design ended up virtually the same as the Area Defence Vessels the Australis Navy already had enough of. Looking at the miscelaneous vessels that had proved successful in WW1 showed up the Monitor types that had proved themselves. With plenty of islands to defend ,or if lost, to retake, Monitors could be very useful in both offensive and defensive roles.
The first monitors were the Echidna and Maranoa types using 10" and 12" twin turrets in a much reduced version of the British Erebus class. The development of the new anti-aircraft weapons from 1934 onwards allowed for a new class to be designed with better AA defences, this was the Koala class. These ships used the last 4 turrets of the Agincourt . The other turrets were used in harbour defence forts around the Darwin area. Darwin had become such an important base that defending the area was made a priority.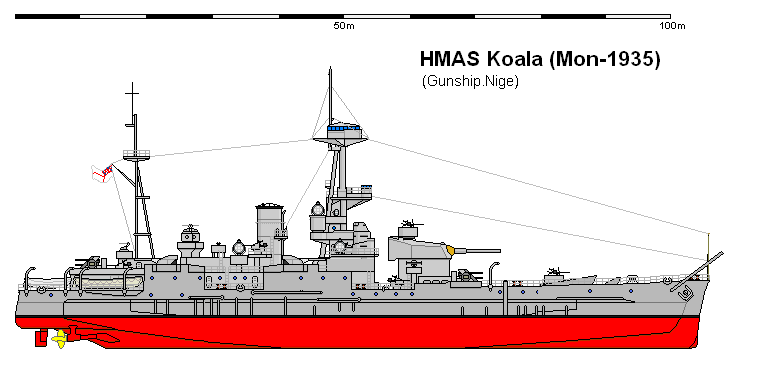 With the whole Pacific area to operate in, a speed of 20 knots was specified and a larger range than its European based counterparts. Believing that aircraft rather than surface targets would be the main opponents the ships had deck armour of appropriate size.
Displacement
7000 tons std, 9,200 tons full load.
Length
347.5 ft
Breadth
80 ft
Draught
13.5 ft
Machinery
2 shaft Steam turbines, 14,000shp
Speed
20 knots
Range
4500 miles at 12 knots
Armour
4" side, 4" deck, 11" turret
Armament
2 x 12" (1x2)

8 x 4" (4x2)

12 x 2pd (3x4)

16 x 20mm (6x2 4x1)

Aircraft
nil
Torpedoes
nil
Complement
350
Notes
HMAS Koala 1935

HMAS Platypus 1936

HMAS Dingo 1937

HMAS Kangaroo 1938
Royal Navy Monitor Roberts, a bigger version (373x89) of the Koalas with 15" main battery and different superstructure.