HMAS Bathurst (DD-1930+ (1937+mod)
The Australis Navy watched with interest the UK trials of HMS Amazon & Ambuscade. This ship was the basis for destroyer construction for the next 10 years and was the inspiration for the Emergency War Destroyers. The Australis Navy built the Bathurst class as one class with only minor adjustments between vessels until the 4.5" twin turret became available from 1934. The last two half flotillas laid down in 1934 and 1935 were completed as shown below while the earlier ships were refitted with the same turrets as they became available.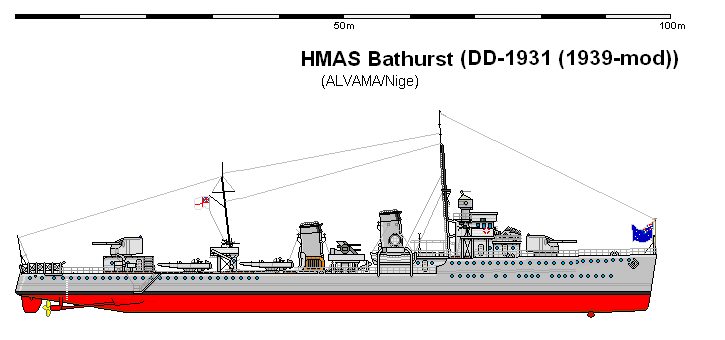 While the Royal Navy built seperate leaders for each of the A-I classes, the Australis Navy did not, deeming the ships big enough to carry extra flotilla personell as required. The ships formed the backbone of the destroyer squadrons operating with the battlefleet, and the old L Class destroyers were sold or discarded on completion of these units. The Arunta class leaders were used as flotilla leaders for these ships as required in the 2nd World War.
The first 4 were laid down in 1928 and 1929, none in 1930-31 because of the Depression, the class restarted in 1932 (4), 1933 (4) - all batch 1, 1934(4), 1935 (double class of 8 ships), 1936 (4) for a total of 32 units.
Displacement
1400 tons std, 1900 tons full load
Length
321 ft
Breadth
33 ft
Draught
12 ft
Machinery
2 shaft steam turbines, 38,000shp
Speed
35 knots
Range
6000 miles at 15 knots
Armour
nil
Armament
4 x 4.5" (2x2)

4 x 2pd (1x4)

4 x 20mm (4x1)

1 x Hedgehog

Aircraft
nil
Torpedoes
8 x 21" (2x4)
Complement
150
Notes
HMAS Bathurst

HMAS Blenheim

HMAS Bellarine

HMAS Broken Hill

HMAS Gosford

HMAS Ashburton

HMAS Alice Springs

HMAS Tennant Creek

HMAS Traralgon

HMAS Mt Isa

HMAS Charleville

HMAS Cooktown

HMAS Rotorua

HMAS Gisborne

HMAS Yarra

HMAS Petone

HMAS Echuca

HMAS Eden

HMAS Elliston

HMAS Ellsmore

HMAS Fitzroy

HMAS Forbes

HMAS Forrest

HMAS Forsayth

HMAS Georgetown

HMAS Gibson

HMAS Glendene

HMAS Goulburn

HMAS Hastings

HMAS Hungerford

HMAS Hayden

HMAS Heywood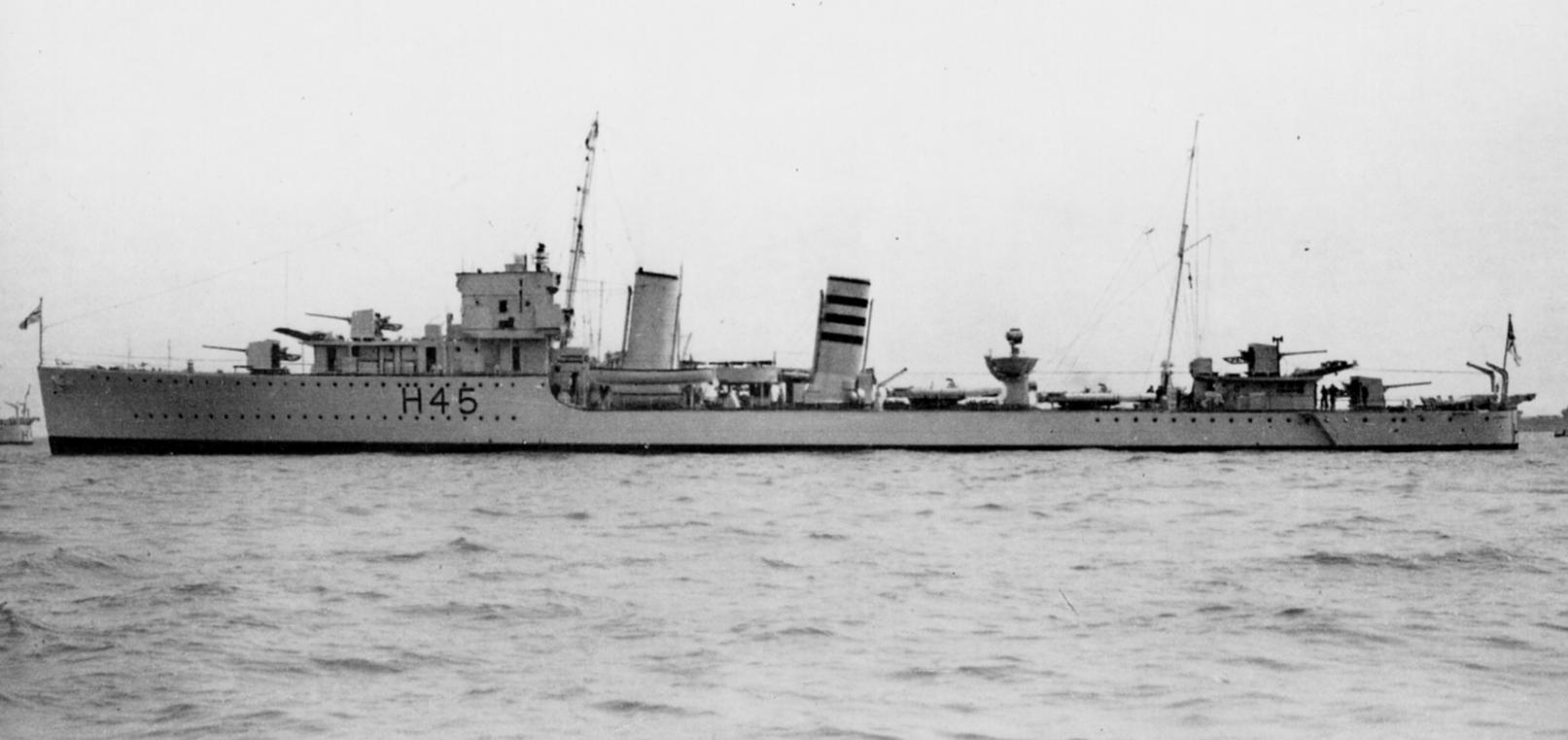 First generation as completed with single 4.7" and no light AA armament fitted.