HMAS Arunta (DDL-1938+)
Australis Navy Tribal Class destroyer leaders. 30 years prior these ships would have been classed as cruisers, which shows how much the classes of ships had grown since the Dreadnought turned shipbuilding on its head. Arunta and its sisters differed from the British Tribals in that they had a set of quintuple torpedo tubes instead of the quad set carried by the Afridis.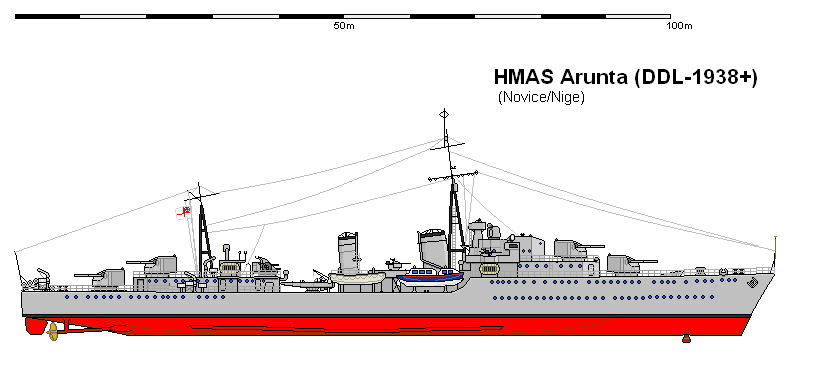 With a nice blend of size and power these ships had double the firepower of the earlier A-G class destroyers. The Australis Tribals were used in the Pacific and Mediterranean where their heavy AA capability was much appreciated by the ships they escorted. Rather than building the J-N class ships the Royal Navy built, the Australis Navy kept with the Tribal type and built two flotillas. The set of quintuple tubes meant that they had only one less than the V/W class and only three less than the A-H class.
The first 4 of the class were laid down in 1935, another four in 1936, and another 4 in 1937, with a final 4 in 1938.
Displacement
1900 tons std, 2550 tons full load
Sketch of twin 4.5" MkXI turret.
Length
378 ft
Breadth
37 ft
Draught
15 ft
Machinery
2 shaft steam turbines, 44,000shp
Speed
35 knots
Range
6000 miles at 15 knots
Armour
nil
Armament
8 x 4.5" (4x2)

4 x 2pd (1x4)

6 x 20mm (2x2 2x1)

Aircraft
nil
Torpedoes
5x21" (1x5)
Complement
220
Notes
HMAS Arunta 1938

HMAS Yanyuwa 1938

HMAS Wiradjuri 1938

HMAS Kauma 1939

HMAS Duwal 1939

HMAS Gandangara 1939

HMAS Tharawal 1939

HMAS Rembarunga 1939

HMAS Pitjantjara 1940

HMAS Narabal 1940

HMAS Muringura 1940

HMAS Korindji 1940

HMAS Eora 1940

HMAS Burarra 1940

HMAS Dainggati 1941

HMAS Ingura 1941