HMAS Bendigo (CLA-1914 (1937-mod))
The remaining four ships of the Australis "Town" type had spent their Great War service in the Mediterranean assisting in the Gallipoli landings and escorting troop convoys from Port Said to Gibraltar. On one trip between Aden and Perth the Bendigo caught and sank the disguised raider Kormorant. This was not arduous duty and the ships were in good condition at wars end. They were the first of the coal fired cruisers to be converted to oil firing as this method of propulsion had proved far better than coal.
The ships served at various stations, taking their turn at the various cruiser squadron postings. Hong Kong, Singapore, Darwin, Alexandria.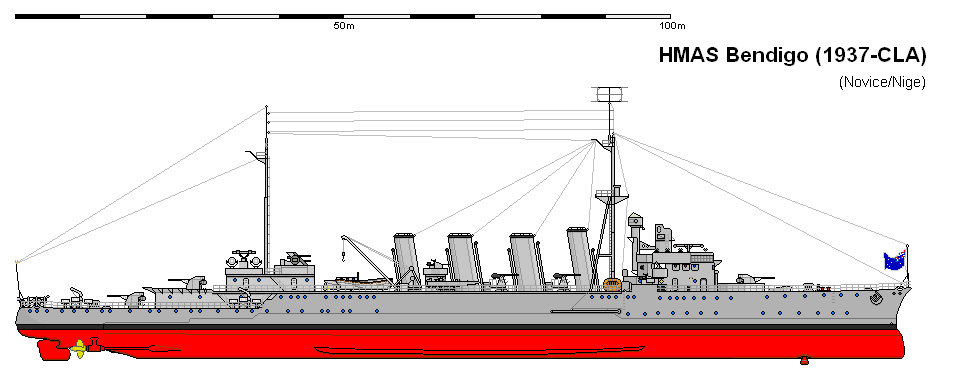 Taken in hand in 1935 for conversion to anti-aircraft cruisers, this was caused by the completion of the Albatross and the need for dedicated escorts to go with that class. Given 3 twin open 4" (which replaced the single 6" of the Hamilton class) and 4 single open 4", for the main weapons, quad 2pounder pom poms and single 20mm guns rounded out the armament. To make them even more useful they were fitted with asdic in1939 and given depth charge racks and throwers so they could act with other escorts against submarines.
Displacement
5450 tons std, 6,150 tons full load
Length
457 ft
Breadth
50 ft
Draught
16 ft
Machinery
2 shaft Parsons turbines, 25,000shp
Speed
25 knots
Range
4000 miles at 15 knots
Armour
3" sides, 1.5" deck.
Armament
10 x 4" (3x2 4x1)

4 x 2pd (1x4)

6 x 20mm (6x1)

Aircraft
nil
Torpedoes
4 x 21" (2x2)
Complement
480
Notes
HMAS Bendigo 1914

HMAS Masterton 1914

HMAS Ballarat 1915

HMAS Bourke 1915