HMAS Tasmania (ADV-1914 (1935-mod))
The two Australis Indefatigable class battlecruisers differed from their British counterparts by having the same layout as the Neptune class battleships. With a fore turret, two opposed center turrets and two superfiring aft turrets, where the British units did not have the superfiring aft turret. This added thirty five feet to the length of the hull and improved the length/breadth ratio. These ships went through 2 major refits as the navy decided on whether to keep the ships past 1933 or discard/scrap them. The Royal Navy had started a rebuilding program called the Area Defence Vessel where old pre-dreadnoughts and early Dreadnoughts were converted to training ships with aircraft handling facilities with large amounts of hangar space. the large hangars could be split into either dormitories or barracks. One for trainee seaman, cadets, or midshipmen, the other being for troops or marines.

The first refit these ships received in 1925 demilitarised them somewhat (into training ships) to allow them to no longer count against Australis' battleship tonnage. The center turrets were removed and replaced with a shelter deck covering that area for the trainees. The engines were converted to oil firing and a couple of boilers were disconnected to reduce the speed to 18 knots.
The second rebuilding was more extensive and began in 1933 and finished in 1935 with the former 3 funnels reduced to 2 and capped. Large hangars and aircraft handling facilities were fitted. The chance was taken to replace both ships engines and boilers with a reduced set from the original 40,000+ shp to a 30,000 shp set (engines from the Iron Dukes and new boilers). This brought the speed back to 24 knots and allowed the ships to act as heavy escorts to the escort carriers if required. Enhanced anti-aircraft armament was fitted.
The aim for the ADV ships was for them to provide base facilities in the Island groups under Australis protectorate status, with air reconnaissance being available from the onboard aircraft and also from any long range flying boats that were based on the ship. The big guns gave considerable coverage to the harbour while the AA guns provided the harbours AA defence.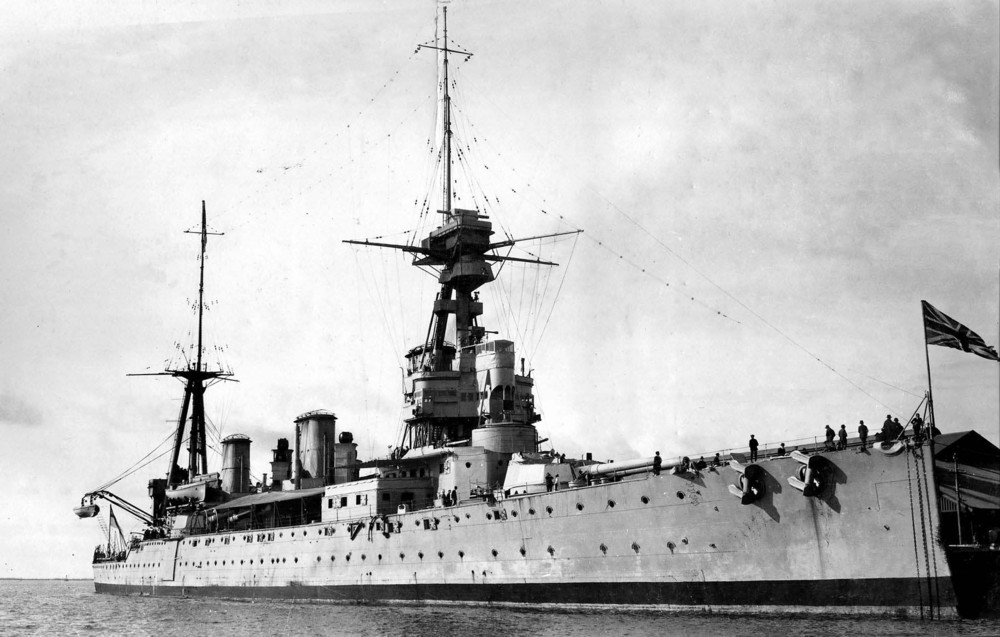 HMAS Manawatu at Adelaide 1929. First signs of training ship duties appearing beside the bridge structure.
Displacement
24,250 full load
Length
644 ft
Breadth
84 ft
Draught
27 ft
Machinery
4 shaft steam turbines 34,000shp
Speed
24 knots
Range
5000 miles at 15 knots
Armour
6" side, 2.5" deck, 7/7/4" turrets
Armament
6 x 12" (3x2)

16 x 4.5" (8x2)

36 x 2pd (9x4)

16 x 20mm (6x2 4x1)

Aircraft
8 when full complement carried

mix of Swordfish, Walrus, Skua, Seafire

Torpedoes
nil/removed
Complement
850
Notes
HMAS Tasmania 1913

HMAS Manawatu 1914