HMAS Queensland (BC-1915 (1937-mod))
The Washington Treaty made a lot of near new ships excess to requirements and the various navies involved looked for ways to save these ships. On completion of the Nelson class ships Great Britain was required to delete 2 Iron Duke and the Tiger. At that stage Australis still had spare battleship tonnage available but were not allowed to build new ships till after 1930. They could however get the excess ships from Great Britain but again with the Great Depression hitting the funds were not available. So a lease system was introduced, sail now pay later.
The Australis Navy already had a Tiger class battlecruiser and were quite happy to get another one. The new Tiger was renamed Kimberley on arrival at a commisioning ceremony in Darwin where the ship was to be based with other ships of the Fast Intervention Special Tactics unit (referred to as Mailed F.I.S.T.) as Japan was flexing its military muscles to see what responses it could draw from the regions other major powers.

Above Queensland with aircraft handling systems in place and below Kimberley with the aircraft systems removed with enhanced anti-aircraft weaponry.

Both HMAS Queensland and HMAS Kimberley went through the 1930's rebuild, being taken in hand at the Newcastle dockyards for a complete rebuilding from B to Y turret which included the resiting of the ungainly 'Q' turret to a superfiring X position. On completion both ships bore a remarkable resemblance to the HMAS New Zealand that was then being built.

Displacement
37,500 tons full load
Length
768 ft
Breadth
90 ft
Draught
32
Machinery
4 shaft Steam turbines 120,000shp
Speed
30 knots
Range
5000 miles at 18 knots
Armour
9" side, 4.5" deck, 9/6/4.5" turrets
Armament
8 x 13.5" (4x2)

20 x 4.5" (10x2)

24 x 2pd (3x8)

20 x 20mm (8x2 4x1)

Aircraft
4 when fitted
Torpedoes
nil
Complement
1250
Notes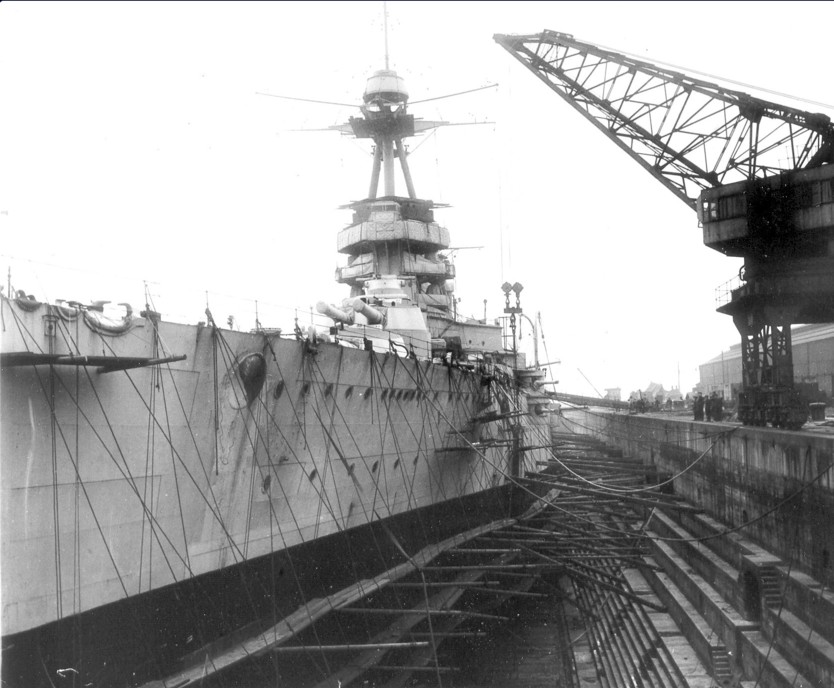 HMAS Kimberley in Newcastle dockyard for rebuilding 1935.