HMAS Coromandel (ADV-1908 (1928-mod))
HMAS Coromandel (ex Lord Nelson) was the first Australis ship to be converted into the Area Defence Vessel concept. The big hangar and large catapult on the stern were indicative of the job they were to perform. The Lord Nelson arrived in Eastern waters in 1917 at Singapore as the guardship for the Malacca Straits area. It was there at armistice time and sent down to Newcastle for a refit befor returning home via the Panama canal. While at Newcastle the Australis Navy expressed an interest in the ship as a training vessel as none of their existent large ships were quite right for the job (they were in the process of stripping the Otago the guns of which were being used on the two new armoured cruisers).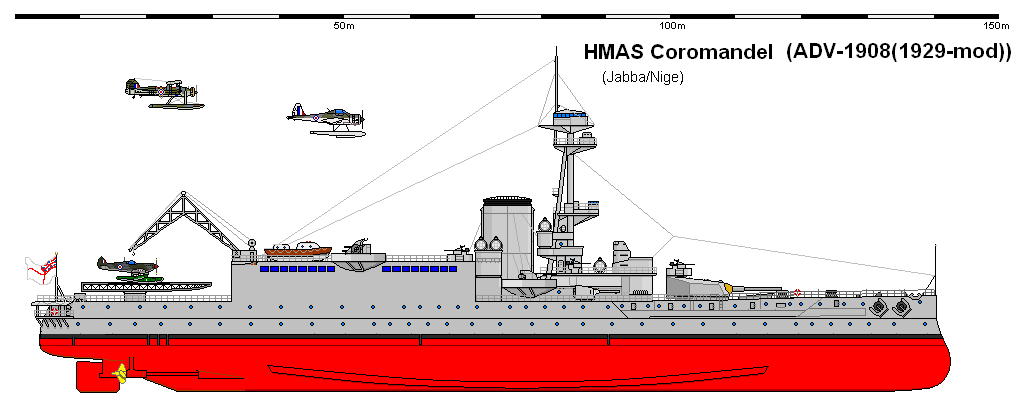 The Coromandel first had the 9.2" guns stripped out (refitted to the Chilean heavy cruisers) and the area built in for trainees, this work was done at Newcastle in 1918, and the Coromandel became the fleet training ship. It was joined by others in the later 1920's and early 1930's. In 1927 the large hangar was built on the stern, the aft 12" turret being removed. The catapult was added in 1934. One pair of 6" was fitted as training guns and two single 4" were the original AA guns, more being fitted during later refits.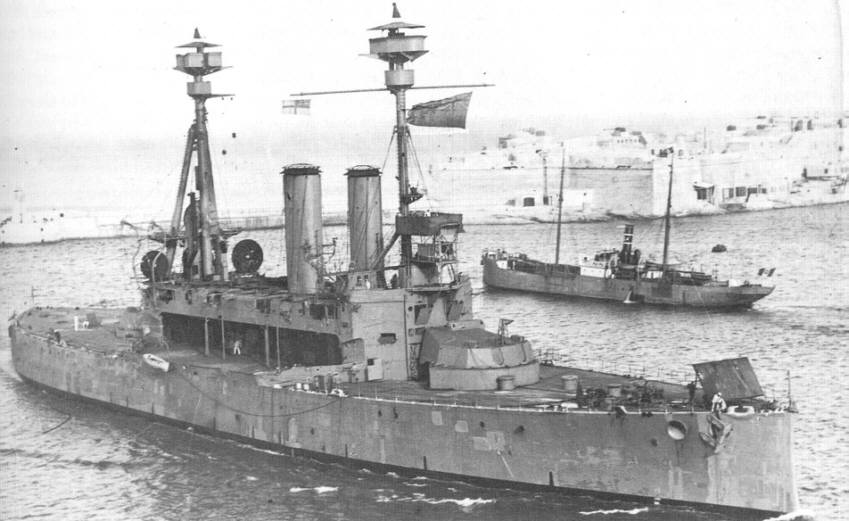 HMAS Coromandel stripped and ready for conversion.
Displacement
18,000 tons full load
Length
445 ft
Breadth
79.5 ft
Draught
27 ft
Machinery
2 shaft triple expansion, 12,000ihp (coal)
Speed
14 knots
Range
8,000 miles at 10 knots
Armour
6" side, 2.5" deck 11/9/5" turrets
Armament
2 x 12" (1x2)

2 x 6" (2x1)

4 x 4" (2x2)

8 x 2pd (2x4)

6 x 20mm (1x2 4x1)

Aircraft
9-10 (Swordfish, Walrus, Skua, Seafire)
Torpedoes
nil
Complement
810
Notes