CNS Valparaiso (BB-1913)
Back to Chilean Navy page



The King George V class battleships had performed well during WW1, with the loss of Audacious to a mine 27/10/1914. The three remaining ships were given to Chile in replacement for the Canada and Eagle that Britain had retained. The three ships were given a refit to bring them right up to date and the three ships sailed for Chile in 1924, right into a large storm of protest from Brazil and Argentina. Chile obtaining 3 battleships and a battlecruiser (see CNS Atacama) in this manner unbalanced the sea power structure of South America. Both Argentina and Brazil scrambled to obtain new (to them) ships from the sources available. A second hand battleship race ensued in South America. Of course I make it even worse by having Wrangel's fleet arrive in Venezuela about the same time.





Giving the Chilean Navy the ships, Great Britain also looked after the refits and rebuilds. Tension with Argentina and its Germanic States backers gave the Commonwealth good reason to look after their satellite countries. 1932 the first refit schedule to upgrade these ships arrived and the three ships went to Britain at 4 month intervals. Plans had been made and the artisans went to work as soon as the ships were docked.





This was the time of the "Queen Anne" mansions that the British were using for their bridge superstructure. Britain had ordered many 5.5" guns that was supposed to go to arming cruisers and as secondary armaments for battleships. Some of the ships they were to arm were cancelled and those guns were available for fitting to other ships. Ten were earmarked for each of these ships, with heavy and light AA guns.





Only six years later the class would be back for further alterations. I have to do this or I can not get the turrets required for the Coquimbo. Each rebuild took 12 months. The removal of Q turret and its equipment made the extra space necessary to replace and upgrade the machinery plant. The removal of the 5.5" LA and 4" HA made space for the 10 twin 4.5" BD mounts to be fitted. (Note: these 4.5" have bag and shell not the fixed ammunition of that other Universes weapons.) The 2pd weapons in quad mounts were kept but had to be resited to clear the fire arcs of the 4.5". The 0.5" quad machine guns were kept until the 20mm Oerlikon's arrived. One of the biggest changes was the fitting of a cross deck catapult, and hangar to operate floatplane aircraft. The fitting of the dual purpose 4.5" also required the number of AA directors to go from one to three.

Displacement
25,500 tons std, 31,100 tons full load
Length
598 ft
Breadth
89 ft
Draught
28 ft
Machinery
4 shaft steam turbines, 30,000shp (85,000shp 1938)
Speed
21 knots (27 knots 1938)
Range
6500 miles at 12 knots
Armour
12" side, 4.5" deck, 11" turrets
Armament
1924

10x 13.5 (5x2)

12 x 4" LA (12x1)

4 x 4" AA (6x1)

1932

10 x 13.5" (5x2)

10 x 5.5" LA (10x1)

4 x 4" AA (4x1)

16 x 2pd (4x4)

16 x 0.5"mg (4x4)

1938

8 x 13.5 (4x2)

20 x 4.5" (10x2)

16 x 2pd (4x4)

16 x 0.5"mg (4x4)

Aircraft
nil
nil
3
Torpedoes
3 x 18" submerged
nil
nil
Complement
1120
Notes
CNS Valparaiso (ex Ajax) 10/1913

CNS Tarapaca (ex Centurion) 05/1913

CNS La Araucania (ex KGV) 11/1912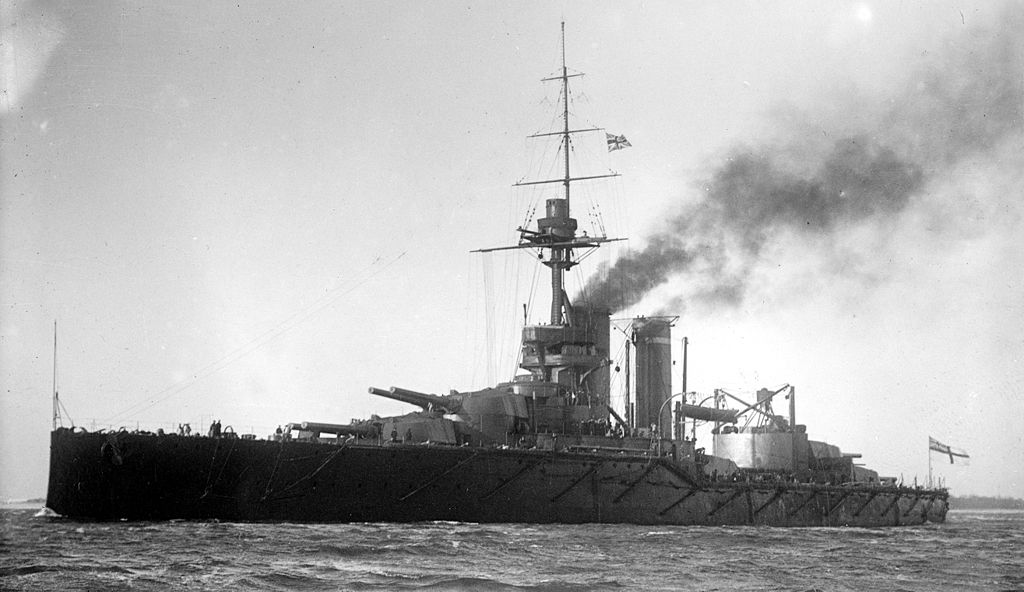 Old drawings. The ideas are good. I like the 5.5" as secondaries as they can be carried on to rearming the Boadicea class cruisers as well.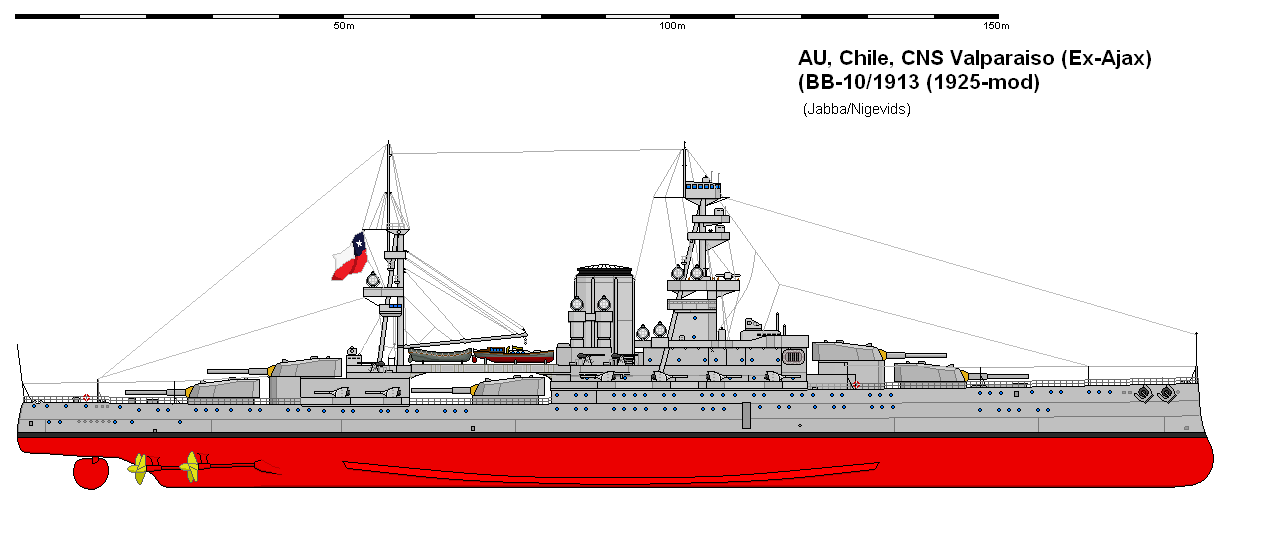 I have better bridge structures for late 30's upgrades than the one beloww.