BNS Alagoas (CL-1910 (mod-1920-22))
Back to Other Ships List



While these ships were designated as Light Cruisers they undertook the role of flotilla cruiser as leaders to the 30 M class destroyers that Brazil had obtained from the Royal Navy. The ships were the old Scout cruisers of the Adventure type and were in need of a complete overhaul and modernisation before they were acceptable for their new roles.





While it would have been nice to achieve the same 34 knot speed as the M class destroyers this would have been impossible with the technology and ship shape that was to hand. The Royal Navy had cancelled various cruisers (D class) at wars end and the propulsion equipment ordered for those ships was fitted as a new set of engines and boilers into these ships. The 40,000shp that these engines produced gave the ships a more than adequate 32 knots.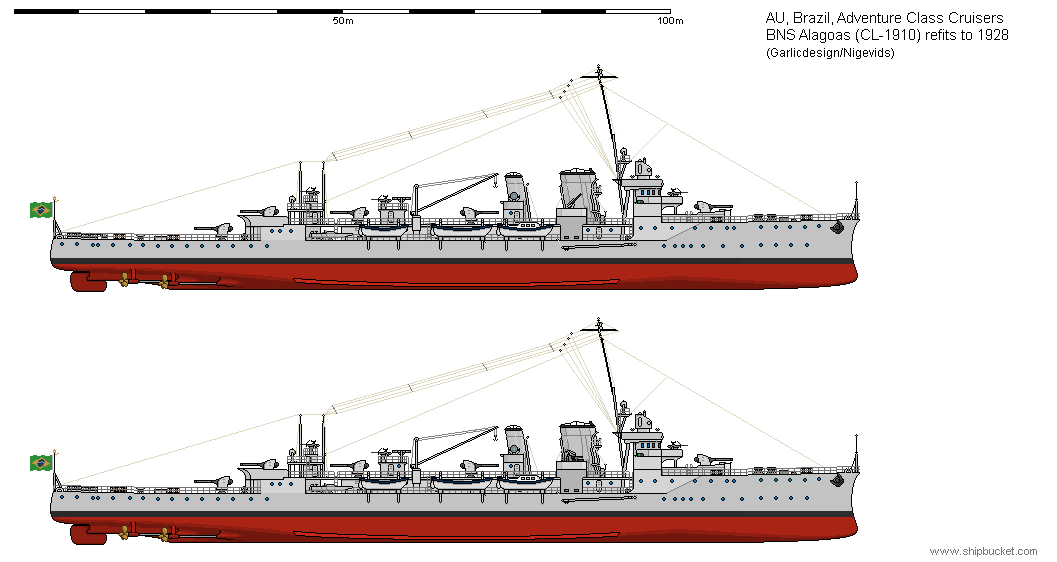 The ships armament was completely stripped out and replaced originally with 5 x 5.5", 2 x 3" and 4 x 2 pounder. The two 3" were replaced with 2 x quad 2 pounder AA guns. Two twin 21" sets of torpedo tubes rounded out the armament. That was the extent of the changes made to the four ships that the Brazilian Navy sourced and upgraded from the Royal Navy. The two Bahia class were built to the same standard as these four ships but as they did not go through the hard war the Alagoas type did, they were in better condition to have work done to them through the refit cycles.

These ships were used as escort commander vessels for the convoys running from Rio to Sierra Leone. The 'M' class destroyers they were the leaders for, by this time, had been rebuilt into destroyer escorts.
Displacement
2,800 tons std, 3,300 tons full load
Length
405 ft
Breadth
39 ft
Draught
14 ft
Machinery
4 shaft, steam turbines, 40,000shp
Speed
32 knots
Range
6000 miles at 12 knots
Armour
1" side, 2" deck
Armament
As received 1923

5 x 5.5" (5x1)
2 x 3" (2x1)
4 x 2pd (4x1)
Refits to 1936

5 x 5.5" (5x1)
8 x 2pd (2x4)
4 x 2pd (4x1)
Torpedoes
4 x 21" (2x2)
Complement
315
Notes
BNS Alagoas

BNS

BNS

BNS