ARA Pilcomayo (DD-1915)
In 1920 the Argentine Navy received the six ships of the B97 class. Big powerful destroyers, the ships were only 5 years old and were what the Argentine Navy required to screen the Battlefleet. The main change made to all the ships of the class between 1921-1925 was to change the boilers from coal fired to oil fired. In 1925, the Argentine Admiralty reviewed the status of these ships. The ships now 10 years old were still in prime condition and were expected to provide another 10-15 years of service. It was the period between 1925-1930 that most countries began experimenting with dual purpose weaponry. The new Argentine gun foundries were capable of copying existing designs but were not in the league where they were capable of producing their own designs. They had to wait for the Germanic States to provide the new designs.


1930 and the ships were earmarked for upgrading with new weaponry, bridge superstructure, plated in bow section, and new gunnery controller. The new bridge structure, and twin turret forward, took up space originally used by the fore funnel and boiler room beneath it. Removing the boiler room and converting it to extra oil stowage more than doubled the range of the ships, for the loss of 5 knots of speed. It was felt that 30 knots would still give ample speed over the 20-22 knot battlefleet ships.

Displacement
1,400 tons std, 1,900 tons full load
Length
321.5 ft
Breadth
31 ft
Draught
11 ft
Machinery
2 shaft Steam Turbines 36,000shp (27,000shp after 1935)
Speed
35 knots (30 knots after 1935)
Range
2500 miles at 15 knots (original)
5500 miles at 15 knots (after 1935)
Armament
4 x 4.1" (4x1)
4 x 88mm L56 (2x2)
2 x 37mm (2x1)
4 x 20mm (4x1)
Torpedoes
6 x 19.7" (2x2 2x1)
4 x 21" (2x2)
Complement
140-160
Notes
ARA Pilcomayo (ex-B97)

(ex-B98)

(ex-B109)

(ex-B110)

(ex-B111)

(ex-B112)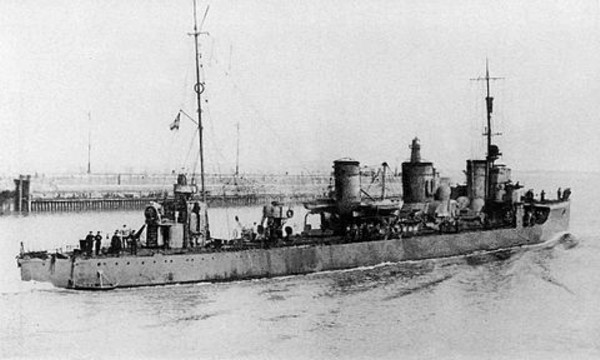 As completed with single 4.1" open mount guns.