ARA Neuquen (CL-1939)
The Neuquen class ended up being very popular. The Argentinians built two for themselves and exported the design to Germany who built four for themselves and another two for Spain.





These were the pinnacle of Argentinian cruiser design, and compared more than favourably with their British competitors (Southampton and Edinburgh classes).
This is the last cruiser class built for the Argentine Navy. It is not until 1941-42 that more ships are allowed to be laid down at Bahia Blanca, and these new vessels would fight on the Allies side.
Displacement
11,200 tons std, 14,200 tons full load
Length
615 ft
Breadth
64 ft
Draught
26.5 ft
Machinery
4 shaft Steam Turbines 80,000shp
Speed
32 knots
Range
7400 miles at 15 knots
Armour
3.9" side, 2.5" deck, 3.4" turrets
Armament
12 x 5.9" (4x3)

16 x 88mm (8x2)

14 x 37mm (7x2)

24 x 20mm (3x4 12x1)

Aircraft
1
Torpedoes
8 x 21" (2x4)
Complement
760
Notes
ARA Neuquen

ARA Parana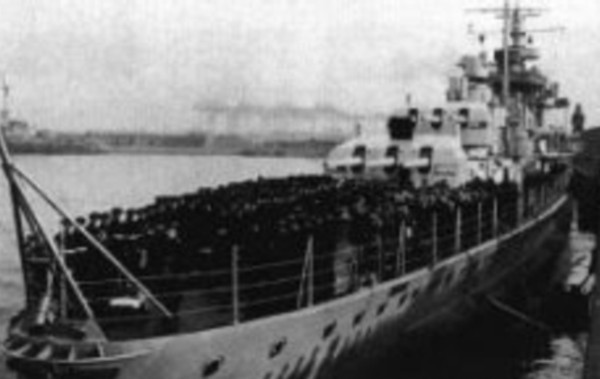 This was a close drawing to what I think it should be, but their is too much, bridge, AA directors, and the aircraft handling is very tight. A bit bigger cruiser would be better with same fittings.