ARA Formosa (CL-1914)
Ex-Regensburg class cruisers purchased from the Allied War Reparations Commission. The Argentinians had been offered the later Elbing class ships instead but these two ships had been altered during the war to carry mines and this was an advantage the Argentinians could not ignore.

The original layout had broadside 4.1" guns. The twelve guns only gave a broadside of 6x4.1" When the ship was refitted during WW1 and the armament upgraded from 12x4.1" to 7x5.9". This raised the broadside to 5x5.9" and allowed mines to be fitted from the aft broadside 5.9" to the stern. One of the first refits (and a major one) was to increase the mine carrying capacity by removing the broadside 5.9" and mounting the armament as four centreline 5.9" with a full mine complement.


In the coming conflict the two ships had two duties. 1. to mine the approaches to the Rio de Plata to keep enemy shipping away. and 2. mine the approaches to the landing places available to the British in any attempt to retake the Islands. To do this job a merchant ship full of mines would have to be based in Port Stanley to reload the minelayers working around the Las Malvinas.


Two photos of the ships as rearmed with 5.9" replacing the 4.1". Note the superfiring aft guns. The nomenclature went Regensburg, 1914-1919, Strasbourg 1919-1923, Formosa, 1924-1940.
Displacement
5,400 tons std, 7,100 tons full load
Length
468 ft
Breadth
45 ft
Draught
19 ft
Machinery
2 shaft Steam Turbines 32,000shp
Speed
28 knots
Range
5500 miles at 12 knots
Armour
2.6" side, 1.5" deck, 1" turrets
Armament
4 x 5.9" (4x1)

4 x 3.4" (4x1)

4 x 20mm (4x1)

Mines
140
Torpedoes
nil
Complement
400
Notes
ARA Formosa (ex Regensburg)

ARA Resistencia (ex Graudenz)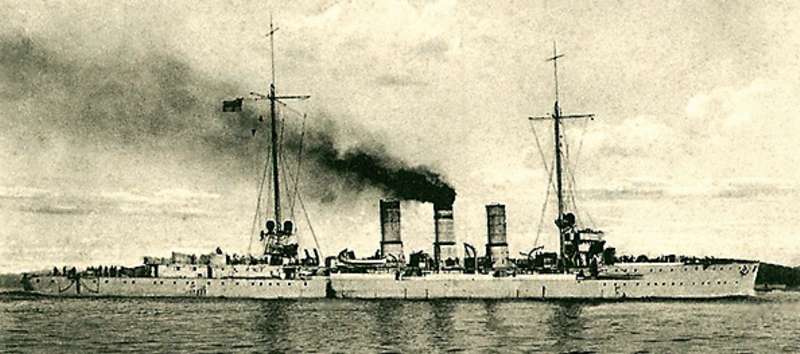 As built with single 4.1". Below - my attempt at an AA cruiser / minelayer.