ARA Moreno & Rivadavia (BB-1913 (1937-rebuild))
Built at the height of the 1st South American Naval Arms race prior to WW1, these two ships had the honour of being the only US built battleships for a foreign power. They were built under the US all or nothing armour policy so their armour distribution was different to the other Germanic States built battleships in the Argentinian Navy.

Taken in hand at the Bahia Blanca Dockyard in 1936 for rebuilding, the ships were completely gutted from B to X turret where a new set of superstructures were to be fitted. Fore bridge, after bridge and funnels were all replaced with new structures. The echelon turrets were removed from both ships and became the main armament for the San Luis. The engines had never been put under pressure and were still in excellent condition and the ship made their 22 knots on trials at the end of the rebuilding phase. The biggest change was in the command and control functions. The new bridge structures carried the new gunnery control units sourced from Germany for the 12" guns and the new 88mm dual purpose weapons. The 88mm L56 model 1936 in the light turret was mainly an AA weapon but it was also very good against surface targets with its high rate of fire.

The ships were part of the plan for the seizing and retention of the Las Malvinas Islands from the hated British. Both ships were to be the heavy escorts for the aircraft carrier 25 de Mayo which since it only had a top speed of 24 knots, the 22 knots of these ships was good enough. The two ships could maintain a fleet speed of 18knots. For this escort work both ships were fitted with a very heavy dual-purpose secondary and AA armament. To get this armament the ships sacrificed any aircraft handling facilities, feeling that the 25 de Mayo could handle that for them.

As Completed:
Displacement
28,000 tons std, 31,500 tons full load

Moreno in port.

Length
595 ft
Breadth
98 ft
Draught
29 ft
Machinery
4 shaft Steam Turbines 40,000shp
Speed
22 knots
Range
7000 miles at 15 knots
Armour
12" side, 2.4" deck, 12" turrets
Armament
12 x 12" (4x2)

12 x 6" (12x1)

16 x 4" (16x1

Aircraft
nil
Torpedoes
2 submerged (8 on drawing)
Complement
1210
Notes


Moreno and Rivadavia share some leave time. Rivadavia anchored at the main naval port of Bahia Blanca.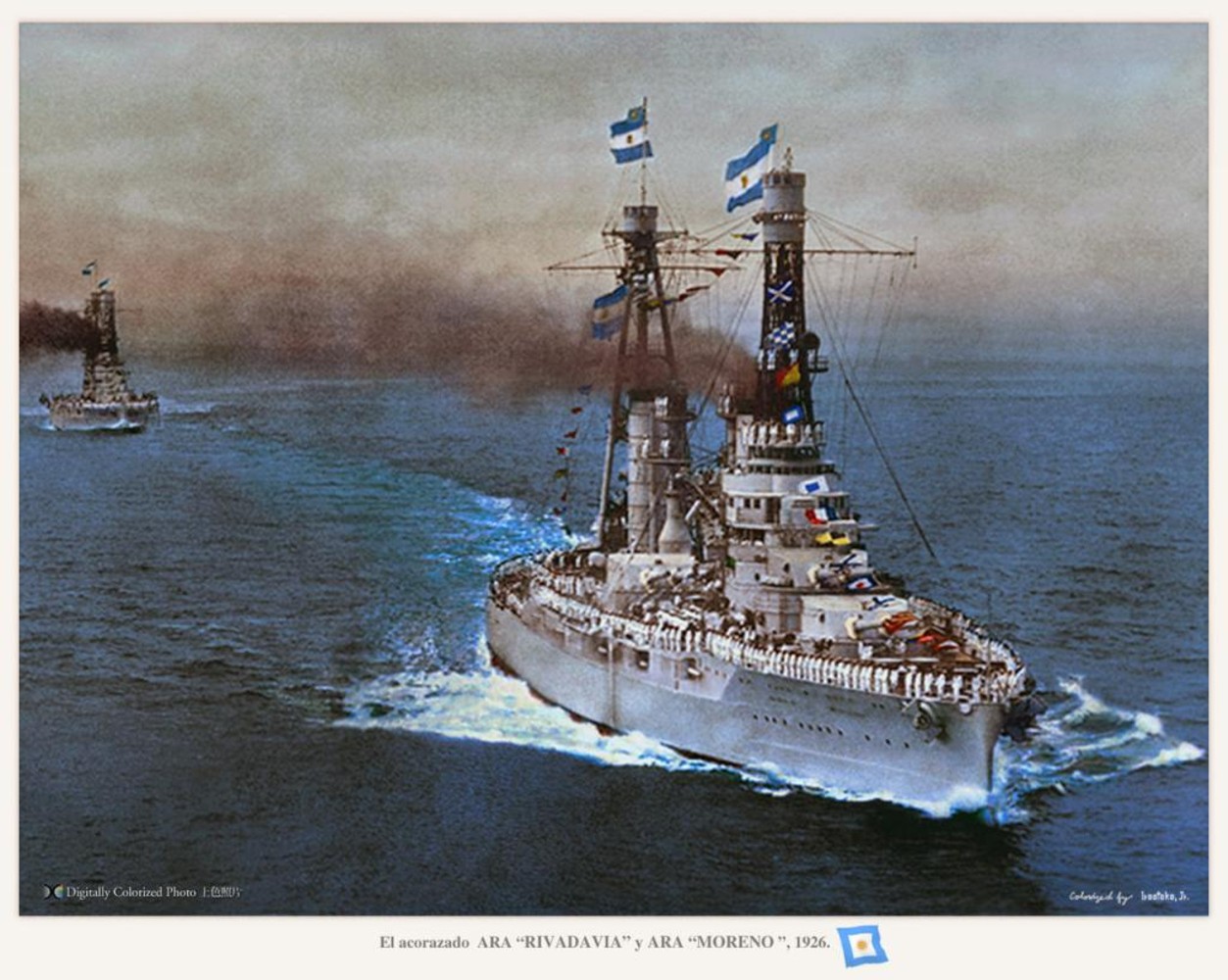 Above: Rivadavia and Moreno lead the fleet, 1926. Below: Aft turrets of Rivadavia and Rivadavia under construction at the Fore River Yard, USA.


Below: Rivadavia in drydock at Bahia Blanca ready to undergo its rebuilding, 1937-38. Rivadavia under construction.



Below: Rivadavia at sea in the 1920's.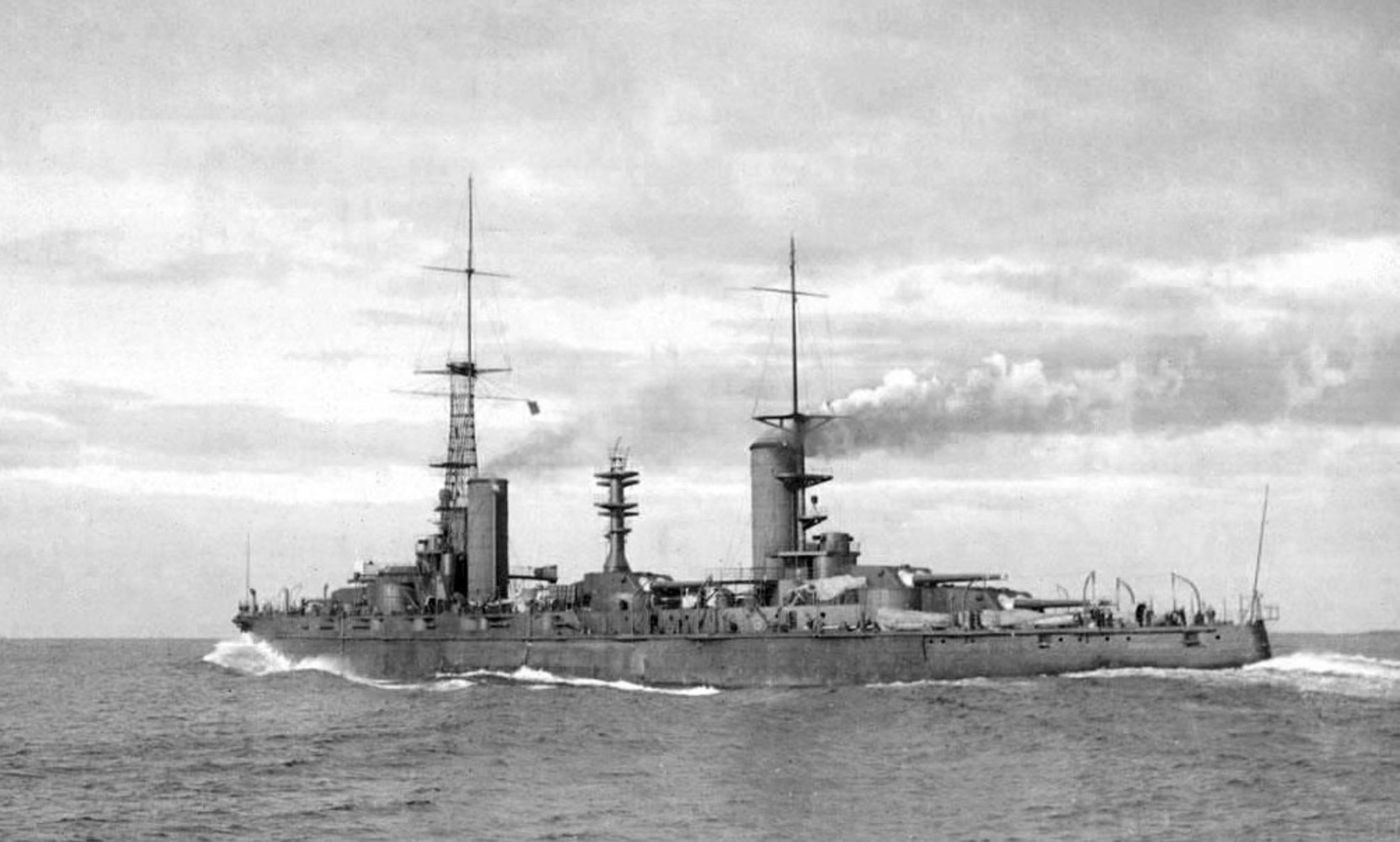 These are the original two tries I had at creating a rebuilt Rivadavia type. They need some work.