HMAS Atlantic (CV-1945)
Back to Whittles Carriers Index
With the four ship Endeavour class under construction the Australis Navy looked to the next generation of Attack Carriers that would operate ever bigger and faster jet powered aircraft. To do thais and carry a reasonable number of aircraft to acchieve local air supperiority would require a ship even bigger than the current Endeavour type. Late in 1941 the first of the four Ocean class aircraft carriers was laid down. Designed to try to take into account what the designers thought might happen to aircraft design progress in size of aircraft. The ships kept to a two tier hangar deck to maximise the number of aircraft that could be carried The lower deck being 18 feet while the upper hangar was 20 feet. To be an advance on the Endeavour type a rise in all length breadth and displacement categories would be required. This would make the ships the biggest built by the Australis Navy.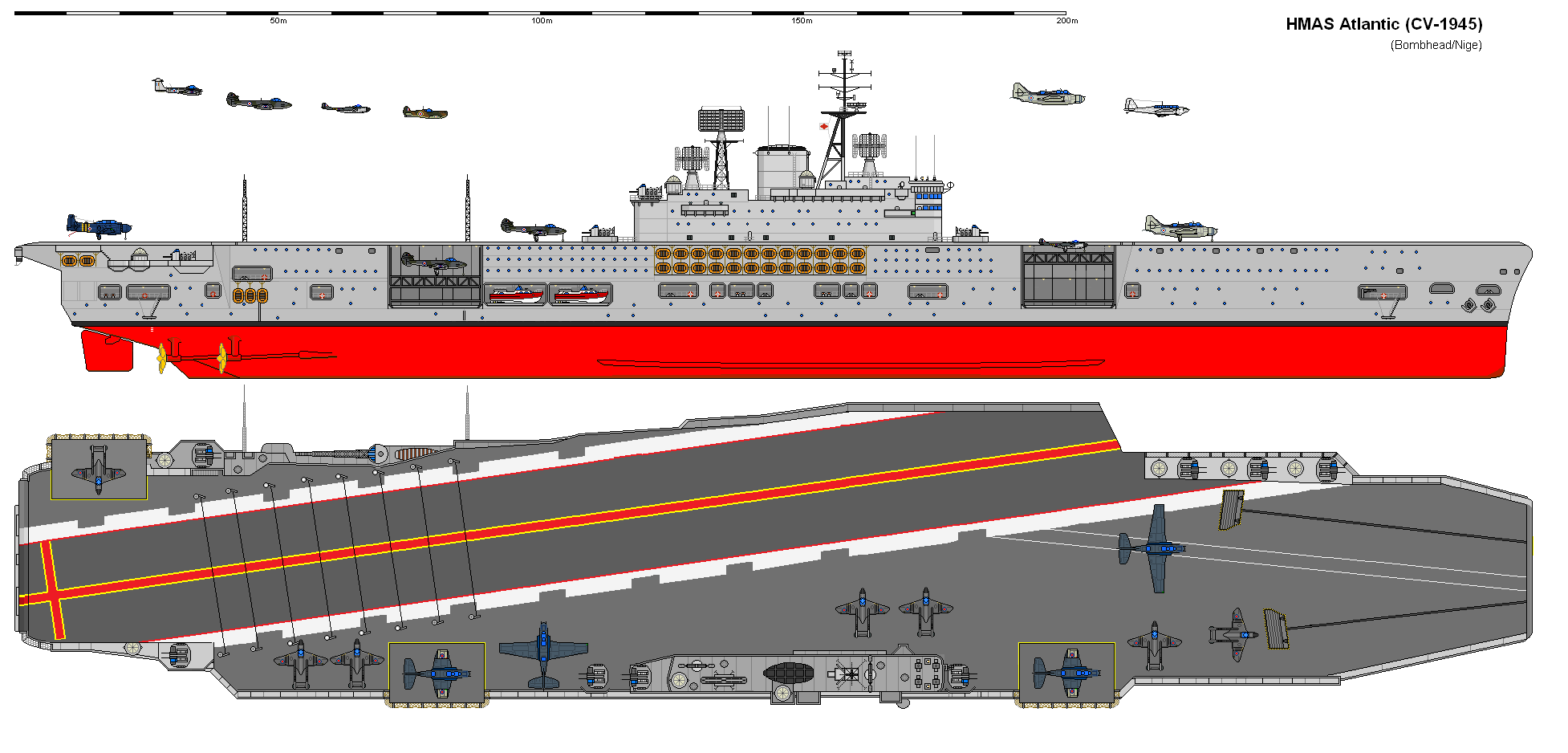 The ships were to complete during 1944-45 but the needs of the navy required that the smaller cruisers and escorts be made priorities and the construction of the Ocean class was slowed with only the Atlantic being completed a week or two prior to the end of the war. Atlantics sisterships, Pacific, Indian and Antarctic were all completed 1946-47.
The design of the Endeavour type extended the catapult to launch the larger Gannet bombers but the extension inhibited the angle deck use. The Ocean class extended the bow section of the ships over the Endeavour type which alleviated the catapult problem. As many parts of the Endeavour were utilised in producing the Ocean class to speed up production and make training and transfer of crew between ships as easy as possible. The 3rd generation of Naval Jet aircraft were just coming into service during 1946 when these ships were completing.
The Royal Navy answer to these vessels were the Malta class aircraft carriers which were of a similar size and looks. The Malta ype having more armour which was the Royal Navy need for the European theater of action. The US built the Midway class with similar building times.

| | |
| --- | --- |
| Displacement | 47,000 tons std, 59,100 full load |
| Length | 945.5 ft |
| Breadth | 124.8 ft (Hull) |
| Draught | 35 ft |
| Machinery | 4 shaft, Geared turbines, 200,000shp |
| Speed | 32 knots |
| Range | 9000 miles at 18 knots |
| Armour | 2.5" flight deck, 2.5" side, 4.5" magazines |
| Armament | 16 x 40mm (8x2) |
| Aircraft | 110 normal, 132 maximum |
| Torpedoes | nil |
| Complement | 3600 |
| Notes | |