Aquila Class anti-aircraft cruisers.
Return to Tyrrhenian Navy page:

The four ship Aquila class cruisers were some of the fastest ships built. The Central Mediterranean was inundated with fast versatile ships, the two French groups, Fantasque and Mogador, with the Italian Capitan Romani matched the four Tyrrhenian greyhounds. All of these ships were glorified destroyers with better firepower and much more speed. Unarmoured they were vulnerable to any battle damage. They relied on stealth and speed to keep out of trouble.





The first pair were completed in 1940 with the following pair completed in 1942 and 1943. By the time the second pair started completing in 1942 the first pair had already been sunk. Late 1940 and with no air search radar these ships were very vulnerable to air attack. Both were sunk by air attack from aircraft from Force H's aircraft carriers. The Commonwealth aircraft carriers ruled the seas at both ends of the Mediterranean, forcing both the Tyrrhennian and Italian Navies back into home ports, where the Commonwealth forces sought them out and sank and crippled most of the available battleships in attacks on Palma and Taranto harbours. The Avvoltoio and Falco almost never left harbour after completion, except to escort the remaining battleships on short sorties.

By the time both cruisers received some radar equipment in 1942 they were not allowed out by themselves, the Tyrrhennian Navy was spooked by Allied airpower.

The ships had been built with no thought to how dangerous aircraft had become. Both the Tyrrhennian and Italian navies put merchant carrier conversions into production but none had been completed before the countries surrendered.

One ship was ceded to France and served in the French Navy till 1955 when it was deleted and scrapped. The other ship, Falco, was ceded to the British, who returned the ship to Tyrrhennian service in 1950 with other modern ships in a deal to retain Malta as a base for a further 50 years with right of renewal in 1999.

Displacement
4,025 tons standard, 4,750 tons full load
Length
472 ft
Breadth
44 ft
Draught
18 ft
Machinery
2 shaft steam turbines, 104,000shp (125,000shp)
Speed
40 knots (44 knots)
Range
5000 miles at 15 knots
Armour
40mm box around the machinery spaces and magazines.
Armament
8 x 5.1" (4x2)
8 x 37mm (8x1)
10 x 20mm (10x1)
Torpedoes
10 x21" (2x5)
Complement
260
Notes
TNS Aquila -
TNS Condor -
TNS Avvoltoio -
TNS Falco -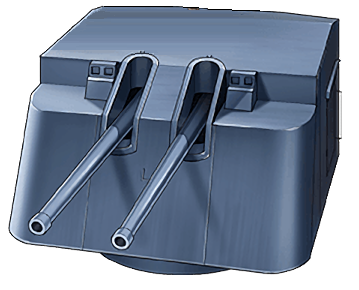 The twin 5.1" mounting was fitted to all of the modern capital ships and used as the main armament for various destroyer and cruiser classes.