Calabria Class anti-aircraft cruisers.
Return to Tyrrhenian Navy page:

Essentially an enlarged Emperor class cruiser. The extra size was put to use fitting double the main armament. Six 5.5" guns in one twin and four single mountings were fitted, all on the centerline. The twin turrets were from the original expanded order for the Sardinia class battlecruiser. The delay in the production of the 5.5" turrets lead to a single mounting being substituted forward, till the twins became available in 1914-15, at which stage the turrets were retroactively fitted.





Beside the fitting of the twin turret to bring the main armament up to its full value, cognisance was made of the threat from aircraft and three single 3" AA guns were fitted during 1916-17. The aft 3" replaced the two single 12.7mm machine guns previously fitted in the same position. No further modifications were made to the Calabria, the only survivor of WW1, till the late 1930's when the ship was taken in hand for rebuilding to the new type of cruiser, the Anti-Aircraft cruiser. The first of the British conversions with single and twin 4" were being undertaken at this time, but the Tyrrhenian Navy wanted better firepower and fitted the new 5.1" dual purpose turrets in singles and twins to provide a six gun armament. Lighter AA weaponry was a single quad mounting of the 2pd guns and four twin 25mm mountings. To offset the additional weight of the new armament, the four twin sets of torpedo tubes and their ancillary handling and fire control equipment was removed. The torpedo sight position was repurposed with a 'follow me' AA sight for the 2pd pom pom mounting. The aft deck housing cut down as well. A modern fire control system for the dual purpose guns was fitted to the aft portion of the bridge. The tripod was modified to reduce topweight.



Displacement
4,025 tons standard, 4,750 tons full load
Length
447 ft
Breadth
45 ft
Draught
16 ft
Machinery
2 shaft steam turbines, 44,000shp
Speed
30 knots
Range
4000 miles at 10 knots
Armour
2in belt, 2in decks, 2" turrets, 1.5" shields
Armament
As Completed 1913 (1918)

5/6 x 5.5" (5x1, 1x2-4x1)
2 x 12.7mm (2x1) removed 1916-17
3 x 3" AA (3x1) added 1916-17

Refits to 1930

6 x 5.1" (1x2, 4x1)
4 x 2pd (1x4)
12 x 25mm (6x2)

Torpedoes
8 x21" (4x2)
0
Complement
320
330
Notes
TNS Calabria - Sunk in action at the Balearic Battle with elements of Force H
TNS Catania - Sunk by mine in the Adriatic Sea, 1917.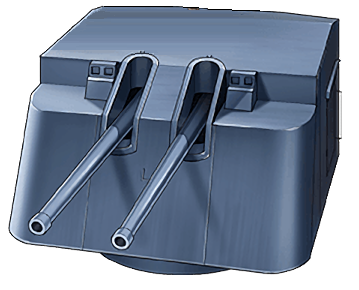 The twin 5.1" mounting was fitted to all of the modern capital ships and used as the main armament for various destroyer and cruiser classes.