HSMS Tampere (DD-1916)
Return to Scandinavian Navy Page:
The period 1919 to 1924 was a time of great change for most naval powers. Scandinavia was no different. Scandinavia had completed during the war years, 2 lots of light cruisers, a flotilla of destroyers and the four Kung Gustaf class. The Scandinavians were well up to date with their naval requirements when the Major Powers were reducing (or having their navies reduced for them) the numbers of all ships reduced to peacetime levels. Where some navies purchased what were complete battle fleets from the various naval powers, the Scandinavians only bought a dozen of the 4-5 year old 'M' class destroyers. Like all navies the Scandinavians never had enough patrol vessels for various duties. To be able to add a dozen more at one stroke was mana from heaven.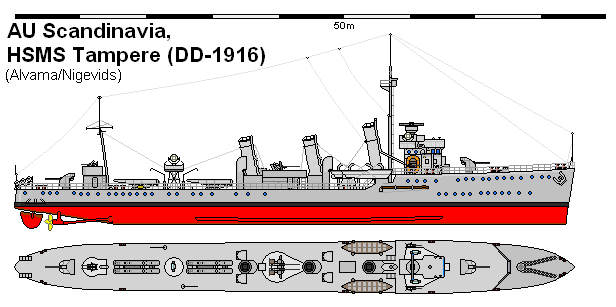 The lead ship was named Tampere to comemorate the return of Finland to the lands of the three crowns (Tre Kronor).
The twelve ships gave 10 years of excellent service to the Scandinavian Navy. Having served in all parts of the nation from the freezing north keeping an eye on the Soviet White Sea fleet, down through the Inner Leads and Oresund and on to the Gulf of Finland watching the Soviet Baltic Fleets summer manoeveurs. During the mid 1930's the duties undertaken by the ships were reduced to secondary postings mainly in the stop and go check patrols of the Oresund and Inner Leads. Some thought was given to replacing the ships worn out turbine machinery with Scania diesel equipment but on a survey of the vessels it was decided this would not be cost effective as the ships were nearly worn out in their hulls and other fittings as well.
During refits the original single 4" were removed and replaced with 3.9" single dual purpose guns. This was carried out at the same time as the centre 4 inch was removed and replaced with either a single or twin 40mm mounting. With a new bridge structure the forward funnel was raised to clear the smoke from the bridge.
Displacement
1,050 tons std, 1,450 tons full load
Length
276 ft
Breadth
27 ft
Draught
9 ft
Machinery
2 shaft geared turbines, 25,000shp
Speed
32-34 knots
Range
3000 at 12 knots
Armament
2 x 4" (2x1)

2 x 40mm (1x2)

4 x 20mm (1x2 2x1)

Torpedoes
4 x 21" (2x2)
Complement
95
Notes
HSMS Tampere
HSMS Turku
HSMS Wasa

Admiralty M class destroyer as purchased by Scandinavia in 1921.