HSMS Spica (MTB-1936+)
Return to Scandinavian Navy Page:
The first Motor Torpedo Boats (MTB) for Scandinavia were purchased from Vospers in 1935. Two complete units were purchased for evaluation and the license to build many more was then arranged with Vospers. The first Scandinavian built MTB's arrived in service in late 1937 in a 75 feet model which in turn was lengthened to 77 feet during. The eighteen units of the Star class were built from 1937 to 1941 when they were replaced by the Constellation class.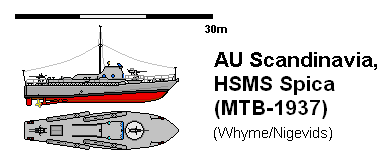 The Star class had many armament variations from two 13mm machine guns, two 7mm machine guns and two torpedo tubes, through to one 20mm cannon, one twin 13mm machine gun mounting, and four torpedo tubes. The Scania marine diesel propulsion systems fitted to the Scandinavian built versions were far and away superior to the petrol engined models originally obtained from Vospers.
Displacement
63 tons standard, 72 tons full load
Length
75-77 ft
Breadth
19-20 ft
Draught
3-4 ft
Machinery
2 shaft diesel engines, 2,500 to 3,800bhp
Speed
34-38 knots
Range
900 miles at 15 knots (400 at 32 knots, 250 @ 38 knots)
Armament
1 x 20mm (1x1)

2 x 13mm mg (1x2)

Torpedoes
4 x 18" (4x1)
Complement
16
Notes
HSMS Spica

Early Vosper MTB's under trials with the Scandinavian Navy. Note the lack of armament on the trials ships.