HSMS Odin (CDB-1907 (TS-1924 (ADV-1927)))
Return to Scandinavian Navy Page:
When laid down in 1903 these ships were to be the equal of any in the world. Laid down in pairs in 1903 and 1904, 2 years later the Royal Navy completed the Dreadnought in October 1906 and any battleship type that was not of the 'Dreadnought' type was instantly obsolete. The Odin class were too far advanced to make any major changes that would improve them to a Dreadnought status. This was not as major a blow to the Scandinavians as it was to some of the other major powers who had been caught flat footed by the speed of completion of the Dreadnought. The guns on the ships were more than capable of doing the patrol/interception duties that would be required of them and would be a menace to any large ship they may come accross.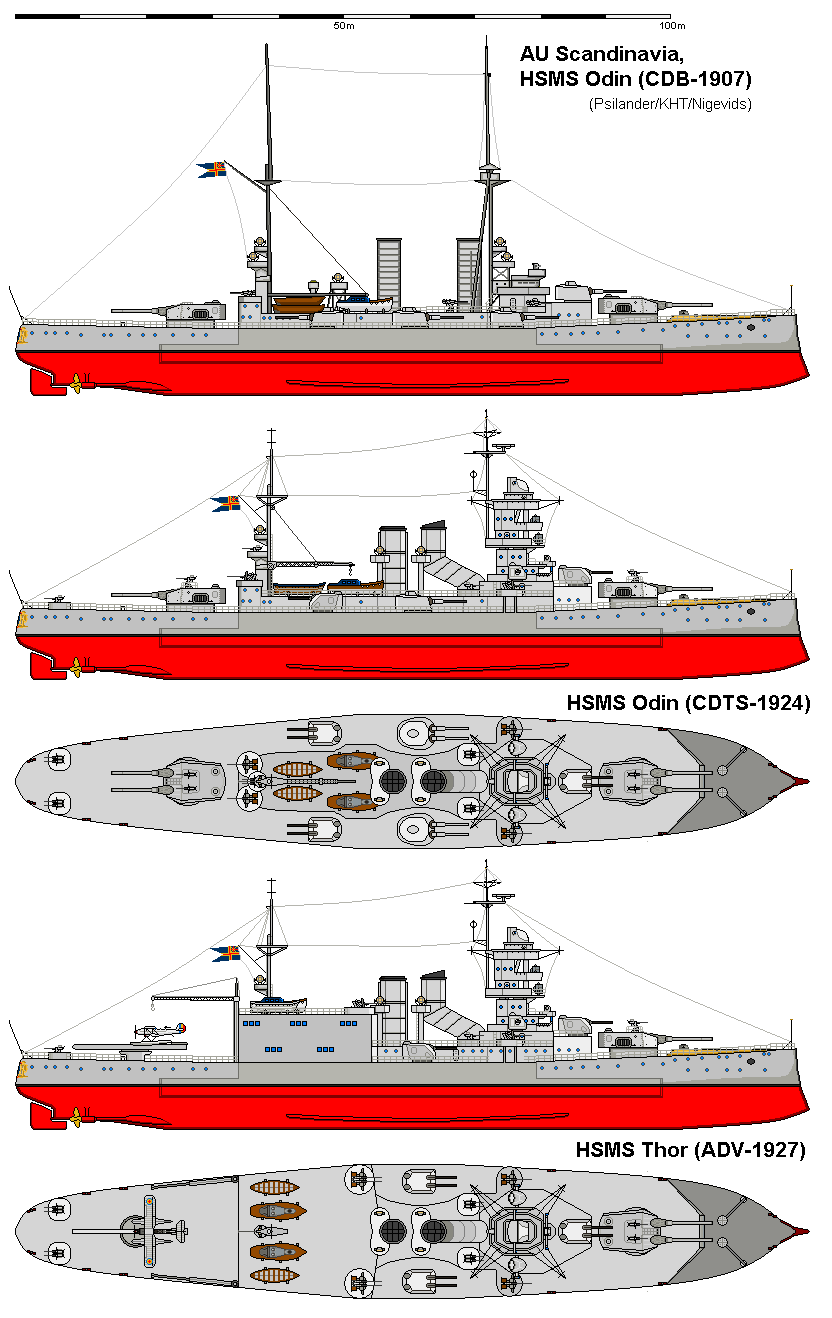 In their first service with the fleet, the ships conformed to what were classed as semi-dreadnoughts in other navies. A set of large guns fore and aft with another set of medium/large guns, 8.2" on the Odins, in turrets on the broadside. With three twin and four single turrets of 8.2" the ships were heavily armed. These were the first turbine engined ships for the Scandinavian Navy and they all made 18 knots on trials. Half a dozen 3.9" were fitted as anti-torpedoboat guns and eventually a pair of 50mm AA guns were added in 1917. Protection was an 8.2" belt, with a deck of 50mm thick.
At age 15 the first two ships were taken in hand for refitting to fleet Training Ships. The two ships were continually modified over the next 10 years till their armament had the 11", 8.2", 4.7", 40mm, and 20mm, which were all guns still in service in the fleet and provided excellent training units. These ships proved an excellent investment over their many years of service.
The last two ships having been completed 2 years later than their sisterships had more avenues open to them when it came time to discuss what was to be done with them. The British had completed their first conversions of old pre-dreadnoughts and early battleships to the Area Defence Vessel type and this was of major interest to the Scandinavian Navy. Keeping aerodromes in service in the Arctic areas and conditions was difficuilt in the extreme, while a catapult armed ship based in the Northern fjords would not have the same dificuilties. The decision was made to convert the last two of the Eidsvold class to Area Defence Vessels. The ships went through many iterations before their final appearance as shown above. They were also used as training ships with the hangar being able to be converted with plywood to house the trainees. The aircraft complement being reduced from four to two during these phases.
Displacement
7,800 tons std 10,200 tons full load
Length
397 ft
Breadth
67 ft
Draught
23 ft
Machinery
2 shaft steam turbines 12,000shp
Speed
18 knots
Range
3,000 miles at 12 knots
Armour
8.2" side armour, 2" deck armour, 8.2"/4.1"/2.6" turrets
Armament
As Completed

4 x 11" (2x2)

10 x 8.3" (3x2 4x1)

6 x 3.9" (6x1)

As Training Ship

4 x 11" (2x2)

4 x 8.3" (2x2)

6 x 4.7" (3x2)

4 x 40mm (4x1)

14 x 20mm (5x2 4x1)

As ADV

2 x 11" (1x2)

6 x 4.7" (3x2)

6 x 40mm (2x2 2x1)

10 x 20mm (4x2 2x1)

Aircraft
nil
nil
4-5
Torpedoes
nil
Complement
450
Notes
HSMS Odin

HSMS Baldur

HSMS Thor

HSMS Heimdall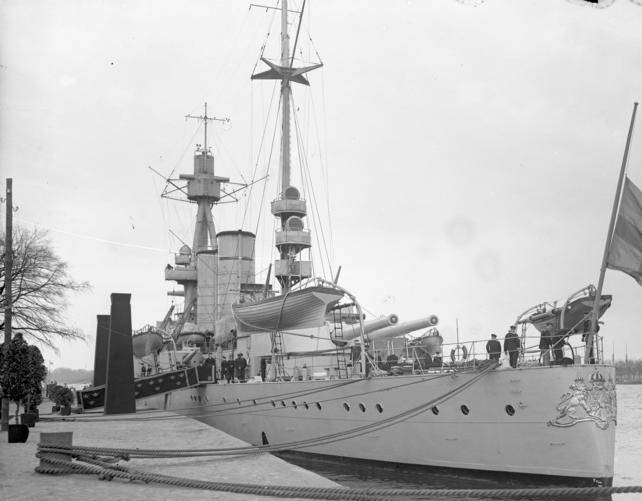 Odin in transition from as completed to training ship in the early 1920's. Note the barrels of the aft 3.9" showing above the ships boat.