HSMS Narvik (TB-1914)
Return to Scandinavian Navy Page:
The six Narvik class Torpedo Boats were built to partner the Ornen class torpedo cruisers. Contemporary destroyers of the time were fitted with two to four torpedo tubes, the Narviks had eight. The size of the ships put them firmly in the 'Destroyer' category but the Scandinavians called them what they had been built for, torpedo ships.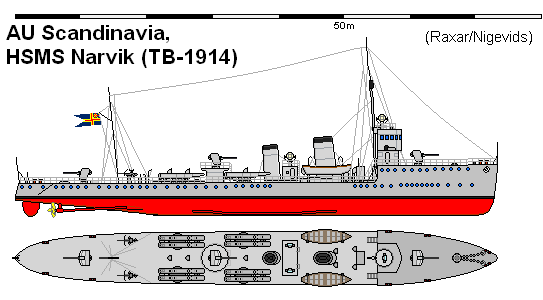 These ships were specifically built for one set of duties, guarding the Oresund. The six ships were based three at Goteborg and three at Malmo with the two Ornen class Torpedo Cruisers acting as group leaders. Radius of action suffered due to the heavy armament carried by the ships. The class had a range of only 800 miles at 12 knots while at full speed 225 miles brought them to a standstill. The ships engineer was always worried about refuelling. Every time the ships made harbour then the shout of "hands to coaling stations" would ring out. The heavy armament also affected the number of crew. Ships of similar size carried anything from 65-75 crew, the Narvik class required 90 to man the ship. Fifteen extra crew may not sound many untill you work out the square footage of the space required for the beds/hammocks. An extra 3000 square feet of floorspace would have had to be found if the ships were to have been escort destroyers and spend weeks at sea rather than hours. More space for the fuel, food and living conditions would have added another 40-50 feet to these ships.
Displacement
850 tons standard, 990 tons full load
Length
241 ft
Breadth
26.5 ft
Draught
8 ft
Machinery
2 shaft steam turbines, 12,500shp
Speed
29 knots
Range
1000 miles at 10 knots (250 at 28 knots)
Armament
3 x 3.9" (6x1)

2 x 47mm AA (2x1) added 1918

Torpedoes
8 x 17.7" (4x2)
Mines
10-12 when carried
Complement
90
Notes
HSMS Narvik

HSMS Lulea

HSMS Bergen

HSMS Tromso

HSMS Lofoten

HSMS Upsala