HSMS Malmo (DDL-1925)
Return to Scandinavian Navy Page:
The Malmo class were built to provide Destroyer Leaders for each of the four major Scandinavian bases where Captain 'D' would be based on these ships. Compared to the ships being built by the Major Powers these were powerful ships. The three twin 4.7" mountings gave them an advantage of 1-2 guns and 2 torpedo tubes more than those ships (UK A-E class, French Bourasque, CUA Appalachia). They were also fast ships with speeds of 38-39 knots being achieved on trials.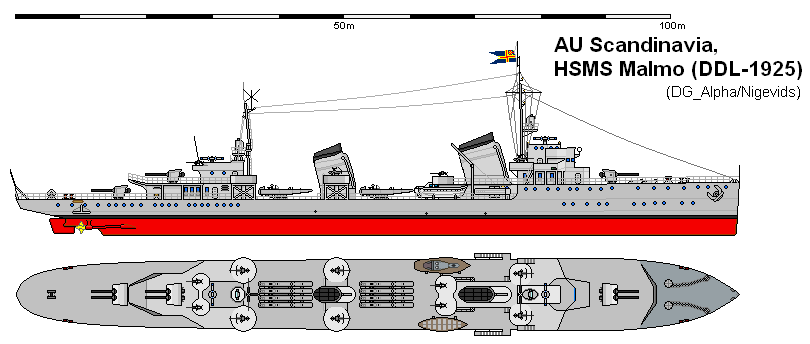 The four ships were based at the city of their namesake, Bergen Goteborg, Malmo and Helsinki. They proved to be excellent sea boats in service and even 15 years on the class was still making over 36 knots despite all of the extra equipment that had been added to the ships during their refits. In 1938 the ships were surveyed and passed for rebuilding with the late model twin 4.7" turrets replacing the original open mountings. New layout for the light AA weapons was implemented. New gun directors were fitted. All of the new equipment added more weight to the ships and the ships maximum speed at full load displacement had dropped to 35 knots in good sea conditions.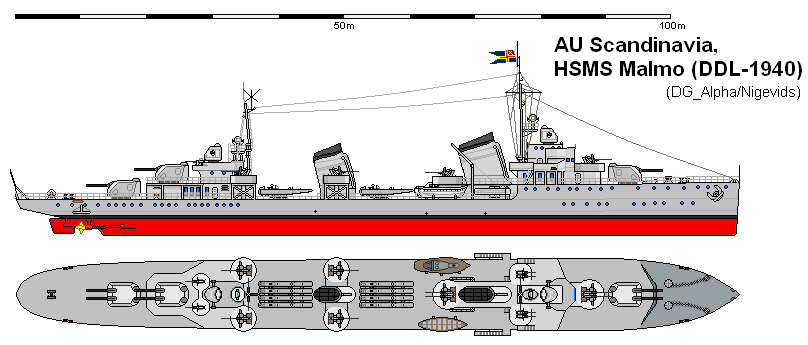 Displacement
2100 tons standard, 2400 tons full load
Length
361.5 ft
Breadth
36 ft
Draught
10 ft
Machinery
2 shaft steam turbines, 70,000shp
Speed
38 knots (reduced to 35 knots by 1940)
Range
3500 miles at 12 knots (700 at 34 knots)
Armament
6 x 4.7" (3x2)

6 x 50mm AA (6x1)

4 x 13mm mg (4x1)

6 x 4.7" (3x2)

8 x 40mm (2x2 4x1)

6 x 20mm (2x2 2x1)

Torpedoes
8 x 21.5" (2x4) (55cm)
Complement
190
Notes
HSMS Malmo

HSMS Bergen

HSMS Goteborg

HSMS Helsinki

Aft torpedo mounting swung out to starboard ready to fire.