HSMS Jötunheimr (CL-1920)
Return to Scandinavian Navy Page:
First post-war cruisers built by Scandinavia, these ships embodied all of the knowledge Scandinavias Naval Attaches had gathered from the winning and losing sides. The ships were the first with the new Bofors 150mm (5.9") model 1919 gun which was much more powerful and had a longer range than the earlier models. Scandinavian ships only required half the operational range of the Major Powers ships so were able to fit more armament on smaller hulls. The Jötunheimr class were completed prior to the advent of seaplanes and catapults which also reduced the size of the ships in comparison to equivalent cruisers such as the Leander class Commonwealth cruisers.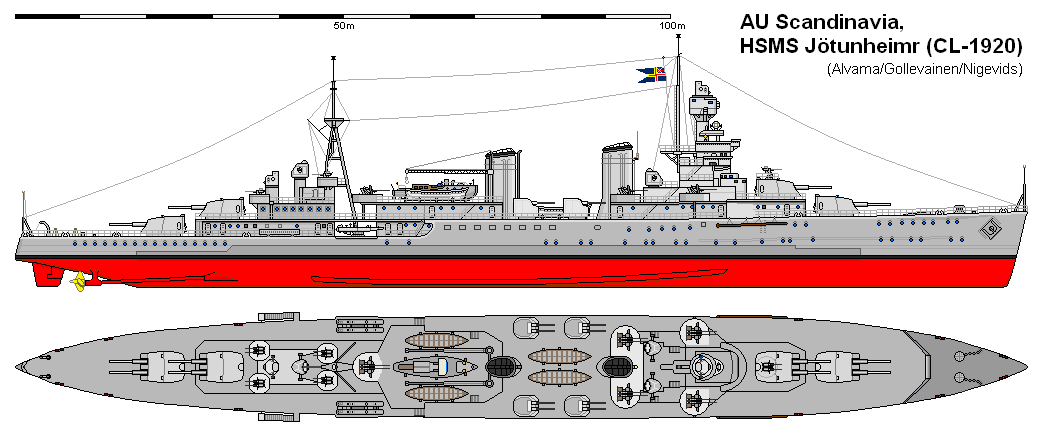 Completed with 3.9" single guns and 50mm (model1914) AA guns, these were replaced over time with the armament shown above on the drawing which would date from approximately 1939. The torpedoes were of a new 21" model and were replaced on surviving ships in 1944 with the Snabb homing torpedo system. The three ships completed in 1920, 1922 and 1925.
Displacement
6,700 tons standard, 7,900 tons full load
Length
506 ft
Breadth
51.5 ft
Draught
17 ft
Machinery
2 shaft steam turbines, 55,000shp
Speed
30 knots
Range
4000 miles at 15 knots (1200 at 28 knots)
Armour
2.6" side, 1" deck, 1.5" turrets
Armament
8 x 5.9" (4x2)

8 x 3.9" (4x2)

10 x 40mm (5x2)

10 x 20mm (5x2)

Torpedoes
4 x 21" (2x3) Later 4x21" in Snabb mountings
Mines
30 when fitted
Complement
540
Notes
HSMS Jötunheimr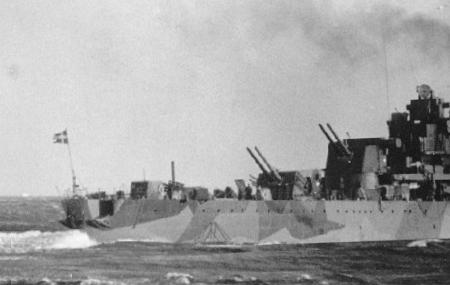 Aft twin 5.9".