HSMS Jamtland (CL-1915 (TS-1935))
Return to Scandinavian Navy Page:
Improved Asgard class cruisers, the Jamtland class threw out the mixed armament in favour of a full suite of 150mm main guns. To give the best broadside the fore and aft turrets were improved to twin mountings while the broadside 100mm guns of the Asgards were replaced with a pair of single 150mm turrets.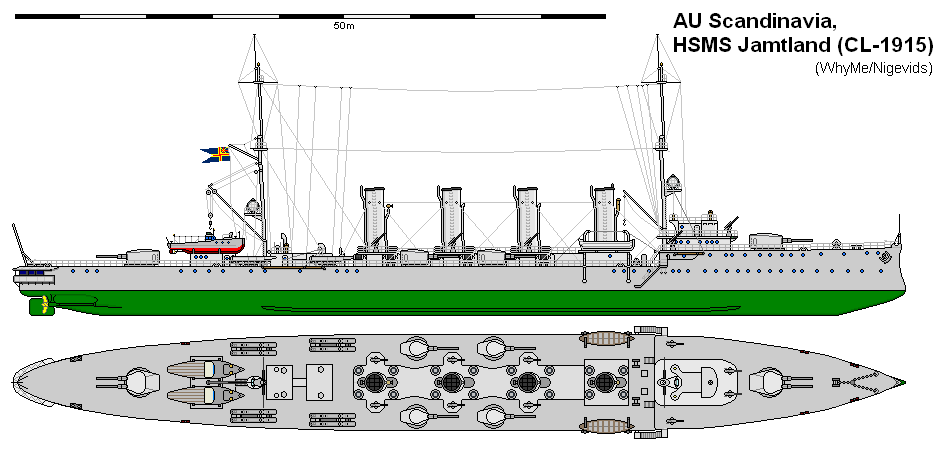 The class shared similar superstructure that provided similar silhouettes, but the Jamtland class was actually 25 foot longer than the Asgards, an increase in dimensions required by the twin turrets forward and aft. On completion the Jamtlands joined the Asgards in the Inner Leads Patrol and served there till they were transferred to The Finnish Gulf Patrol in the mid 1920's when the Duchy of Finland was returned to Scandinavia. The ships were given minor upgrades in an improved AA armament during the 1930's and the ships were re-rated as training ships based at Helsinki from 1935 onwards. The 75mm AA guns went from 4 in 1918 to 8 in 1923 and then 10 in 1928. The guns were then reduced to 6 in 1934, being replaced with single 40mm, then reduced again to the 4 they served out their careers with. These two guns were replaced with twin 20mm while space was found for a further four single 20mm.
Displacement
4,750 tons standard, 6,300 tons full load
Length
446 ft
Breadth
48 ft
Draught
15 ft
Machinery
2 shaft steam turbines, 25,000shp
Speed
26 knots
Range
3000 miles at 10 knots (700 at 24 knots)
Armour
2.5" side, 1" deck, 1.5" turrets
Armament
8 x 5.9" (2x2 4x1)

10 x 75mm AA (10x1) 4 added 1918, 4 in 1923, 2 in 1928.

4 x 40mm (4x1)

8 x 20mm (2x2 4x1)

Torpedoes
8 x 21" (4x2)
Complement
440
Notes
HSMS Jamtland

HSMS Lappland