HSMS Drottning Ulrika (BC-1926)
Return to Scandinavian Navy Page:
Built to replace the first pair of Odin class pre-dreadnoughts. The class were the largest ships so far completed by the Scandinavians. The armament kept with the 360mm triple turret but with an improved turret to allow for an increase in elevation to increase the range of the guns. (see table on Scandinavian Navy page) Speed again increased over the previous class to 28 knots which was fast enough for its operational requirements. The new tower superstructure was copied to all of the rebuilt capital ships. Aircraft handling facilities were designed into the plans for the ships with hangarage for two aircraft. A maximum of three could be carried with the third aircraft being rotated in and out of the hangar and being strapped down on the catapult.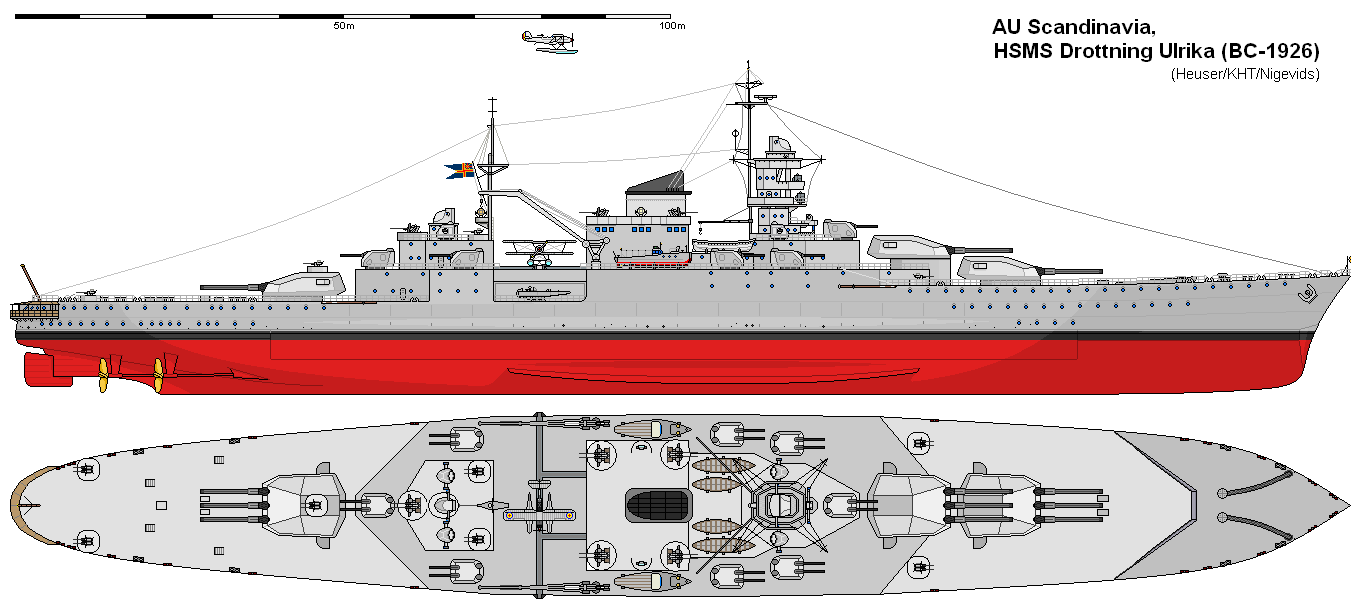 For the first time the Scandinavians fitted a set of torpedo tubes onto one of their capital ships. The first of the dual purpose weapons were under design and proving while these ships were under construction and allowance was made in the plans for these future weapons. Untill that time four twin 4.7" low angle open mountings and eight single 3.9" AA guns were fitted. The armament shown above is after the ships 1937 refit.
As built 1926
As rebuilt 1937
Displacement
26,700 tons standard, 32,600 tons full load
Length
670 ft
Breadth
91 ft
Draught
28 ft
Machinery
4 shaft steam turbines, 100,000shp
Speed
28 knots
Range
4000 miles at 15 knots (2000 at 24knots)
Armour
11" side, 3.9" deck, 12"/8.2"/5.1" turrets
Armament
As built

9 x 14.2" (3x3)

8 x 4.7" (4x2)

8 x 3.9" (8x1)

4 x 40mm (4x1)

As Rebuilt 1937

9 x 14.2" (3x3)

16 x 4.7" (8x2)

10 x 40mm (5x2)

14 x 20mm (7x2)

Aircraft
2-3
Torpedoes
8 x 21" (2x4)
Complement
1150
Notes
HSMS

Drottning Ulrika

HSMS Drottning Kristina