HMS Algerine (MS-1941)
Back to Commonwealth Ships List.

From Wiki: By 1940 the Royal Navy had realized that the Bangor-class minesweepers were too small to carry the equipment needed to handle magnetic mines. A bigger ship was designed, ironically about the same size as the older Halcyon class that the Royal Navy had rejected earlier as too large and expensive for mass production. The size of the new ship made them suitable for use as ocean-going escort ships and many were used in that role to fill a critical shortage of escorts. In fact most of the ships built by Southern Africa were solely employed as such and were fitted with more dedicated anti-submarine weapons than the RN ships. To maximise production, alternate designs were made to use either steam turbines or reciprocating steam engines.

The Algerine class was armed with a QF 4 in (102 mm) Mk V anti-aircraft gun and four twin-gun mounts for Oerlikon 20 mm cannon. The latter guns were in short supply when the first ships were being completed and they often got a proportion of single mounts. By 1944, single-barrel Bofors 40 mm mounts began replacing the twin 20 mm mounts on a one for one basis. All of the ships were fitted for four throwers and two rails for depth charges. Many ships omitted their sweeping gear in exchange for a 24-barrel Hedgehog spigot mortar and a stowage capacity for 90+ depth charges.


124 were built, 90 in the United Kingdom and 34 in Southern Africa.

After the war, a number continued in service as patrol boats, survey ships, and training ships. Some were sold to other navies or into merchant service. At least one - HMS Pickle (commanded by Lt. Cmdr. Hallifax and, later, Lt. Cmdr, Collins) - was still engaged in minesweeping duties in British waters as late as 1955. At least one Algerine is still in service with the Royal Thai Navy: HTMS Phosampton (ex-HMS Minstrel).

Displacement
950 tons std, 1360 tons full load.
Length
226 ft
Breadth
35.5 ft
Draught
12 ft
Machinery
2 shaft, 2,000-2,400 shp, turbine or reciprocating
Speed
16-17 knots
Range
5000 miles at 10 knots
Armament
As Completed

1 x 4" (1x1) LA
4-8 x 20mm (4x1 or 2x1 2x2, or 4x2)
replaced by 4 x 1 - 40mm from 1943
Complement
85-96
Notes
First of class completed Jan/1941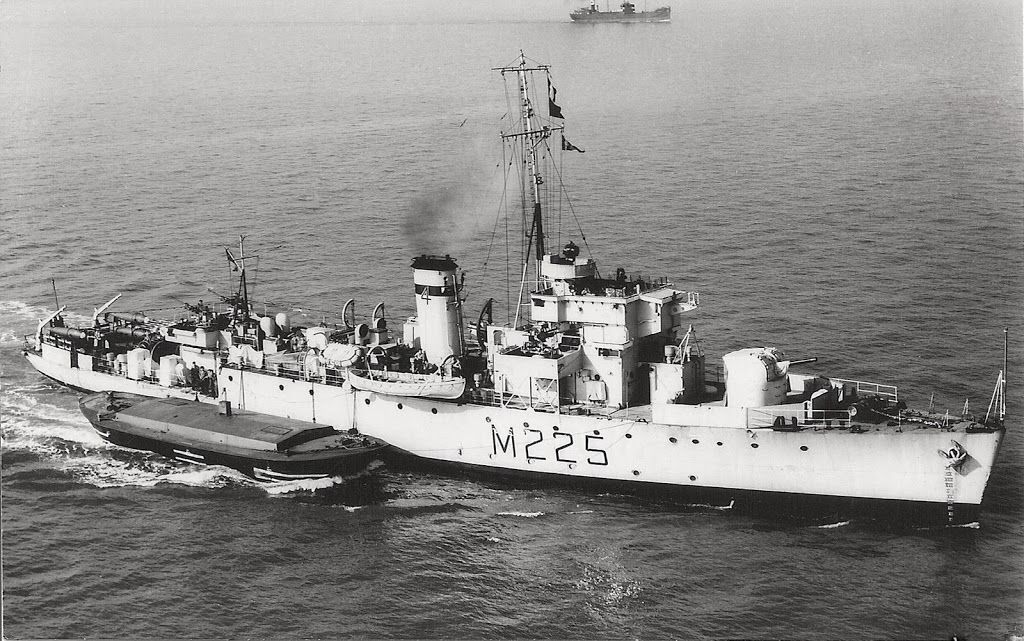 Note the single 40mm have replaced the twin 20mm .
Algerine

was torpedoed by the Italian submarine

Ascianghi

off Bougie, Algeria on 15 November 1942.

Alarm

was damaged beyond repair by air attack off Bône, Algeria on 2 January 1943.

Loyalty

(ex-Rattler) was sunk by the German submarine

U-480

in the English Channel on 22 August 1944.

Regulus

was sunk by a mine off Corfu on 12 January 1945.

Squirrel

was sunk by a mine off Phuket, Thailand on 24 July 1945.

Vestal

was sunk by a Japanese kamikaze plane off Phuket, Thailand on 26 July 1945.