The Battle class destroyer leaders were ordered in 1942-43 under the 5th and 6th War Emergency programs. These were ordered in answer to the large destroyers that the Italians (Capitan Romano), Germans (Z54) and Japanese (Akizuki) were building. The Italian ships were eventually rated as Anti-aircraft cruisers which shows the size of ship the Battles were designed to combat. It may sound strange that so much information on what the enemy was building could be available to the Allies for them to base their building programs on. But there were many disaffected people in those countries that were willing to supply information, and radio and wireless intercepts. Put all the gathered information together and a very good idea of what is being built can be seen.




With the semi-auto 4.5" being fitted fore and aft both fore and aft magazines needed to be at least 50% bigger than previous ships. The amount of rounds per gun was increased by the same 50% as the faster firing guns would empty the magazines so fast they could run out of ammunition before their missions were complete. The size of the ship required to take all the armament, electronics, and gunnery controllers, was huge for a destroyer. Just 20 years before, ships this size were classed as cruisers.

These ships, along with the later Daring class, were the main escorts to the big carriers during the 1950's and 60's. The other wartime destroyers went through many rebuilds and refits to mount new armaments till they were no longer a viable option financially. The Battle class also went through plenty of refitting and rebuilding, losing the Y turret to a Limbo mounting, which started being fitted to the ships from 1955 onward. A total of 44 of the class were ordered, but only 24 of the class were completed the rest being cancelled, construction halted at wars end. Some of the later ships were re-ordered as Daring class ships and completed to that design.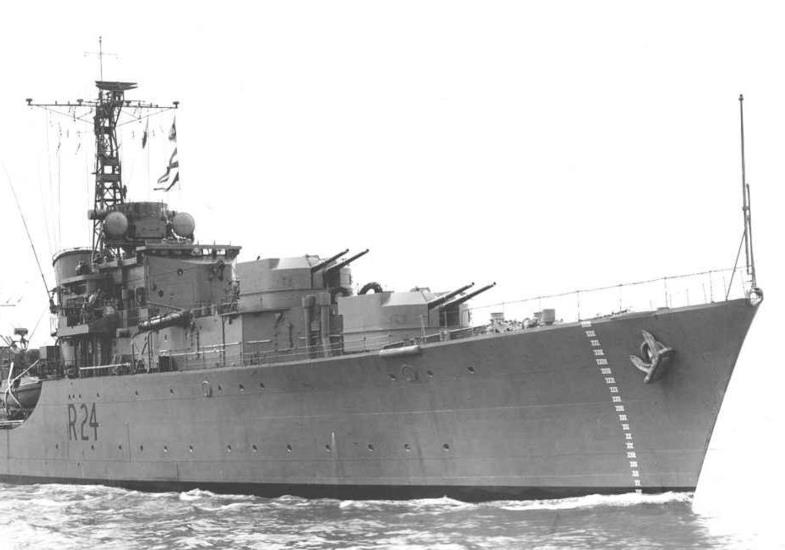 The big Mk VI gunnery controller is very apparent in this photo, mounted at the back of the bridge.

| Name of Ship | Ordered | Service | Fate |
| --- | --- | --- | --- |
| HMS Barfleur | 27 April 1942 | Commissioned 1944, only member of Battle class to serve in WWII, in 19th Destroyer Flotilla in Pacific Fleet. Placed in Reserve Fleet 1947. 3rd Destroyer Flotilla in 1949. 3rd Destroyer Squadron in 1956. | Laid up 1958. Scrapped 1966. |
| HMS Trafalgar | 27 April 1942 | Deployed to Far East in 19th Destroyer Flotilla in 1945. Placed in Reserve Fleet 1947. 7th Destroyer Squadron 1958. | Laid up 1963. Scrapped 1970. |
| HMS St Kitts | 27 April 1942 | 5th Destroyer Flotilla from 1945. 3rd Destroyer Squadron in 1956. | Laid up 1957. Scrapped 1962. |
| HMS Armada | 27 April 1942 | Deployed to Far East in 19th Destroyer Flotilla in 1945. Placed in Reserve Fleet 1947. 3rd Destroyer Flotilla in 1949. 3rd Destroyer Squadron in 1956. Placed in Reserve Fleet 1960. | Laid up 1960. Scrapped 1967. |
| HMS Solebay | 27 April 1942 | 5th Destroyer Flotilla from 1945. Placed in Reserve Fleet 1953. 1st Destroyer Squadron in 1957. Portsmouth Harbour Training Ship in 1962. | Paid off 1967. Scrapped 1967. |
| HMS Saintes | 27 April 1942 | 5th Destroyer Flotilla from 1945. 3rd Destroyer Flotilla in 1949. Placed in Reserve Fleet 1953. 3rd Destroyer Squadron in 1958. 1st Destroyer Squadron in 1960. Artificer Training Ship in 1962 | Decommissioned and scrapped 1970. |
| HMS Camperdown | 27 April 1942 | Deployed to Far East in 19th Destroyer Flotilla in 1945. Placed in Reserve Fleet 1947. 3rd Destroyer Squadron in 1957. 1st Destroyer Squadron in 1960. Decommissioned 1962 | Laid up 1962. Scrapped 1970. |
| HMS Finisterre | 27 April 1942 | Gunnery Training Ship in Home Waters in 1945. Placed in Reserve Fleet 1953. 1st Destroyer Squadron in 1960 (to replace Hogue). Paid off into Reserve 1962. | Scrapped 1967. |
| HMS Hogue | 27 April 1942 | Deployed to Far East in 19th Destroyer Flotilla in 1945. Placed in Reserve Fleet 1947. 1st Destroyer Squadron in 1957. Collision in 1960. | Laid up 1960. Scrapped 1962. |
| HMS Lagos | 27 April 1942 | Deployed to Far East in 19th Destroyer Flotilla in 1945. Placed in Reserve Fleet 1947. 1st Destroyer Squadron in 1957. Placed in Reserve Fleet 1960. | Laid up 1960. Scrapped 1967. |
| HMS Gabbard | 12 August 1942 | 5th Destroyer Flotilla from 1945. Placed in Reserve Fleet 1953. Struck off list in 1957. | Sold to Pakistan in 1957 and renamed PNS Badr. |
| HMS Gravelines | 12 August 1942 | Placed straight in Reserve Fleet on launch. 3rd Destroyer Flotilla in 1949. Placed in Reserve Fleet 1953. Refit started 1958. | Refit stopped and laid up 1958. Scrapped 1961. |
| HMS Sluys | 12 August 1942 | 5th Destroyer Flotilla from 1945. Placed in Reserve Fleet 1953. Struck off list in 1966 | Sold to Iran in 1966 and renamed INS Artemiz. |
| HMS Cadiz | 12 August 1942 | 5th Destroyer Flotilla from 1945. Placed in Reserve Fleet 1953. Struck off list in 1957. | Sold to Pakistan in 1957 and renamed PNS Khaibar. |
| HMS St James | 12 August 1942 | 5th Destroyer Flotilla from 1945. Placed in Reserve Fleet 1953. Refit started 1958. | Refit stopped and laid up 1958. Scrapped 1961. |
| HMS Vigo | 12 August 1942 | Placed straight in Reserve Fleet on launch. 3rd Destroyer Flotilla in 1949. Gunnery Training Ship in Home Waters in 1956. Cod War 1958-9. Paid off 1959 owing to hull damage. | Scrapped 1964. |
| HMS Agincourt | 10 March 1943 | 4th Destroyer Flotilla in 1948. 4th Destroyer Squadron in 1951. Selected for refit into Fast Air Detection Escort in 1959. Recommissioned in 5th Destroyer Squadron in 1962. 23rd Escort Group in 1963 (27th thereafter). Placed in Reserve Fleet in 1966. | Struck off list in 1972. Scrapped in 1974. |
| HMS Alamein | 10 March 1943 | Launched into Reserve Fleet in 1947. Recommissioned in Home Fleet 1948. Placed in Reserve Fleet in 1950. 4th Destroyer Squadron in 1957. Placed in Reserve 1960. | Struck off list and scrapped in 1964 |
| HMS Aisne | 10 March 1943 | 4th Destroyer Flotilla in 1948. 4th Destroyer Squadron in 1951. Paid off 1957. Selected for refit into Fast Air Detection Escort in 1959. Recommissioned in 7th Destroyer Squadron in 1962. 23rd Escort Group in 1963. 30th Escort Group in 1964. Paid off 1968. | Struck off list and scrapped in 1970. |
| HMS Albuera | 10 March 1943 | n/a | hull not competed and scrapped in late 1950s |
| HMS Barrosa | 10 March 1943 | Launched into Reserve Fleet in 1947. Recommissioned in Home Fleet 1948. Placed in Reserve Fleet in 1950. 4th Destroyer Squadron in 1953. Selected for refit into Fast Air Detection Escort in 1959. Recommissioned in 8th Destroyer Squadron in 1962. 24th Escort Group in 1963. Placed in Reserve Fleet in 1968. | Struck off list in 1972. Used as stores hulk. Scrapped in 1978. |
| HMS Matapan | 10 March 1943 | Launched into Reserve Fleet in 1947. Converted into sonar trials ship in 1971, recommissioned 1973. Working with US Navy 1973-1977. Paid off 1977. | Struck off list in 1977. Scrapped in 1978. |
| HMS Corunna | 24 March 1943 | Launched into Reserve Fleet in 1947. Recommissioned in Home Fleet 1948. 4th Destroyer Squadron in 1951. Selected for refit into Fast Air Detection Escort in 1959. Recommissioned in 7th Destroyer Squadron in 1962. 21st Escort Group in 1963. Paid off to refit 1965. Placed in Reserve Fleet in 1967. | Struck off list in 1972. Scrapped in 1975. |
| HMS Oudenarde | 24 March 1943 | n/a | Hull not completed and scrapped in late 1950s |
| HMS River Plate | 24 March 1943 | n/a | Broken up on the slipway |
| HMS Dunkirk | 24 March 1943 | 4th Destroyer Flotilla in 1948. Placed in Reserve Fleet in 1950. 7th Destroyer Squadron in 1958. Placed in Reserve 1963. | Struck off list and scrapped in 1965 |
| HMS Jutland (originally ordered as Malplaquet, but name changed after launching) | 24 March 1943 | 4th Destroyer Flotilla in 1948. 4th Destroyer Squadron in 1951. Paid off 1953. 7th Destroyer Squadron in 1958. Placed in Reserve 1961. | Struck off list and scrapped in 1965 |
| HMS St Lucia | 24 March 1943 | n/a | Broken up on the slipway |
| HMS Belle Isle | 24 March 1943 | n/a | Scrapped immediately upon launching |
| HMS Omdurman | 24 March 1943 | n/a | Broken up on the slipway |
| HMS Jutland | 24 March 1943 | n/a | Hull not completed and scrapped in late 1950s |
| HMS Mons | 24 March 1943 | n/a | Broken up on the slipway |
| HMS Poictiers | 24 March 1943 | n/a | Scrapped immediately upon launching |
| HMS Namur | 24 March 1943 | n/a | Hull not completed and scrapped in late 1950s |
| HMS Navarino | 24 March 1943 | n/a | Scrapped immediately upon launching |
| HMS San Domingo | 24 March 1943 | n/a | Broken up on the slipway |
| HMS Somme | 24 March 1943 | n/a | Broken up on the slipway |
| HMS Talavera | 5 June 1943 | n/a | Scrapped immediately upon launching |
| HMS Trincomalee | 5 June 1943 | n/a | Scrapped immediately upon launching |
| HMS Waterloo | 5 June 1943 | n/a | Broken up on the slipway |
| HMS Ypres | 5 June 1943 | Construction stopped. Reordered as Daring-class HMS Delight (D119) in 1950, and commissioned 1953 | Decommissioned 1970. |
| HMS Vimiera | 5 June 1943 | n/a | Construction stopped. Reordered as Daring-class HMS Danae but scrapped on launch. |