War Service of Tribal Class 1939-45 (from Wiki)
These are the service records of the original Tribal class, my Alternate Universe Tribals have to have different service records as the Canadian vessels become Southern African and the Australis ships are more numerous and steal RN names (like the Maori).

As some of the Royal Navy's most modern and powerful escorts, they were widely deployed in World War II, and served with great distinction in nearly all theatres of war. The Tribals were often selected for special tasks and as a result, losses were heavy, with 12 of the 16 Royal Navy Tribals sunk, as well as one Canadian ship. Gurkha has the rare and unfortunate distinction of being the name of two ships that were sunk in World War II: the L-class destroyer Larne was renamed to honour the lost Tribal-class ship, and was herself lost in 1942.
1940
Cossack earned fame early on in the war, when on 6 February 1940, commanded by Captain Philip Vian, she pursued and then boarded the German tanker Altmark in neutral Norwegian waters in a daring attack to rescue around 300 British prisoners of war on board. Referred to as the Altmark Incident, this was the last true naval boarding action for the Royal Navy Gurkha was an early loss, being sunk by German bombers off Stavanger. Afridi was lost soon afterwards to dive bombers while evacuating troops from Namsos. Bedouin, Punjabi, Eskimo and Cossack took part in the Second Battle of Narvik, where Eskimo had her bow blown off.
1941
In May 1941, Somali, Bedouin, and Eskimo, along with the N-class destroyer HMAS Nestor, and Royal Navy cruisers Edinburgh, Manchester, and Birmingham boarded the German weather ship München, retrieving vital Enigma cypher codebooks. In the same month, Zulu, Sikh, Cossack, Maori and Polish ORP Piorun (N-class destroyer) were in action against the German battleship Bismarck, with Mashona being sunk by German aircraft during these operations. In the Mediterranean, Mohawk was lost as part of "Force K", torpedoed by the Italian destroyer Luca Tarigo in April, while Cossack, Sikh, Zulu, and Maori took part in Operation Substance, a relief convoy heading to Malta. Cossack was torpedoed by U-563 in October while escorting Convoy HG 74 in the Atlantic, west of Gibraltar, sinking later under tow. Maori and Sikh were amongst the victors at the Battle of Cape Bon in December. Bedouin took part in Operation Archery, a British combined operations raid which diverted German resources to Norway for the rest of the war.
1942



Depot ship and charges, Iceland 1942-43
In 1942, Matabele was torpedoed and sunk by U-454 in the Barents Sea and Maori was hit in the engine room by a bomb whilst lying in Grand Harbour, Valletta, in February, catching fire and later blowing up where she lay. Punjabi was rammed and sunk by the battleship King George V in May, whilst performing close escort in thick weather. In June, Bedouin was disabled in action with Regia Marina's cruisers Raimondo Montecuccoli and Eugenio di Savoia during Operation Harpoon. Although later taken in tow by HMS Partridge the tow had to be cast when the Italian cruisers reappeared and, dead in the water, Bedouin was sunk by aircraft attack. Ashtanti was assigned to Operation Pedestal of August 1942. In September, the final two Tribals lost in the Battle of the Mediterranean were sunk; Sikh and Zulu during a disastrous raid on Tobruk. Also that month, Somali was torpedoed by U-703 while covering the returning Russian Convoy QP 14. Although taken under tow by Ashanti, she sank four days later after heavy weather broke her back. This was the last Royal Navy Tribal lost during the war.
1943
In 1943, the four remaining British Tribals (Ashanti, Eskimo, Tartar, and Nubian) participated in Operation Retribution to prevent the Afrika Korps from being evacuated to Italy. Tartar, Nubian and Eskimo then covered the Allied invasion of Sicily. After the invasion of Sicily, the four then covered the Allied invasion of Italy at Salerno. Ashanti and Athabaskan then covered Arctic convoy RA 55A, which was involved in the Battle of North Cape, where the German battleship Scharnhorst was sunk.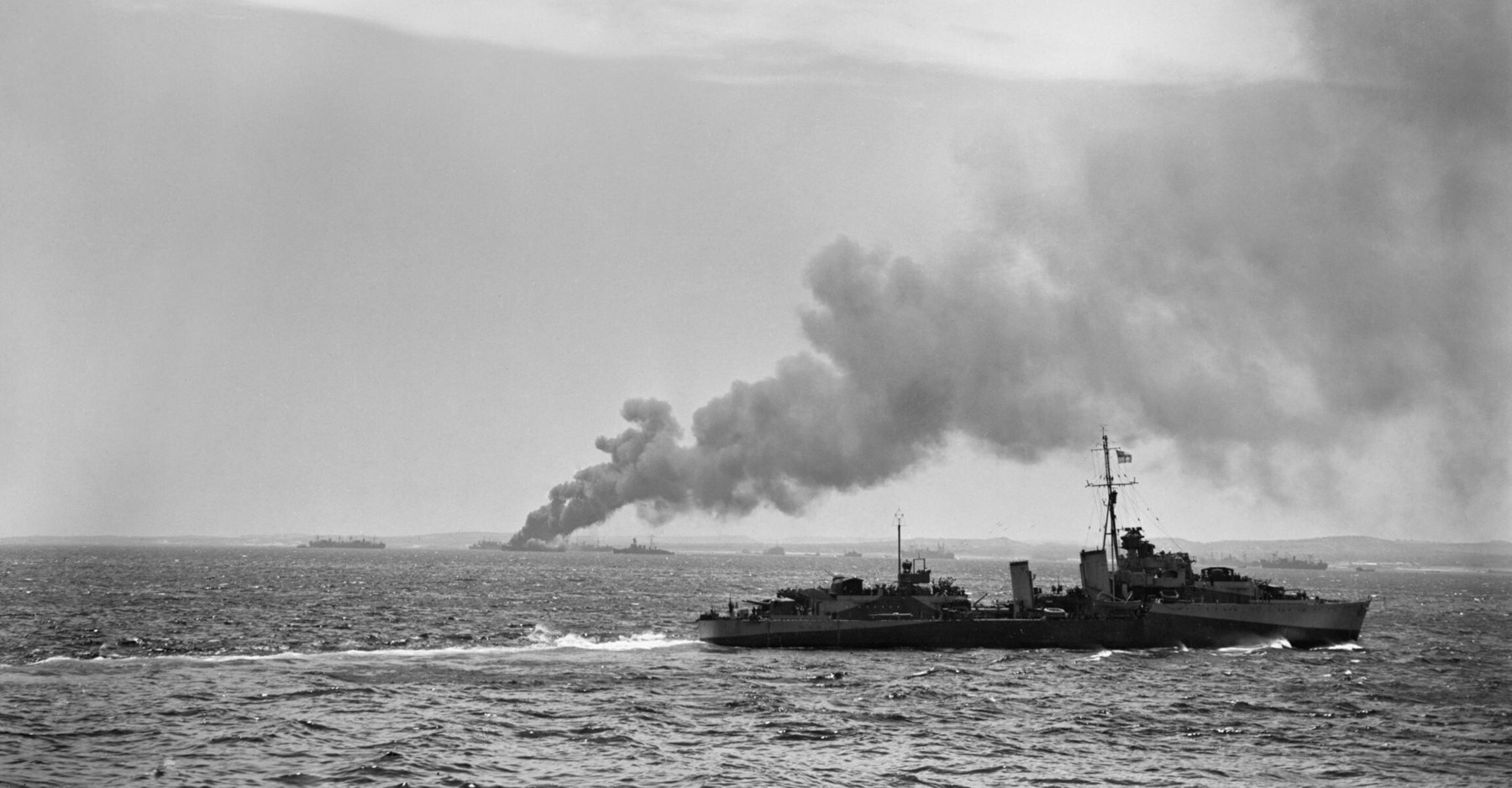 HMS Eskimo patrols the landing area during the invasion of Sicily 1943.

At the same time, the two active Australian Tribals, Arunta and Warramunga, were attached to the joint Australian-American Task Force 74 and supported a series of landings in New Britain, and deployed to support a series of landings in Operation Cartwheel.
The Canadian Tribals were also heavily engaged; Athabaskan was hit by German glide bombs while conducting operations in the Bay of Biscay and was put out of action for almost three months, while Haida and Huron escorted the various Arctic convoys.
1944
Eskimo, Ashanti, Athabaskan, Haida, Huron, Nubian, Tartar and later Iroquois saw extensive action in the English Channel before and after Operation Overlord, sinking or damaging a variety of enemy ships.
In April, HMCS Athabaskan and Haida engaged two Elbing-class torpedo boats in the Channel. Athabaskan was sunk by a torpedo from T24, while Haida pursued and forced aground T-27. Afterward, Haida returned and managed to rescue 42 personnel from Athabaskan. One of the under-construction Canadian Tribals was then renamed Athabaskan as a tribute to the lost ship. During the Normandy invasion, Eskimo, Tatar, Ashanti, Haida and Huron sank, damaged, or drove ashore the Elbing-class torpedo boat T-24, the Narvik-class destroyers Z24 and Z32, and the ex-Dutch destroyer Gerard Callenburgh in a series of battles. Furthermore, Haida and Eskimo also sank the German U-boat U-971 with depth charges and close in gunfire, rescuing 53 survivors. Afterward, Eskimo was involved in a collision with the destroyer HMS Javelin, which kept Eskimo out of action for five months.
After the Normandy invasion, Nubian was sent to screen Royal Navy Home Fleet units engaged in the protection of the Russian Convoy JW 59, and carrier-based aerial attacks on the German battleship Tirpitz and elsewhere in Norway. Iroquois and Haida met up with the Free French cruiser Jeanne d'Arc which was sailing from Algiers to Cherbourg carrying members of the French Provisional Government. Iroquois then escorted the liner RMS Queen Mary which was carrying the British Prime Minister Winston Churchill to the Second Quebec Conference.
1945
Eskimo, Nubian, and Tartar were given some minor tropicalisation refits and were sent east to join the British Eastern Fleet in the Indian Ocean as the Atlantic war wound down. There, Eskimo, Nubian, and Tartar engaged in escort of the Royal Navy major surface units and shore bombardment. Afterward, Nubian, and Tartar were waiting as backup for Battle of the Malacca Strait, where the Japanese cruiser Haguro was sunk. Eskimo and Nubian were then engaged in anti-shipping patrols, sinking a Japanese merchant ship and a submarine chaser near Sumatra. This was the last Royal Navy surface action against shipping in World War II. In July, Nubian and Tatar prepared for Operation Zipper, the planned British landings in Malaya.During this period, the Canadian Tribals continued to be engaged; Haida, Huron and Iroquois escorted Russian convoys until May 1945, when Germany surrendered. The Canadian Tribals then engaged in the escort of British warships liberating Norway following the German surrender. Iroquois then joined the British cruisers Dido, Devonshire, and destroyer Savage at Copenhagen and headed to Wilhelmshaven, as escort for the surrendered German cruisers Prinz Eugen and Nürnberg. Following this, the Canadian Tribals then returned to Halifax harbour for tropicalisation refits, which were suspended when the Japanese surrendered, and were sent into reserve.