HMS Mars (DD-1924)
Back to Commonwealth Ships List


The Mars (Planet) class destroyer leaders were built to be the leaders for the V-W class destroyers. Originally the V-W types were to supply their own leaders but they proved incapable of being able to have a Captain (D) and his staff aboard ship as the accommodation for the extra staff was just not available. The only way was to have a dedicated leader class for them. With 48 V-W (original) units, six leaders would be required with eight ships to each flotilla.





The new A class trials were underway and the Mars and its sisters were to be enhanced versions. The twin 5.5" light turret, as fitted to the later Majestic class, were also to be fitted to these ships. Three twin mountings were fitted and gave the ships one of the best main armaments for a destroyer till the later 1930's when the big French, Italian and other navies started on the large destroyer construction. Light armament was pretty standard for the time with a single 3" AA gun, and three single 2 pounder AA guns. Two sets of the new quadruple torpedo mountings were also fitted. The ships were built in three pairs with completion dates of 1924, 1926 and 1928. Many upgrades were put aboard the ships during the 1930's. Asdic fitted, 2pdr replaced with quad 0.5" machineguns, which were later replaced with single and twin 20mm. The single 3" was replaced in the mid-30's by a quad 2 pounder pom pom mounting. With the Tribal and JKLMN classes starting to be completed, the Mars class could finally be given an upgrade of the low angle 5.5" with a modern dual purpose weapon system and upgraded gunnery control and electronics.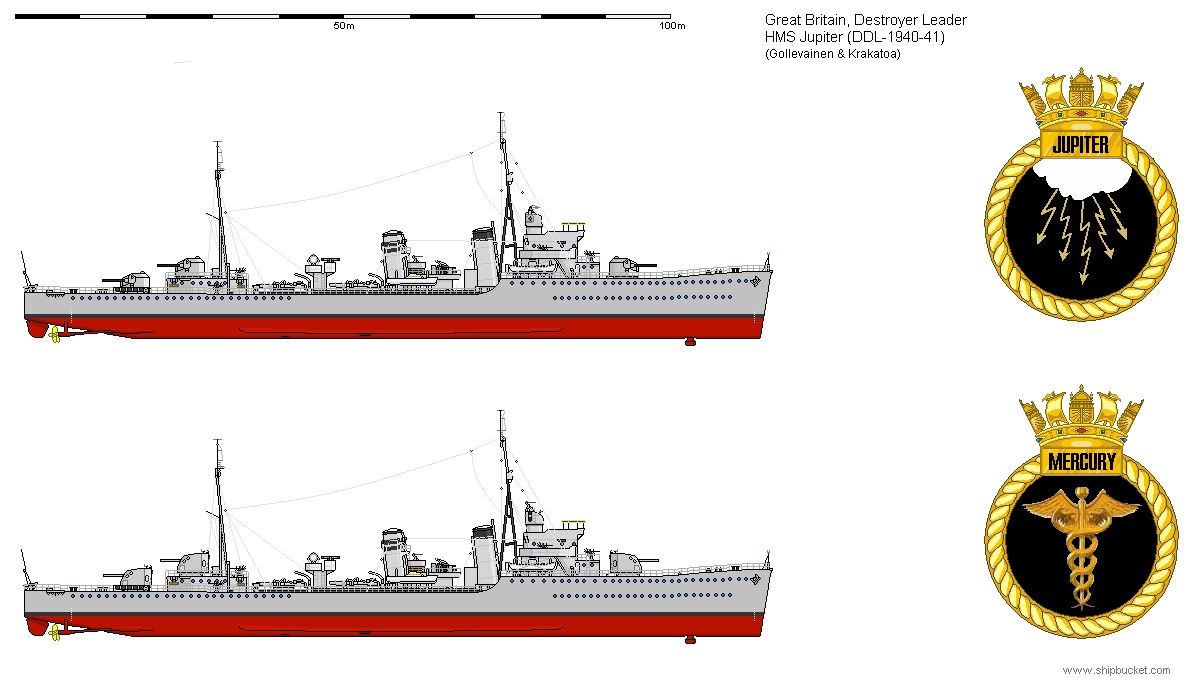 The first four units had had their conversions done through to September 1939 with completions by early 1940. The last two units requiring rebuilding (Mercury and Pluto) survived through to 1941 when they were sent to US Navy shipyards to have the twin 5.5" replaced with 5"/38cal twin turrets. No space/time had been found for the rebuilds as the twin 4.5" were all required for new construction work.

Displacement
2,000 tons std, 2750 tons full load
Length
374 ft
Breadth
39 ft
Draught
13 ft
Machinery
2 shaft, steam turbines, 50,000shp
Speed
35 knots
Range
6000 at 15 knots
Armament
As completed

6 x 5.5" (3x2)
1x3" (1x1)
3 x 2pd (3x1)
4.5" Conversion

6 x 4.5" (3x2)
4 x 2pd (1x4)
8 x 20mm (1x2 6x1)
5"/38 conversion

6 x 5" (3x2)
4 x 2pd (1x4)
8 x 20mm (1x2 6x1)
Torpedoes
8 x 21" (2x4)
8 x 21" (2x4)
8 x 21" (2x4)
Complement
180
188
190
Notes
HMS Mars (1924) Torpedoed and sunk by Japanese destroyer 1943
HMS Jupiter (1924) 1939 Sunk by U boat in North Sea (Name reused by J class Destroyer)
HMS Mercury (1926) August 1942 Sunk in action with German Battlecruiser Seydlitz while escorting convoy.
HMS Saturn (1926) 1945 To Reserve Fleet then discarded and scrapped.
HMS Uranus (1928) 1945 Sunk by Kamikaze hit while guarding HMS Indomitable
HMS Pluto (1928) Scrapped 1946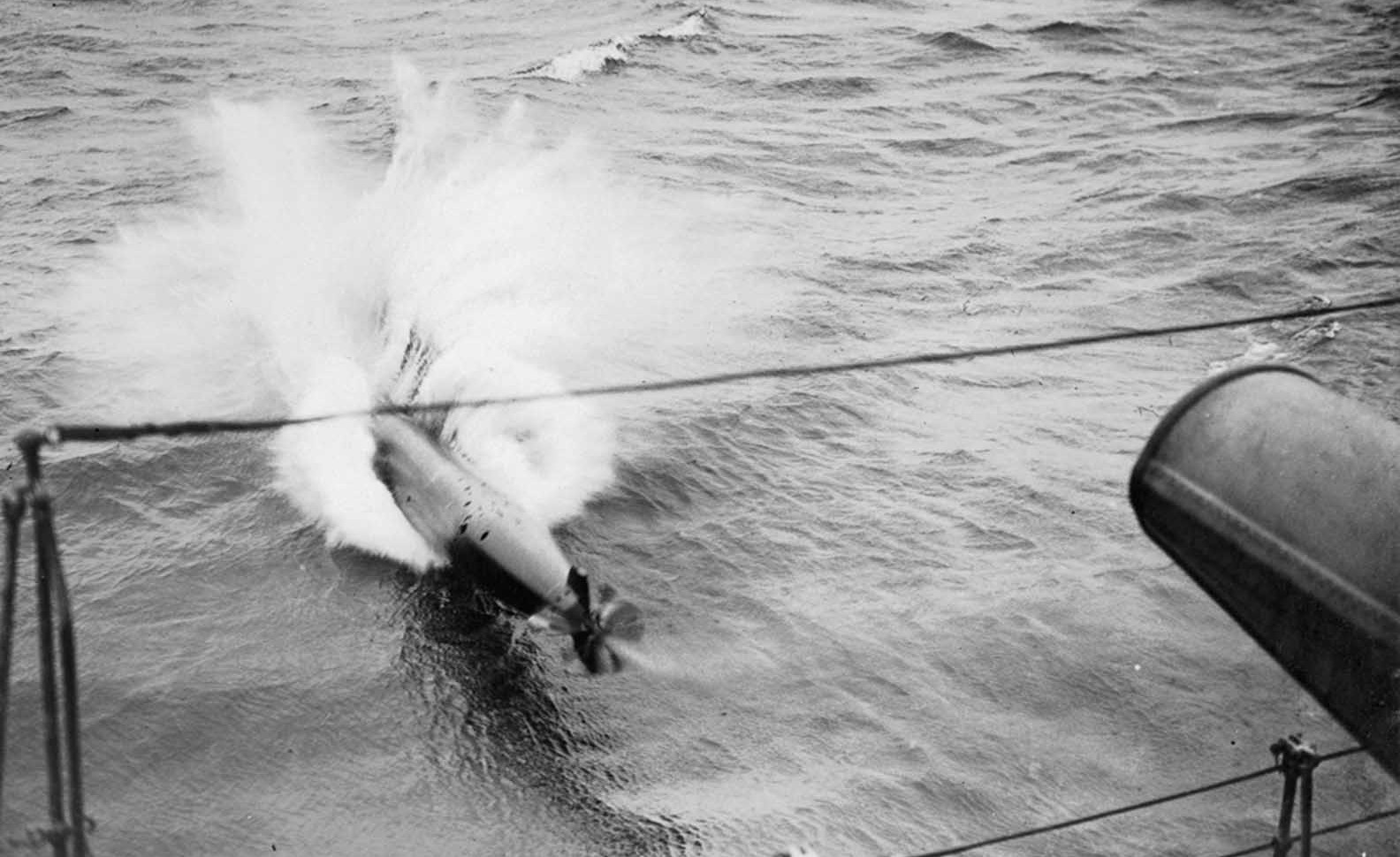 The six leaders moved from Flotilla to Flotilla, with the V-W class. The change from group to group normally occurred when one of the leaders went through a refit cycle. The flotilla the ship was with would receive a new leader, and when its refit was finished it would be allocated to another flotilla where the leader was due for a refit. By 1930, the V-W class were no longer the lead destroyer classes and had been replaced in most of the top flotillas by the new A-I class destroyers and their leaders. As more of the A-I class came into being, the size of the Flotillas also changed. Where a flotilla had been a Leader and eight or more destroyers, the new scheme was to have a Leader and four destroyers to a flotilla. This was justified by the newer A-I class destroyers having twice the firepower of the earlier destroyers. What this meant for the Mars class was that from about 1935 they were taken away from the V-W class (whose duties were now second class) and transferred to being Leaders for the A-I class. This took them back into being Leaders for the top tier flotillas

HMS Mars
1924-1930 Atlantic Fleet
1931-1935 Channel Fleet
1936-1938 Mediterranean Fleet
1939 Rebuilding to 4.5" twins.
1940 Norwegian Campaign, Leader of 4 H class, 1st battle of Narvik.
1940-41 Battle of Atlantic, Leader of 4 A class and other convoy escorts.
1942 Leader of 4 E class, with Force Z in Malaya, and ABDA in Dutch East Indies.
1943 Leader of mixed group of British and Australis destroyers (whatever was available). Battles in Solomon Islands theater, torpedoed and sunk by Japanese destroyer.

HMS Jupiter
1924-1930 Atlantic Fleet
1931-1935 Mediterranean Fleet (Gibraltar)
1936-1938 Atlantic Fleet
1939 Rebuilding to 4.5" twins.
1939 Sunk by U boat in North Sea (Name reused by J class Destroyer)

HMS Mercury
1926-1938 Mediterranean Fleet
1939-1940 Force H as Leader to 4 C class covering convoys to/from Britain
1941 Rebuilding in USA to 5"/38 twins under Lend/Lease
1941-1942 Leader of 4 B class and other escorts as Convoy Escort Commander.
August 1942 Sunk in action with German Battlecruiser Seydlitz while escorting convoy.

HMS Saturn
1926-1931 Atlantic Fleet
1932-1939 Atlantic then Home Fleets.
1939 Rebuilding to 4.5" twins.
1940-1943 Battle of Atlantic as Escort Commander to convoys and then Escort group.
1944-45 Leader of offshore escort to the Fire Support Vessels along the coast of Europe.
1945 To Reserve Fleet then discarded and scrapped.

HMS Uranus
1928-1932 Mediterranean Fleet
1933-1936 Atlantic Fleet
1937-1939 Home Fleet
1940 Rebuilding to 4.5" twins.
1940-1942 Mediterranean Fleet (Alexandria)
1943-44 Indian Ocean with Eastern Fleet and British Pacific Fleet
1945 Sunk by Kamikaze hit while guarding HMS Indomitable

HMS Pluto
1928-1932 Mediterranean Fleet (Alexandria)
1933-1935 Atlantic Fleet
1936-1940 Home Fleet
1941 Rebuilding to 5"/38 in the USA under Lend/Lease
1941-1942 Flotilla/Escort Commander Battle of the Atlantic
1943-1944 Russian Convoys - Escort commanders vessel.
1945 Reduced to Reserve Fleet
1946 Scrapped