HMS Vanguard (BB-1940)
Back to Commonwealth Ships List
HMS Vanguard was ridiculed for one reason only - "she was armed with her Grandmothers teeth". First, and ended up the only, 45,000 ton battleship. The Vanguard was an excellent ship despite the armament issue. But the armament was just fine, it was as good as the French, Italian and German ships of the time. In various exercises post-war with the American fleet, Vanguard proved its ship handling and staying power when it outsailed USS Iowa class battleships in stormy weather.

With the offset barbette, to increase elevation, turret rework and the superfiring 15" shell, the Vanguard could fire her 15" guns out past 36,000 yards.


Above and Below: HMS Vanguard as it was completed in the Real Time Line 1946. All the AU drawings can be any time from 1940-1944.

Displacement
45,200 tons standard, 52,250 full load

Biggest of the Commonwealth battleships at 45,000 tons. UK built 1 ship at 45,000 tons, the US built 5.

Length
815 ft
Breadth
108 ft
Draught
36 ft
Machinery
4 shaft, Geared turbines, 130,000shp
Speed
30 knots
Range
9000 miles at 16 knots
Armour
Belt: 4.5–14 in (114–356 mm)
Deck: 2.5–6 in (64–152 mm)
Barbettes: 11–13 in (279–330 mm)
Gun turrets: 7–13 in (178–330 mm)
Armament
8 x 15" (4x2)
16 x 5.25" (8x2)
60 x 40mm (10x6)
2 x 40mm (1x2)
12 x 40mm (12x1)
Aircraft
nil
Torpedoes
nil
Complement
1950
Notes
HMS Vanguard (1946) scrapped 1960.
My version of HMS Vanguard is based on the premise that the various treaty's expire in 1930 with the US, UK, France and Italy being bound by the 35,000 ton and 16" gun limit for new construction. The failure of the Japanese to adhere to these limits meant that all limits were removed in 1933 and the race was on. Since all countries had laid down 35,000 ton ships in 1932/33 these ships were proceeded with as to scrap them and redesign to a new size would have meant that that countries construction programme would have been 2-3 years behind everybody elses. Such improvements as could be fitted into the original designs were made.





The British had laid down 2 King George class (9x15") in 1932 and another pair in 1933. This was to be added to with another pair in 1935. The 1935 ships were cancelled and replaced with a pair of 45,000 ton fast battleships. To aid construction of these ship the guns of the Courageous and Glorious (or R class) (since converted to Aircraft Carriers) were proposed for the main armament giving the new ship 8x15". This meant that construction of the ship could be completed in 3 and a 1/2 years instead of the usual 5 years. HMS Vanguard and HMS Temeraire would be completed somewhere between the 1st and 2nd pair of King George's. In replacement of this type could also be the Vanguard with 12x15" using 4 triple turrets left over from the Majestic class which would provide either four or twelve turrets depending on which scenario is proceeded with. This gives either a one ship Vanguard type or 3 Admiral class type, to be built.
Displacement
46,500 tons std, 54,500 tons full load
Length
814 feet
Breadth
110 feet (hull)
Draught
34 feet
Machinery
4 shaft geared turbines, 130,000shp
Speed
30 knots
Range
9000 miles at 16 knots
Armour
Belt: 4.5–14 in (114–356 mm)
Deck: 2.5–6 in (64–152 mm)
Barbettes: 11–13 in (279–330 mm)
Gun turrets: 7–13 in (178–330 mm)
Armament
12 x 15" (4x3)
24 x 4.5" (12x2)
72 x 2pd (9x8)
30 x 20mm (30x1)
Aircraft
4
Complement
2000
Notes
Two ship stream:
HMS Vanguard (1940)
HMS Temeraire (1940)
Admiral Class:
HMS Rodney (1940)
Nelson (1940)
Hood (1941)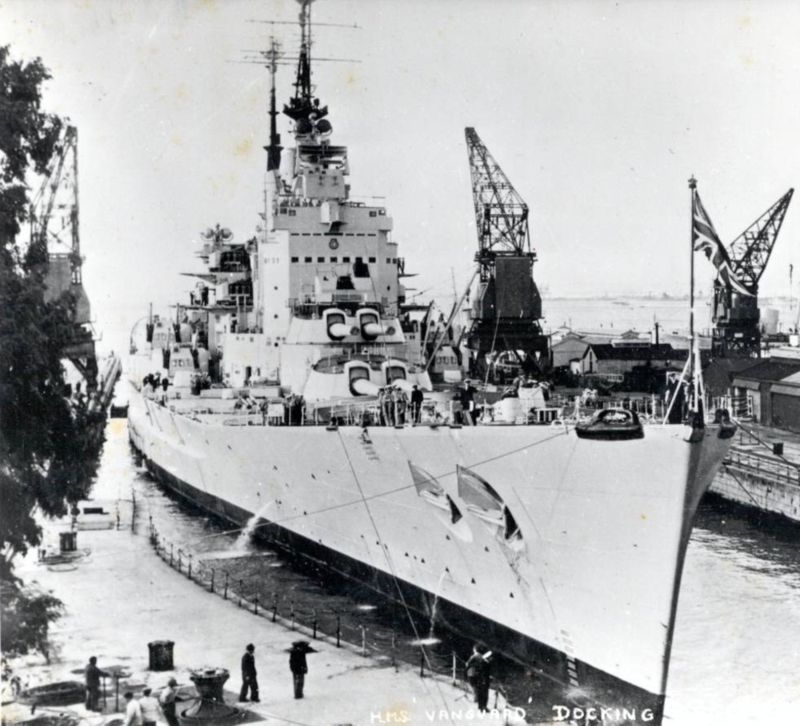 The same hull and propulsion as used in Vanguard would be also used for the next Lion class battleships but these ships would be armed with 9x16" with the appropriate design changes made for the difference between 4 twin and 3 triple turret layouts. Below: 16" version.

First drawing is a new version drawn by Garlicdesign which replaced the earlier Bombhead versions.





Older drawings recycled a bit by me, with differing armaments.


16" version completed with US assistance:


Building the Vanguard so that it is completed about 1938-39-40 gives the interesting premise that with the Vanguards seakeeping qualities it is liable to be being used from Scapa Flow as cover for the Denmark Srait and Faroes gap areas and is likely to run into Germanic States raiders trying to break out into the Atlantic. Vanguard -v- Bismarck?? now that would be an interesting match up.



The 16" Vanguard was ressurected in 1943 when the Japanese were converting battleships to hybrid battle-carriers. Unfortunately, unlike the Americans who converted two ships to battle-carriers (See Hawaii and Kentucky on Other Countries page) the British did not have any ships building to convert. The ships would have had to be built from scratch and the government would not pass the funds for that.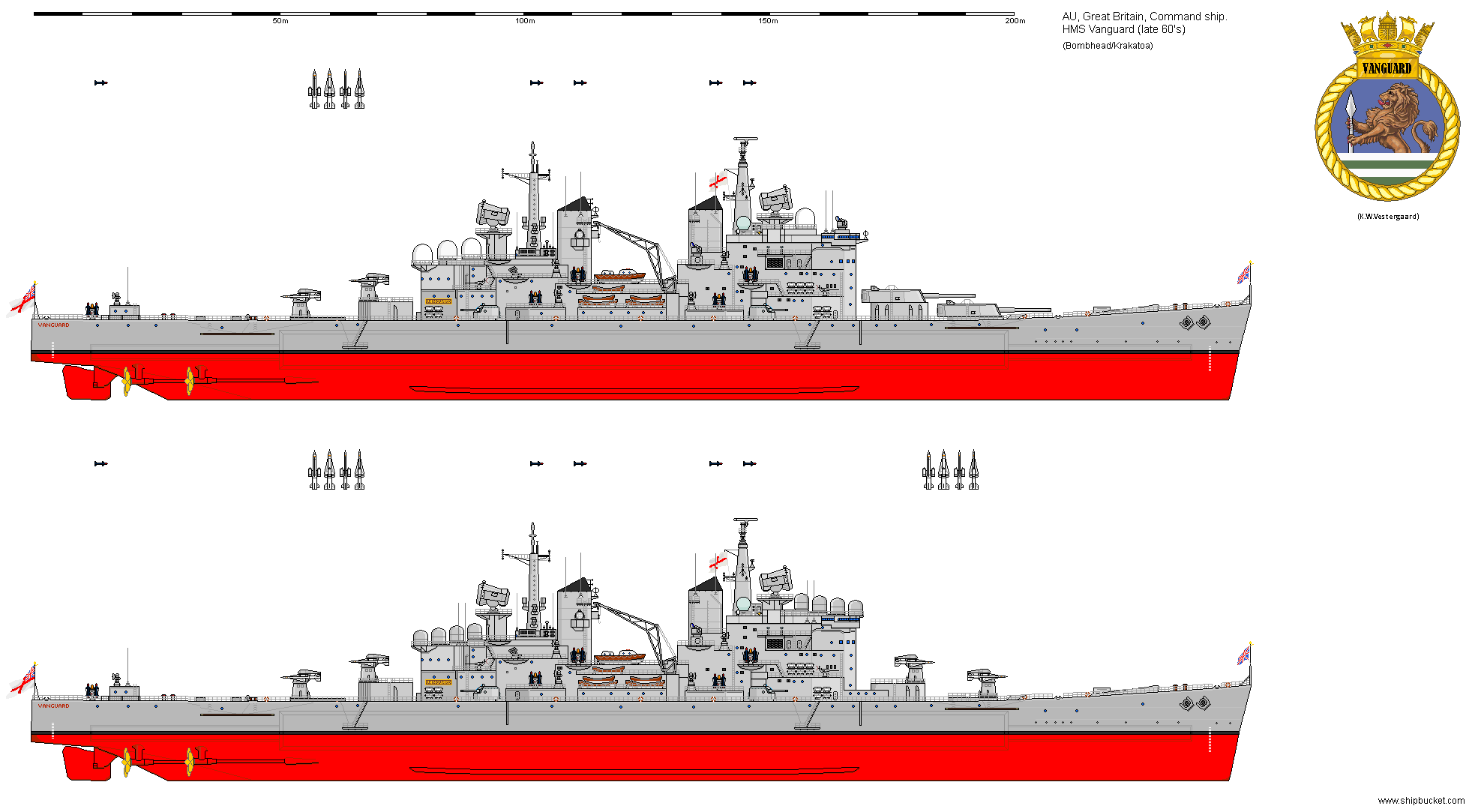 The Real Time Line Vanguard was discarded after less than 15 years service. A complete waste when you consider the US Iowa class went 50 years in service. Would Vanguard have lasted longer in service if the ship had been converted to carry missiles.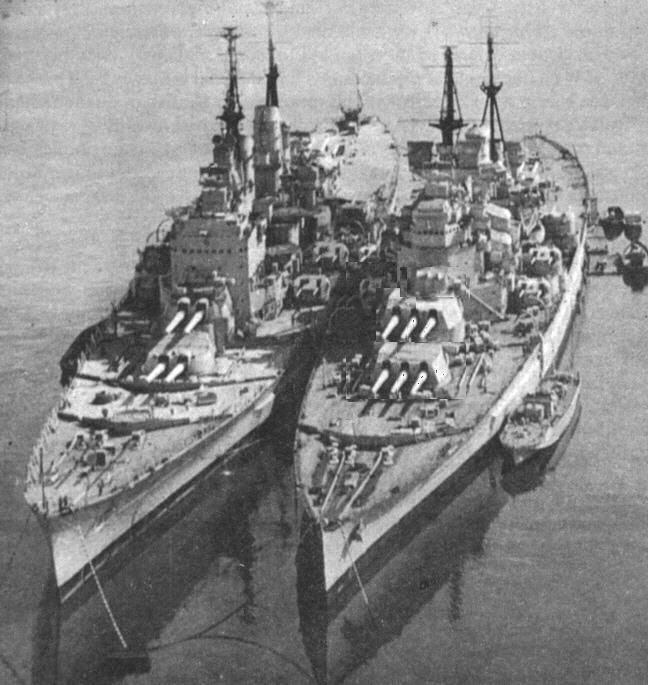 Icelandic patrol operating from Scapa Flow during the war.